Intel Demos Light Peak Optical Cable Technology at IDF 2010
Intel' Light Peak optical cable technology has been demontrated at IDF 2010. Intel expects that linking devices by optical cable as potentially succeeding USB 3.0, since Light Peak technology is supporting existing protocols and is able to carry any platform I/O. At IDF 2010 in Beijing, Kevin Kahn, Intel Senior Fellow, Intel Labs Director, Communications Technology Lab, shared Intel's vision for a broad use of the Light Peak by devices ranging from PCs to consumer electronics and other gadgets,. Intel plans to make the technology available late this year and expects partners to start shipping devices with it next year, Kahn said.
Intel sees the Ligh Peak as"a logical future successor to USB 3.0" and would like to "build the last cable you'll ever need."
Light Peak consists of a controller chip and an optical module that would be included in platforms supporting this technology. The optical module performs the conversion from electricity to light and vice versa, using miniature lasers and photo detectors. Intel is planning to supply the controller chip, and is working with other component manufacturers to deliver all the Light Peak components.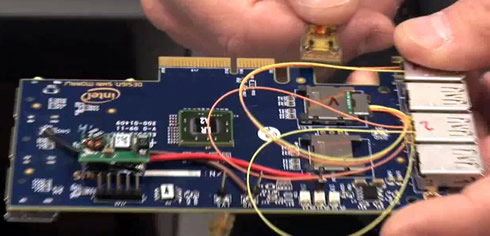 Light Peak is currently offering a bandwidth of up to 10Gbs - already twice as fast as USB 3.0 - with the potential ability to scale to 100Gb/s over the next decade. At 10Gb/s, a user could transfer a full-length Blu-ray movie in less than 30 seconds. Light Peak uses longer (up to 100m), thinner optical- only cables (only 125 microns wide) and smaller connectors than any kind of currently available interfaces.
It also supports multiple existing I/O protocols over a single cable, allowing for a smooth transition for today?s existing electrical I/O protocols. It can also connect to more devices with the same cable, or to combo devices such as docking stations.
Intel claims that Light Peak is complementary to existing I/O technologies sucj as the USB 3.0, as it enables them to run together on a single cable at higher speeds.
At IDF 2010, Intel demonstrated Light Peak using a laptop connected to a docking station and a monitor. The long, thin cable plugged into the laptop's USB 3.0 port. Light Peak was able to simultaneously transmit a feed from an HD camera, a Blu-ray video and a duplication of the laptop's display onto the other screen.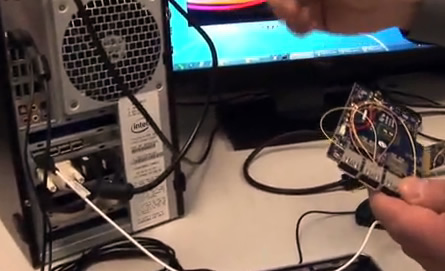 Intel is working with the optical component manufacturers to make Light Peak components ready to ship in 2010, and will work with the industry to determine the best way to make this new technology a standard to accelerate its adoption on a plethora of devices including PCs, handheld devices, workstations, consumer electronic devices and more.