Intel Launches Cedar Trail Atom Processor-based Platform
Intel today announced its latest mobile Intel Atom processor-based platform for netbooks and intelligent system designs in healthcare settings and retail solutions. Formerly codenamed "Cedar Trail," the platform delivers new features that boost performance and battery life in compact, on-the-go devices designed for those looking for light productivity and Internet browsing.
The new design's dedicated media engine enables full 1080p high-definition playback of videos and Blu-Ray content and includes additional digital display and output options including HDMI and DisplayPort. Cedar Trail also supports DDR3-800 and 1066. According to Intel, the new integrated Intel Graphics Media Accelerator 3600/3650 combined with the integrated memory controller provides an improvement in graphics performance up to 2X compared to the previous generation GMA 3150.
Systems based on the new Intel Atom processors may have up to 10 hours of battery life and weeks of standby, allowing for all-day use between charges. Additionally, Intel increased processor and overall system performance while reducing power consumption up to 20 percent compared to the previous platform.
Based on Intel's 32nm process technology, Intel incorporated several new features into the platform such as Intel Wireless Display and Intel Wireless Music. With these new features and wireless enabled devices, users can share videos or photos wirelessly from their netbooks to a television, or stream music through their home stereo speakers.
Additional features such as Intel Smart Connect Technology allows users to have an instant Internet connection as soon as they open their netbook, and have email, Twitter and RSS feeds automatically updated even in sleep mode. Intel Rapid Start Technology enables fast resume from standby mode and helps conserve battery life.
The CPUs announced today include the dual-core Intel Atom processor N2600 and Intel Atom processor N2800, both paired with the Intel NM10 Express Chipset. In addition to the mobile processors, Intel offers the Intel Atom processor D2500 and D2700 for entry-level desktop and all-in-one designs, as well as intelligent system solutions. The platform supports a range of operating systems including: Windows, MeeGo, and Tizen.
The new Intel Atom processors provide a lower thermal design power (TDP) and power management features such as Intel Deeper Sleep and Intel SpeedStep Technology that enable lower power designs including netbooks and healthcare equipment, retail systems and entry-level digital signage.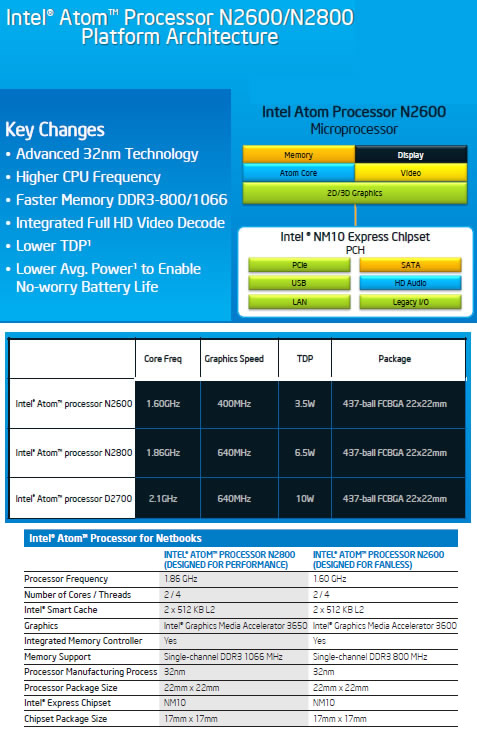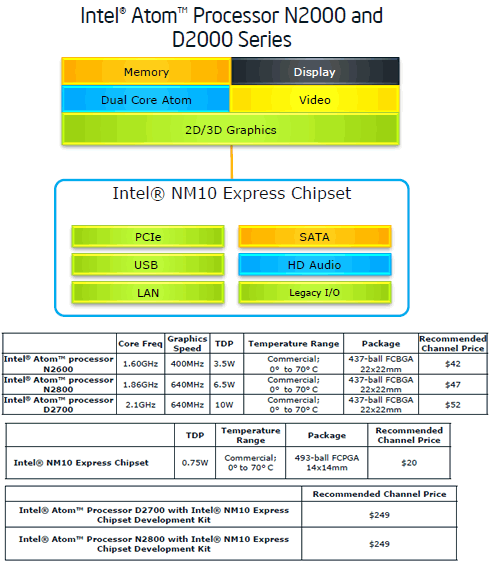 Netbooks will be available in early 2012 from major OEMs including Acer, Asus, HP, Lenovo, Samsung, and Toshiba.