Intel Optane Memory Launches Next Month To Boost Your PC
Intel will start selling M.2 cards using its 3D XPoint memories as accelerators for PC hard drives on April 24.
These products will be the second 3DXP products from Intel following the SSD DC P4800X enterprise solid-state drives for servers announced earlier this month.
Intel claims the new cards will create more responsive PCs, improving performance across a wide range of tasks.
Intel will release the products at $44 for a 16 GByte card and $77 for a 32 GByte version. They use an NVMe 1.1 interface to deliver a typical sequential read latency of six microseconds and 16 microseconds for writes. Intel also lists endurance for the cards as 100 GByte writes/day.
Capacity
16 GB
32 GB
Form Factor
M.2 2280 single-sided
Interface
PCIe 3.0 x2 NVMe
Controller
Intel unnamed
Memory
128Gb 20nm Intel 3D XPoint
Typical Read Latency
6 µs
Typical Write Latency
16 µs
Random Read (4 KB, QD4)
300k
Random Write (4 KB, QD4)
70k
Sequential Read (QD4)
1200 MB/s
Sequential Write (QD4)
280 MB/s
Endurance
100 GB/day
Power Consumption
3.5 W (active), 0.9-1.2 W (idle)
MSRP
$44
$77
More than 130 motherboards are already available that will accept the M.2 cards. Before June OEMs and motherboard makers will start selling products with the cards.
Intel said the cards will boost performance of a wide range of common tasks, but also suggested they are mainly suited to enthusiast users buying PCs that cost $6,000 or more. The cards work exclusively with Intel's seventh-generation Core i7 processors and use Intel software to make a hard disk and the M.2 card appear as a single storage volume to an otherwise unmodified Windows 10 PC.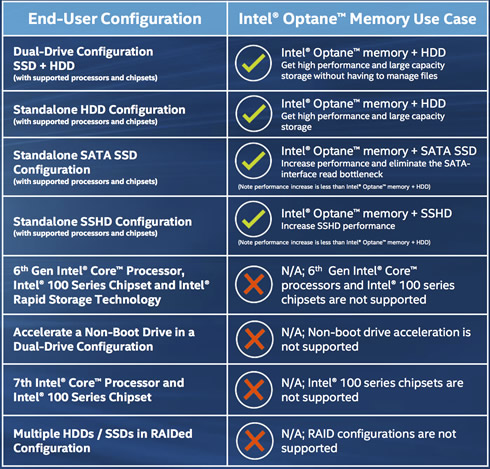 In a series of benchmarks, Intel want to prove that the 3DXP cards deliver significantly faster read performance than flash or hard drives at the relatively low queue depths important to many PC applications. Intel claims the net effect will be a doubling of overall responsiveness of a system though many individual benchmarks showed modest gains of 8-27 percent.
An Intel executive claimed in a blog the cards will let PC users boot PCs twice as fast, improve overall system performance up to 28 percent, increase storage performance up to 14x, launch Microsoft Outlook up to 6x faster, launch games up to 18 percent faster and finally load new game levels up to 58 percent faster.
Intel and Micron co-designed 3DXP but faced delays getting products out after announcing the chips in July 2015.
Micron will start shipping its 3D Xpoint memory technology -- branded QuantX -- later this year, which will go into SSDs offered by storage makers.
Unlike Intel, Micron is not interested in making its own Optane-like storage. The company is licensing its 3D Xpoint technology to other storage makers. Micron's QuantX will also be available the form of DDR-style memory.
It's not yet known which storage makers will offer SSDs based on QuantX.
Micron has said QuantX-based SSDs would have capacities up to 1.4TB. Those drives would plug into PCI-Express 3.0/NVMe slots.