Intel Reports Profit On Data center, PC Demand
Intel's quarterly profit and revenue was increased on the back of its high-margin data center business and strong demand for its PC chips.
Revenue from the company's data center business rose 25.9 percent to $6.14 billion in the quarter.
Revenue in Intel's client computing business, which caters to PC makers and is still the biggest contributor to sales, rose 15.5 percent to $10.23 billion, on continued strong demand for Intel's performance-leading products and strength in commercial and gaming.
Intel's PC sales have trended positive in recent quarters, lifted by stronger demand.
Mobileye also achieved record quarterly revenue of $191 million , up approximately 50 percent YoY as customer momentum continued. Mobileye won 8 new design at major US and global automakers in Q3, bringing its year-to- date design win total to 20.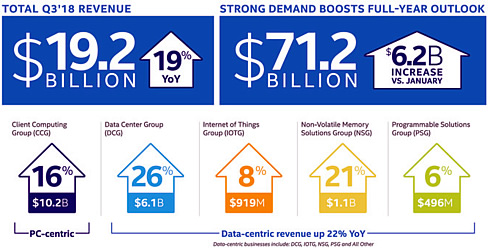 Also boosting Intel sales this quarter was its business for modems, which connect smart phones to wireless data networks which was up 131 percent in the quarter. The gain resulted from Intel completely replacing rival modem supplier Qualcomm in the most recent models of Apple's iPhones.
"Stronger than expected customer demand across our PC and data-centric businesses continued in the third quarter. This drove record revenue and another raise to our full-year outlook, which is now up more than six billion dollars from our January expectations. We are thrilled that in a highly competitive market, customers continue to choose Intel," said Bob Swan, Intel CFO and Interim CEO. "In the fourth quarter, we remain focused on the challenge of supplying the incredible market demand for Intel products to support our customers' growth. We expect 2018 will be another record year for Intel, and our transformation positions us to win share in an expanded $300 billion total addressable market."
Intel also recorded a $290 million charge as a result of Micron Technology's decision to buy out Intel's portion of a memory fabrication plant in Utah where the two had partnered to build advanced memory chips.
Intel?s Bob Swan said that the company has retained its rights to the technology and intends to eventually build its own factories to produce the chips.
"Despite their announcement, we will still have access to supply from the fab for the next 18 to 24 months, and that will give us time to explore the alternatives we have to produce the product," Swan said.
Swan said he expected capital expenditures on memory chips to be "a little bit lower" in 2019 "despite building self sufficiency" after Micron's move.
Net income rose to $6.40 billion, or $1.38 per share, in the third quarter ended Sept. 29 from $4.52 billion, or 94 cents per share, a year earlier.
Excluding items, the company earned $1.40 per share. Net revenue rose 18.7 percent to $19.16 billion.
Progress in 10nm
Intel said its making progress on improving 10nm yields and reiterated its pledge to have 10nm chips shipping by the 2019 holiday season.
In a conference call with analysts, Venkata (Murthy) Renduchintala, president of Intel's Technology, Systems Architecture and Client Group, said 10nm yields are now tracking roughly in line with what the company experienced at the 14nm node when it prepared to make that transition.
"We're still very much reinforcing and reaffirming our previous guidance that we believe that we'll have 10nm shipping by holiday of 2019," Renduchintala said. "And if anything, I feel more confident about that at this call than I did on the call a quarter ago. So we're making good progress and I think we're making the quarter-on-quarter progress that's consistent with prior generations having reset the progress curve."
Intel has been dogged by yield issues at the 10nm node, causing the company in April to delay the launch of 10nm products until next year.