iOS Update Brings Support for Multiroom Audio Streaming to AirPlay 2, Stereo HomePod Pairin
Apple's iOS 11.4 is available today, and interesting features it brings invlude nessages in the Cloud and AirPlay 2.
HomePod, the wireless speaker from Apple, now support HomePod stereo pairs and a new multi-room audio system. This free software update introduces an easy to use, wireless multi-room audio system using AirPlay 2 to play music in any room from any room, move music from one room to another or play the same song everywhere using an iOS device, HomePod, Apple TV or by asking Siri. HomePod is available in the US, UK and Australia and arrives in Canada, France and Germany starting June 18.1
The update also brings a bigger buffer for Airplay 2, so network hiccups don't interrupt your music, and tighter clock sync between devices to enable multiroom support. AirPlay 2 also addresses some annoyances with streaming music from iOS: you can now take a phone call, play videos, and play games without interrupting the music. And moving music around the house via Siri on the HomePod is simple, by saying "Siri, move the music to the living room" or whichever room you prefer and it'll stream to that room.
AirPlay 2 controls are available across iOS within any app and in Control Center for quick access to what's playing in every room, on every speaker. Apple Music subscribers can also ask Siri to play different songs in different rooms or the same song everywhere, without ever leaving the room. Just like iPhone and iPad, HomePod will be able to communicate with other AirPlay 2-enabled speakers when they become available, so Siri can control music playing on speakers from Bang & Olufsen, Bluesound, Bose, Bowers & Wilkins, Denon, Libratone, Marantz, Marshall, Naim, Pioneer and Sonos.
With two HomePod speakers set up as a stereo pair, the provided soundstage gets even wider, delivering sound that is more spacious than a traditional stereo pair from a speaker that's just under 7-inches tall.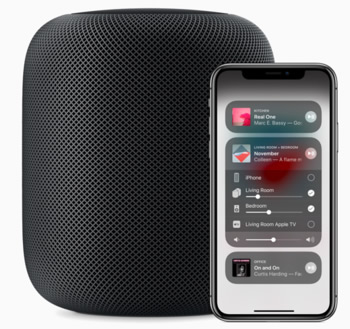 Using spatial awareness to sense their location in the room, each HomePod automatically adjusts the audio to sound great wherever it is placed and sound great together, using an Apple-designed wireless peer-to-peer direct link to communicate with each other and play music completely in sync.
The HomePod is also getting calendar support for Siri, so you can ask when and where your meetings are, and add events to your calendar.
AirPlay 2 requires iOS 11.4 on all your devices to work. iPhone owners can update now, while HomePod owners can start the update from the Home app or wait for it to automatically roll out over the next few days.