JDI Develops 12.3-inch Curved LCD for Automotive Applications
Japan Display Inc. (JDI) has developed and is ready to produce a 12.3-inch curved liquid crystal display for automotive applications. The TFT LCD module, based on low temperature poly-silicon (LTPS) technology, enables a simplified module structure by integrating the driving circuits into the glass substrate and by minimizing the number of driver ICs, as compared to conventional amorphous silicon (a-Si) technology. The module is curved (concave), with a radius of 1,500mm. It promises to offer excellent visibility during the day or night, due to its high brightness, high contrast and wide viewing angle.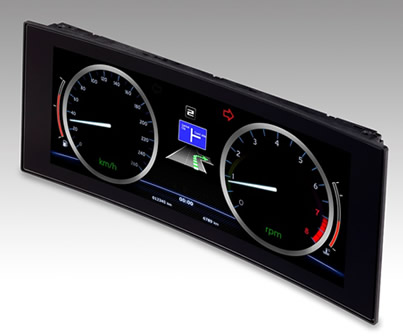 JDI's proprietary processes and facilities to produce this curved display are ready for mass production, with samples available. JDI can develop other curved and/or shaped TFT LCD custom-variants of this display, or develop variants as Pixel Eyes modules which incorporate JDI's proprietary integrated touch functionality.
Specifications
Curved LCD
Liquid crystal mode: IPS
Screen size (diagonal): 31.24cm (12.3-inch)
Number of pixels (H x V): 1,920( x RGB) x 720
Radius of curvature: 1,500mm (concave)
Dimensions: (excluding mounting items): 350.6mm (W) x 140.2mm (H) x 22.3mm (D)
Surface luminance: 1,000cd/m2 (Typ.)
Contrast ratio (perpendicular): 1,500:1 (Typ.)
Surface treatment of cover glass: Anti-glare