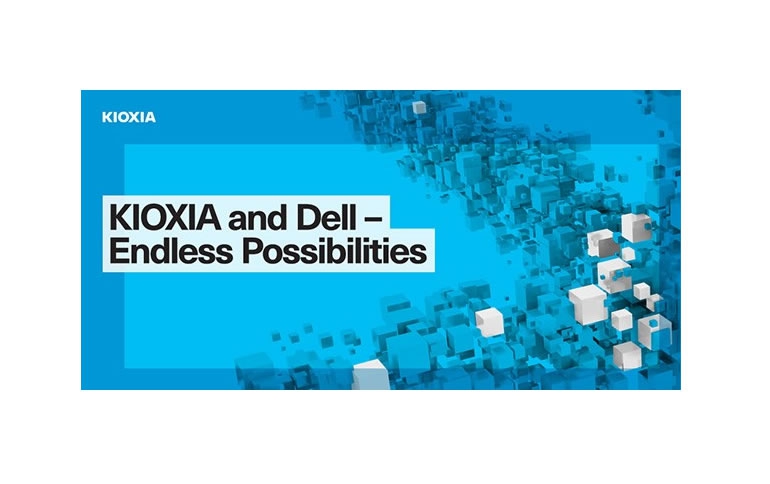 KIOXIA to release SSDs with PCIe 4.0 for servers
This week at Dell Technologies World, KIOXIA America, Inc. will showcase a broad lineup of next-gen, flash-based solid state drives (SSDs) designed to upgrade performance in server and storage application solutions. A diamond-level conference sponsor for the fifth consecutive year, KIOXIA has collaborated with Dell for years to create best-in-class storage solutions that redefine what is possible. Going far beyond the simple transformation of HDDs to SSDs, KIOXIA is optimizing results when deployed with Dell solutions across multiple business lines. At the virtual event, KIOXIA will highlight how its SSDs can optimize a wide variety of new Dell EMC PowerEdge servers and VMware vSAN™ solutions. Of particular focus will be the power and performance boost delivered by KIOXIA PCIe Gen4 SSDs paired with Dell EMC PowerEdge servers.
"At KIOXIA, we are firm believers that the digital world is made better when we work together," noted Alex Mei, vice president of corporate marketing for KIOXIA America, Inc. "Over our longstanding collaboration with Dell, we've seen firsthand proof that the possibilities that exist in today's data-driven world are endless. Together with other technology innovators, we stand ready with comprehensive flash-based storage solutions that can turn transformation strategies into reality."
Visitors to KIOXIA's Dell Technologies World event platform and 3D virtual booth will have access to the following technology and product demos:
CM6 Series PCIe 4.0® Enterprise NVMe® SSDs will be shown running in an extremely high performance VMware vSAN environment. The 10x performance difference between PCIe Gen 4 vs. Gen 3 will also be highlighted. These drives will also be featured demonstrating encryption without a performance hit on a Dell EMC PowerEdge R7525 server.
PM6 Series 24G Enterprise SAS SSDs – the first 24G SAS SSDs for servers and storage1 – demonstrating the performance of 24G SAS. 24G SAS implements reliability innovations and now doubles the performance over 12Gb/s SAS SSDs to take better advantage of PCIe 4.0 ecosystems.
CM6 Series PCIe 4.0 Data Center NVMe SSDs will be configured in bare metal Dell EMC PowerEdge MX750c and MX740c servers running a database workload to highlight PCIe 4.0 vs. 3.0 performance. A 55% MySQL database performance improvement over PCIe 3.0 SSDs will be shown.
Additional demos and more information on the entire breadth of KIOXIA products and solutions can be found in the 3D virtual booth. Product kiosks highlight KIOXA innovations in 10 different areas, including BiCS FLASHTM 3D flash memory and advanced flash solutions for the 5G data revolution.
Dell Technologies World Breakout Session
KIOXIA America and Dell will jointly conduct a session titled, "Secure Your Data in the Fast Lane with PCI Express Gen 4 and Self-Encrypting Drives." Available now, the session focuses on the challenges IT professionals face in adhering to new data storage security requirements. Various degrees of drive-level security, including encrypting data at rest and managing encryption keys will be explored – as well as the role PCI Express Gen 4.0 SSDs play in enabling data security while setting the bar for performance.
Additionally, Alvaro Toledo, senior vice president and general manager of KIOXIA's SSD Business Unit, will be featured in an interview on Dell EMC TV. The breakout session and interview will be available on the KIOXIA Dell Technologies World sponsor page and can also be viewed on the Dell Technologies World website at the conclusion of the show.
KIOXIA America's event space, 3D virtual booth, demos and presentations can be accessed by clicking here: https://about.kioxia.com/en-us/event.html