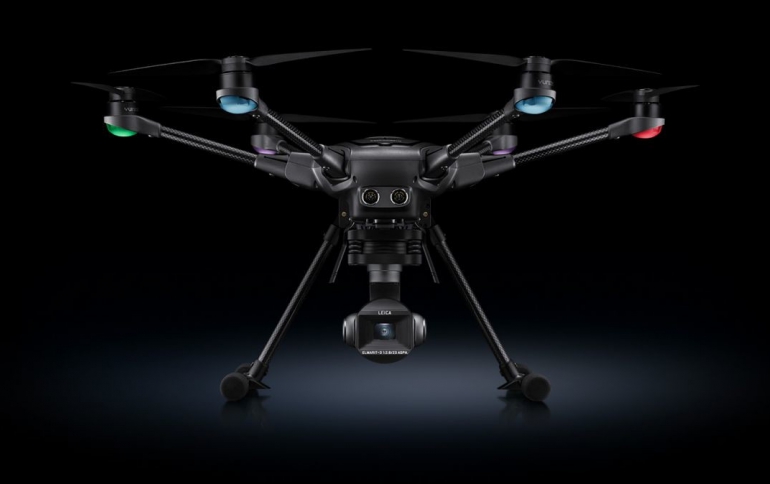 Leica and Yuneec Develop the Typhoon H3 Multicopter Camera
Leica Camera AG and Yuneec are partnering on the development of the ION L1 Pro Camera, which will be marketed with the Typhoon H3 Multicopter from Yuneec.
Leica Camera provided support in the specification and development of hardware components and the image processing software.
The development of multicopter cameras is a complex challenge, particularly in view of critical restrictions in terms of size and weight and the generally difficult conditions in which they are used.
With regard to hardware, the optical system of the ION L1 Pro Camera is specially adapted for the needs of photography from multicopter platforms. Apart from this, one of the biggest challenges faced by the Leica specialists was the minimisation of ghosting and lens flare. Here, a specially modified software was employed to conduct complex ghosting and flare simulations.
In the case of the image processing software, a number of essential features were implemented that are of particular relevance to photographers. The camera provides numerous options – from bracketing and semi-automatic mode to wide dynamic range. On top of this, a dedicated ADOBE RAW profile enables professional and easily manageable workflows in Lightroom and Photoshop software. The handling was designed to be as intuitive as possible and the capture modes are optimised and attuned to the special needs of aerial photography.
The Typhoon H3 Multicopter with the ION L1 Pro Camera will be on sale from end of October 2019 at a price of 2,199 USD (MAP), 2399 Euro (RRP).
| Camera specs | |
| --- | --- |
| Dimensions | 129 x 80 x 130 mm |
| Weight | 375 g |
| Sensor Size | 1" CMOS |
| EFFECTIVE PIXELS | 20 Megapixel |
| Camera Lens | F2.8, 23 mm equivalent |
| View Field | 91° |
| ISO Range | 100 - 6400 |
| Shutter Speed | 4 - 1/8000s |
| Photo Format | JPEG, DNG, JPEG+DNG |
| Video Format | MP4 |
| Photo Resolution | 3:2 (5472x3648) / 4:3 (4864x3648) / 16:9 (5472x3080) |
| Video Resolution | H.264 - 4096x2160 & 3840x2160 & 2720x1530 (24/30/48/60fps) / 1920x1080 & 1280x720 (24/30/48/60/120fps) |
| Video Resolution | HEVC - 4096x2160 & 3840x2160 (24/30fps) / 2720x1530 (24/30/48/60fps) / 1920x1080 & 1280x720 (24/30/48/60/120fps) |
| Photo Modes | Single, Burst, Interval, AEB, Panorama |
| Picture Modes | Normal, Vivid, WDR, 10 Bit Log, B&W |
| White Balance | Lock, Sunny, Cloudy, Auto, Sunset, Custom, Fluorescent, Incandescent |
| Exposure Mode | Auto, Manual, ISO Priority, Shutter Priority |
| Exposure Compensation | ± 3.0° |
| Operating Temperature | -10°C - 40°C |