Lenovo Introduces new Premium Yoga Laptops and ThinkPad X1 Extreme, Delivers Upgraded GPUs to Lenovo Legion Gaming PCs
At IFA, Lenovo unveiled its most premium Yoga laptops, including the world's thinnest and lightest dual screen device and the first dual display laptop with E Ink, one that has integrated 4.5G LTE Advanced Pro connectivity.
Lenovo also unveiled the the flagship Yoga laptop with a Rotating Sound Bar with Dolby Atmos Speaker System. The company Lenovo also announced the latest addition to the premium ThinkPad X1 laptop portfolio and upgraded GPUs on the re-designed Lenovo Legion gaming PCs introduced at E3.
Lenovo Yoga Book C930
The Lenovo Yoga Book C930 comes with two displays, including one built with E Ink. The E Ink screen morphs itself to become your keyboard, notepad and reader. Typing out an email or report The E Ink screen turns into a dynamic, customizable keyboard with multi-language support. Capturing ideas for a big project? Turn your E Ink screen into digital paper and capture it all with the latest Bluetooth active pen with Wacom technology.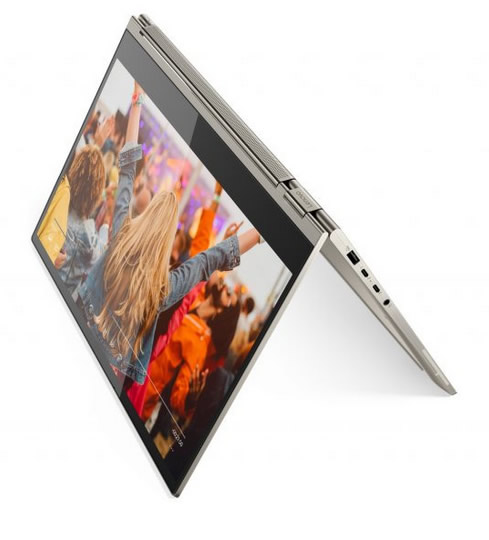 At just 9.9 mm thin when closed, you'll have no problem taking the Yoga Book C930 with you anywhere. And with up to 10 hours of battery life (general usage), it's designed for you to get through a work day while you're on-the-go without worrying about charging.
Crafted from aluminum and packed with features built directly into a redesigned chassis, the Yoga C930 2-in-1 convertible features a Rotating Sound Bar with Dolby Atmos Speaker System and Dolby Vision in up to 4K. Things are done fast with 8th Generation Intel Core i7 processing, Intel's fastest 15W mobile processor.
Keeping track of a digital pen can be challenging, but with the Yoga C930, its Garaged Pen is designed so you always know where it is in the chassis. Better yet, it charges in its compartment.
Lenovo Yoga C630
Lean, light and crafted from premium aluminum, the Lenovo Yoga C630 WOS (Windows on Snapdragon) 2-in-1 convertible offers smartphone-like integrated 4.5G LTE Advanced Pro connectivity and up to 25+ hours of local video playback on a single charge , thanks to the power-efficient architecture of the Qualcomm Snapdragon 850 Mobile Compute Platform.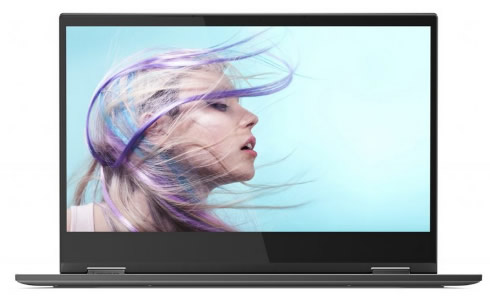 For times when you're away from Wi-Fi, the Yoga C630 WOS receives updates and emails just like your smartphone, even in sleep mode.
But it's not just all work and no play. Beneath the polished metal exterior, the Yoga C630 WOS boasts a 13.3-inch FHD touchscreen display, which combined with powerful stereo speakers, produces a portable entertainment hub. One that you can flip into a position that's best for you, whether in laptop or tablet mode.
And if you'd rather be more active, get creative with an optional Lenovo Pen, whenever and wherever the mood strikes. Using the Yoga C630 WOS as your canvas or notepad, you can mark up a document, draw on your photos or unleash your imagination with Windows Ink.
Lenovo Yoga S730
Polished in aluminum and sleeker than ever, the Lenovo Yoga S730 is the thinnest consumer clamshell laptop yet at 11.9 mm. But it still packs a lot in such a slim form factor: the latest Intel processing, FHD clarity and the sound of the Dolby Atmos Speaker System.
Multitasking is easy, thanks to the latest generation of Intel Core i7 processing, which represents an enormous increase in performance from previous generations.
While you enjoy FHD clarity on a 13.3-inch wide-angle display with razor-thin bezels, keep moving for up to 10 hours with the Yoga S730's long-lasting battery. And if you need an extra boost, an hour plugged-in will provide up to 80 percent battery life.
Lenovo ThinkPad X1 Extreme
Lenovo also announced the latest addition to the premium ThinkPad X1 laptop portfolio, the ThinkPad X1 Extreme. This device introduces a 15-inch form factor to the X1 series and is the first to include NVIDIA discrete graphics. The X1 Extreme is designed for advanced users and prosumers who seek a thin and light laptop that reflects their personality as well as high performance computing needs.
With NVIDIA GeForce 1050Ti graphics, you can also sneak in time with your favorite games.
Starting at just 3.76 pounds, the X1 Extreme is 12 percent lighter than its popular cousin, the ThinkPad T580.
The combination of 8th generation Intel Core processors, including the six-core Intel Core i9 coming soon, up to 64GB of memory and dual PCIe SSD storage option with Raid 0/1 capability brings the highest performance ever seen on a X1 Series.
Far field microphones and Dolby Audio Premium enhance productivity and collaboration for the best conferencing experiences and up to 15 hours of battery life mean users can work ' and play ' for longer. Rapid Charge will then fuel the X1 Extreme up to 80 percent in just 60 minutes.
The ThinkPad X1 Extreme will be available from September starting at $1,859.
For professional users who require a workstation with key ISV application certification within the same thin and light chassis, check out the ThinkPad P1.
Lenovo Legion Y530
Lenovo has refreshed three gaming devices announced at E3 with upgraded GPUs: the NVIDIA GeForce GTX 1060 on the Lenovo Legion Y530 Laptop, and the latest NVIDIA GeForce RTX 2070 and RTX 2080 on the Lenovo Legion T730 tower and Lenovo Legion C730 cube.
The Lenovo Legion Y530 15.6-inch FHD display gaming laptop is thermally optimized to run cooler and quieter with a full-sized white backlit keyboard. At 24 mm thin and 2.3 kg light, it's been redesigned to deliver a balance between epic gaming performance and practical portability. It also comes with powerful NVIDIA graphics, DDR4 memory and more, all optimally cooled via a reengineered dual-channel cooling system.
The Lenovo Legion T730 is a 28-liter desktop that gives you the style and power you demand in a gaming tower, thanks to customizable RGB LED system lighting, a transparent side panel, optional liquid cooling, and extreme processing and graphics power with overclocking options. The space-saving Lenovo Legion C730 is a striking 19L cube with fully loaded overclocked components - boosted by the GeForce RTX 2070 and RTX 2080 GPU upgrades.