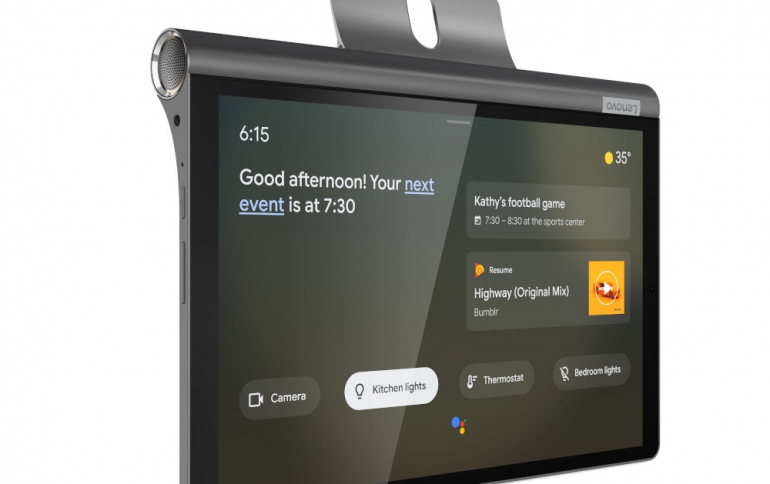 Lenovo Launches New Devices at IFA 2019
Lenovo unveiled at IFA 2019 an array of new smarter home, laptop, AR and mobile devices, designed to provide 'Smarter Technology for All'.
Lenovo Goes All in on AI with Smarter Yoga PCs
Lenovo unveiled what's possible through collaboration in a new class of laptops, engineered with Intel as part of its innovation program code-named Project Athena, to be amongst the thinnest, lightest and most intuitive AI-enabled devices yet with the latest Intel Core processors and Windows 10. Introduced on the new 14-inch Yoga C940 and Yoga S740 are exclusive smart features that adapt to users' performance needs, such as, Super Resolution to upscale video up to FHD 1080p on Windows Media Player, and Q-Control (named for device keys used to toggle modes) that has the potential to dynamically boost a PC's battery life when its AI-enhanced Intelligent Cooling Mode is enabled to monitor the device's thermal attributes and better control its fan. Add to it Modern Standby, which enables Yoga laptops to perform background tasks like receiving emails while in sleep mode, and instantly wake from sleep mode like a smartphone.
Also available on the new Yoga laptops in select markets are smarter capabilities through the Amazon Alexa voice service. Lenovo announced three new Alexa updates coming to its consumer PCs, including:
Lock Screen Support: Speak to Alexa when the laptop lid is open and locked or asleep – she'll respond instantly, with pop-up messages that appear at the bottom of the screen.
Updated Smart Home Visuals: Select Yoga devices now feature the familiar visual experience people are used to seeing when managing smart home devices with the Alexa mobile app.
Multi-Language Support: Talk to Alexa in multiple languages without having to change settings, currently offered in English and German.
Lenovo Yoga C940 14inch tent with Alexa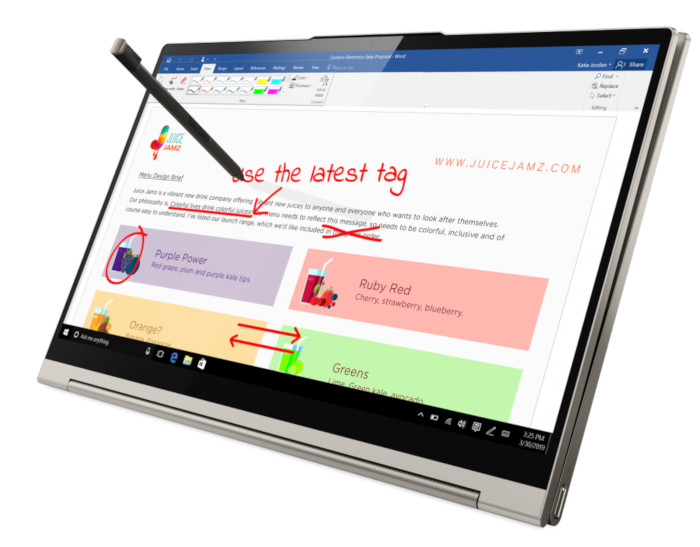 The 14-inch Lenovo Yoga C940 is the new 2-in-1 convertible laptop featuring an all-metal chassis and clever built-in features, like TrueBlock Privacy shutter, Windows Hello biometric authentication, and garaged pen with silo charging and Windows Ink.
Enable Lenovo's exclusive Q-Control by pressing Function-Q to shift into Intelligent Cooling Mode for your PC to auto-adjust performance and optimize battery life based on tasks. There is an improved battery life of up to 17.5 hours6 in FHD, and up to 10.5 hours6 with a UHD display.
With the device lid open, Alexa replies instantly from across the room, providing pop-up notifications even when the screen is locked. The 10th Gen Intel Core i7 processor dynamically upscales video content on Windows Media Player to Super Resolution on an optional 4K HDR display. This flagship device supports fast Wi-Fi 6 and comes with a Dolby Vision enabled display and a redesigned Rotating Sound Bar with Dolby Atmos Speaker System . An engraved camera notch makes 14-inch Yoga C940's twice-polished aluminum lid easier to open, available in Iron Grey or Mica.
The 14-inch Lenovo Yoga S740 features an all-aluminum body and color-matched keyboard. It is powered by up to 10th Gen Intel Core processors and touts a hands-free IR camera login and time-of-flight (TOF) sensor. Easy to carry around town at 1.4kg (3lbs) light and slim at 18.1mm (0.7in) at its thickest point, the Yoga S740's 14-inch optional 4K VESA400 HDR display with Dolby Vision features great sound with Dolby Atmos Speaker System, optional NVIDI® GeForce GPUs, plus an upgraded Eye Care2mode made to help reduce eye strain from blue light emission.
Additional smart features include an IR camera that can detect a person's absence after a few seconds and enable instant log-off. If a video is being watched and the viewer walks away for a few minutes, the PC is intuitive enough to pause the video and automatically resume upon return. During video calls the background can even be blurred so a cat or small child doesn't make a surprise appearance during an online meeting.
Turn to Q-Control to enable the PC's Intelligent Cooling Mode—engineered with machine learning to auto-adjust performance and optimize battery life based on the user's computing needs. Additionally, the 14-inch Yoga S740 has up to 14 hours of battery life with RapidCharge (on optional FHD display). Supersize video resolution up to FHD 1080 in Windows Media Player and talk to Alexa from across the room even when the screen is locked, for instant results with the lid open.
The new Lenovo Yoga C940 (15-inch) is the top-of-the-line 2-in-1 convertible with distinct design details such as a notched webcam bump on its lid for better grip, a garaged pen with silo charging, TrueBlock Privacy Shutter and Windows Hello biometric fingerprint authentication for confident security. Also included are Wi-Fi 6 connectivity, the latest Alexa features plus faster video and photo editing with 9th Gen Intel Core processors and an optional 4K VESA400 HDR display boosted to 500 nits of brightness.
Combined with its Rotating Sound Bar with Dolby Atmos Speaker System, Dolby Vision enabled display, and backlit keyboard with numeric keypad, the Yoga C940 offers a great experience with up to 12 hours of charged entertainment (in the FHD option).
The Lenovo Yoga S740 (15-inch) comes stacked with up to 9th Gen Intel Core i9 mobile processor and a more powerful NVIDIA GeForce GTX1650 GPU. Combined with theater-like specs like a 15-inch FHD HDR display with Dolby Vision at 500 nits bright and thoughtful details such as TrueBlock Privacy Shutter, this chic laptop has a longer-lasting battery designed to amplify what you can do from nearly anywhere. Listen to music with Dolby Atmos Speaker System together with a Smart Amp, designed to boost voice and content audio in slim form factors.
The all-metal Lenovo Yoga C740 is available in a 14-inch or 15-inch screen size in two stylish hues, Mica or Iron Grey. Flip from laptop to tablet mode and back thanks to the soft rounded edges of this convertible. Lightweight with design details such as a color-matched keyboard, this 2-in-1 device has smart features that respond to users' needs including its clever TrueBlock Privacy Shutter and more secure fingerprint login. Lift the lid of the 14-inch Yoga C740 to talk to Alexa from across the room and get instant results—even when the laptop screen is locked.
For all-day convenience, save time when charging the battery with RapidCharge on both models. There is also up to 13 hours of battery on the 14-inch size, and up 15 hours on the 15-inch. The power of up to 10th Gen Intel Core i7 mobile processing and Dolby Atmos Speaker System gives portable productivity and cinema-like entertainment day or night. Go for the 15-inch model for up to FHD VESA400 HDR touchscreen display at 500 nits bright plus Dolby Vision, or enjoy the IPS (In-Plane Switching) touchscreen FHD display on the lighter 14-inch model.
The 13-inch Lenovo Yoga C640 combines the performance of up to 10th Gen Intel Core i7 processing with the compact portability of a 2-in-1. Whether plugged-in or mobile, easily transition usage modes from work to play with its 360-degree flexible hinge design. This new convertible with optional integrated, 4G LTE (Wi-Fi-only option is available with optional Wi-Fi 67 connectivity) frees users from reliance on hotspots and unsecured public Wi-Fi when on the go, plus, offers up to 20 hours of battery life thanks to optimized CPU performance.
Talk with Cortana personal digital assistant for instant help and experience entertainment features such as an FHD wide-angle display and user-facing speakers optimized with Dolby Atmos when listening through headphones. Windows 10 Home OS is offered on both LTE and Wi-Fi-only models with an optional Lenovo digital pen for sketching or annotating.
Google Assistant at the Smart Home
Lenovo is introducing two new smart tablets with the Google Assistant: the Lenovo Yoga Smart Tab and the Lenovo Smart Tab M8. The Yoga Smart Tab and Lenovo Smart Tab M8 double as hands-free smart home hubs with the Google Assistant's Ambient Mode.
As the successor to the Yoga Tab 3 series, the Yoga Smart Tab pairs smart home hub optimization with the features that made the Yoga Tab a favorite entertainment tablet. It combines audio and video capabilities with a signature multi-modal Yoga kickstand that allows you to tilt, stand, hold or hang their tablets. That means you can stand, sit, recline or lie down while using the Yoga Smart Tab, and still get a full experience at virtually any angle.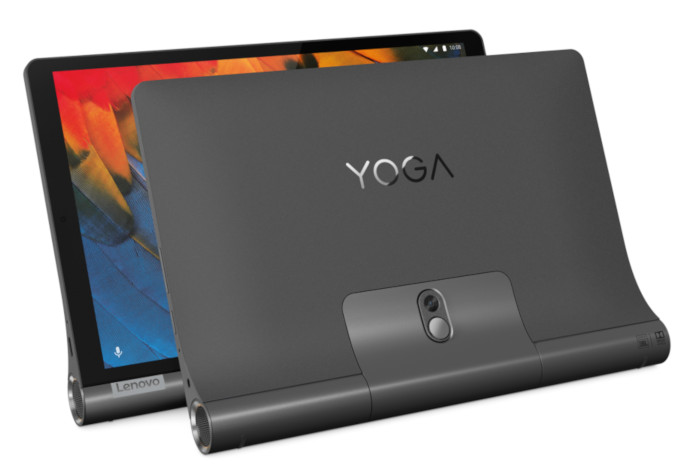 The Yoga Smart Tab has a 10.1-inch FHD IPS display. The latest display and light, in-cell TDDI (Touch and Display Integration) technologies also boost touch interactivity, while engineered to reduce eye fatigue. The listening experience comes via dual JBL Hi-Fi speakers reinforced by smart power amplifiers optimized with Dolby Atmos.
With the Google Assistant's Ambient Mode, you can transform your Yoga Smart Tab into a digital photo frame, control your music and smart home devices, and access important updates. To automatically activate the Ambient Mode, press the release button on the Yoga kickstand when the device is idle. Three digital mic arrays and 360-degree far-field voice recognition can then pick up on your voice from across the room.
Lenovo Yoga Smart Tab starts at €299 (VAT included) and is expected to be available starting in September 2019 on lenovo.com and select retailers.
With the Lenovo Smart Tab M8 is a shareable tablet for adults and kids that also doubles as an always-on smart home hub. Dock in the tablet into its Smart Charging Station to transform it into a smart home device featuring hands-free far-field voice recognition from across the room through high-performance dual MEMS (microelectro-mechanical systems) microphones. Ask the Google Assistant to show you who's at the front door from your couch, desk or bed.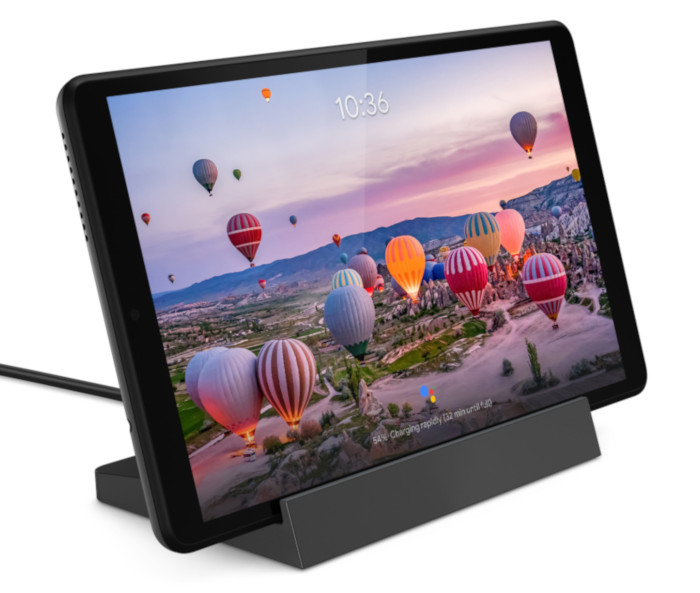 The Lenovo Smart Tab M8 is powered by a Quad-Core 2.0Ghz processor and 5GHz Wi-Fi support. And with multiple user accounts enabled by facial recognition or multiple PINs to determine who's using the device, users can unlock their own specific user account with dedicated profiles, wallpapers, applications and storage.
And the Lenovo Smart Tab M8 can fit into any home, with a full-metal cover and narrow bezels that are designed to complement modern home decor.
Lenovo Smart Tab M8 starts at €149 (VAT included) and is expected to be available starting in October 2019 on lenovo.com and select retailers.
In addition to the smart tablets, Lenovo is unveiling a new Lenovo Smart Display 7 with the Google Assistant, which has been redesigned for a minimal footprint to fit nearly anywhere in the home.
The latest addition to the Lenovo Smart Display series, the Lenovo Smart Display 7 is compact and flexible, blending anywhere while offering all the Assistant visual features you'd expect on a smart display, on a 7-inch SD touchscreen.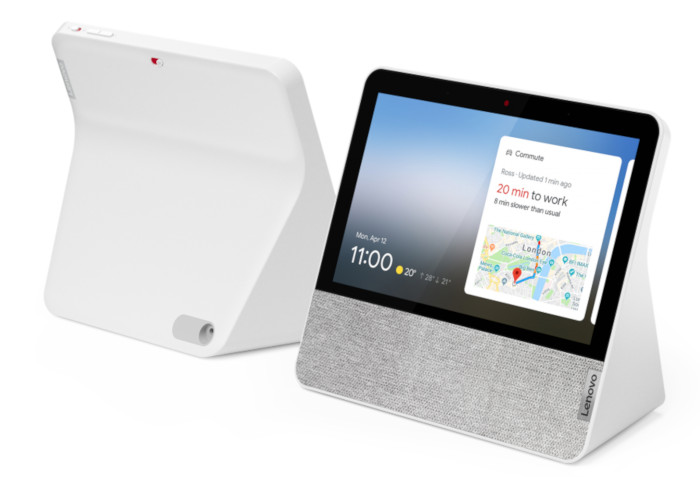 Compared with its predecessors, the Lenovo Smart Display 7 now sports thinner bezels as well as an ambient light sensor for better, more realistic photos. Lenovo has added front-facing left and right speakers for stereo separation, housed in a larger chamber to deliver more audio resonance. The Lenovo Smart Display 7 also features a TrueBlock Privacy Shutter and a physical mute button, for added privacy when you need it,
Lenovo Smart Display 7 starts at €129 (VAT included) and is expected to be available starting in October 2019 on lenovo.com and select retailers.
ThinkBook Expands Portfolio for SMB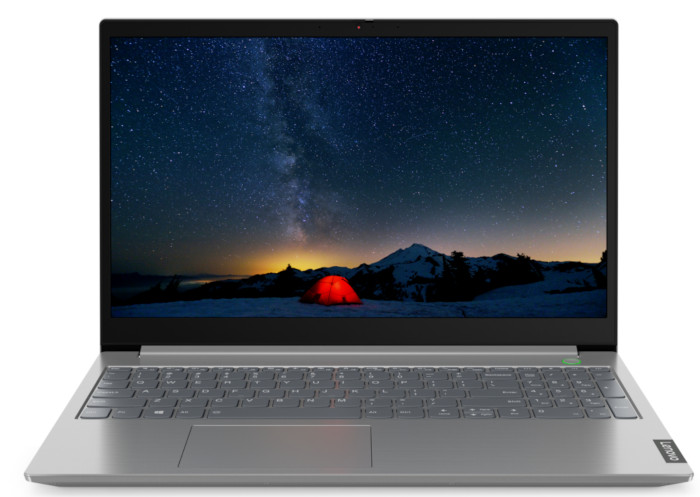 Lenovo also announced the new ThinkBook 14 and 15 mainstream laptops designed for small and medium businesses (SMB). The company is also updating the ThinkBook 13s and 14s with 10th Gen Intel Core processors.
The ThinkBook series is a new line of laptops designed for small and medium-sized businesses (SMB) and privacy-conscious users on a budget.
Features include:
Performance:
10th Gen Intel Core processors
Plenty of fast PCIe SSD storage and DDR4 memory, boosted even more by Intel Optane™Memory H10 with Solid State Storage
Gigabit speeds on both wired (RJ45) and optional Intel® Wi-Fi 61
Easy Security:
One-step unlock and turn on with the Smart Power Button that has a fingerprint reader built in
Ensure webcam privacy with the ThinkShutter camera shutter
Smart Working:
Protection for your wireless mouse dongle from loss or theft with the hidden USB port
Answer or hang up Skype for Business calls instantly with hotkeys
Charge and connect any USB-C device to the full-function Gen2 USB-C port. Eliminates the need to carry around separate chargers.

Pricing and Availability
ThinkBook 14 will be available from November 2019, starting at €675.
ThinkBook 15 will be available from November 2019, starting at €665.

ThinkBook 13s IML will be available from November 2019, starting at $729.
ThinkBook 14s IML will be available from November 2019, starting at $749.
Lenovo Q27q Monitor
Two new Lenovo consumer monitors, cpme with integrated multi-media audio via 2 x 3W speakers. Both are certified to minimize eye fatigue by TÜV Rhineland Eye Comfort standards and designed to provide seamless functionality with connected devices and a cinematic-quality experience, plus a touch of understated style. For PC gamers with AMD GPUs, eliminate image stuttering and screen tearing with Radeon FreeSync technology.
The Lenovo Q27q Monitor is the new premium 27-inch QHD crystal-clear IPS display that's easy-to-use and near-edgeless on three sides. Ultra slim for its size at 6.9mm (0.3in) it features a clever wedge base design and smart ergonomic features.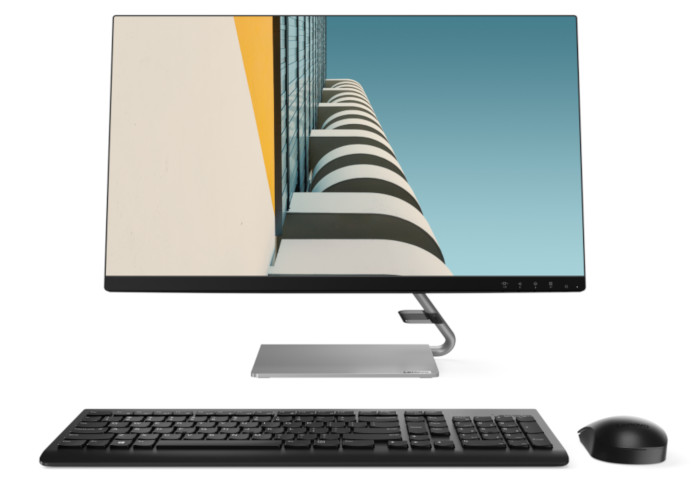 The Lenovo Q24i Monitor is the new 24-inch FHD, near edgeless display with the clarity of 1920×1080 pixels, endless viewing comfort with smart eye protection features, and new cleaner design—perfect for binge-watching shows, playing the hottest games, or just tackling multiple projects at once. And at just 6.9mm (0.3inches), it's truly ultra-slim.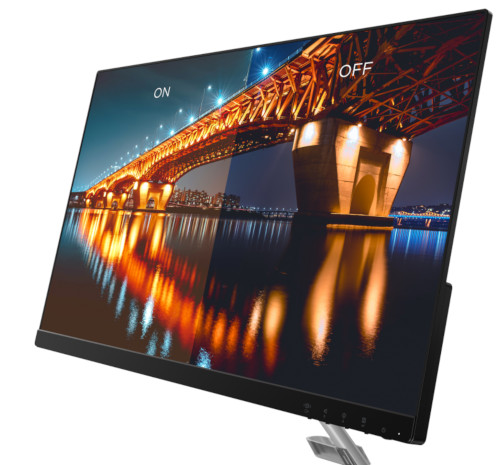 Easily work all day on the Lenovo ThinkVision S28u-10 that's TÜV Rheinland Eye Comfort Certified with flicker-free technology and reduced reflections. The professional display has a 28-inch 4K UHD IPS panel. Colors are bright with greater than 99 percent sRGB and 90 percent DCI-P3 color gamut for impeccable accuracy. The monitor has HDMI 2.0 and a DisplayPort 1.2 that provide improved connectivity required for modern businesses and a 100 x 100 mm VESA Mount makes the ThinkVision S28u-10 deployable in a variety of scenarios.
Pricing and Availability
New Product/Solution

Pricing

Availability

Lenovo Yoga C940 (14-inch)

€1,499.00 (including VAT)

September 2019

Lenovo Yoga C940 (15-inch)

€1,899.00 (including VAT)

October 2019

Lenovo Yoga S740 (14-inch)

€899.00 (including VAT)

September 2019

Lenovo Yoga S740 (15-inch)

€1,399.00 (including VAT)

September 2019

Lenovo Yoga C740 (14-inch)

€899.00 (including VAT)

September 2019

Lenovo Yoga C740 (15-inch)

€899.00 (including VAT)

September 2019

Lenovo Yoga C640 (13-inch)

€899.00 (including VAT)

October 2019

Lenovo Yoga Smart Tab with the Google Assistant

€299.00 (including VAT)

September 2019

Lenovo Smart Tab M8​ with the Google Assistant

€149.00 (including VAT)

October 2019

Lenovo Smart Display ​7 with the Google Assistant

€129.00 (including VAT)

October 2019

Lenovo Mirage AR with MARVEL Dimension of Heroes

$249.99 in the US

(MARVEL Dimension of Heroes content is available to download via a compatible smartphone13 on the App Store and Google Play™ at no additional cost.14 The Star Wars: Jedi Challenges experience is already available for download, and a free update will add compatibility for players using the new Lenovo Mirage AR Universal Controllers.14, 15)

September 6, 2019 on Amazon.com and Lenovo.com

Lenovo ThinkBook 14 (14-inch)

€675.00 (excluding VAT)

November 2019

Lenovo ThinkBook 15 (15-inch)

€665.00 (excluding VAT)

November 2019

Lenovo Q27q Monitor (27-inch)

€299.00 (including VAT)

September 2019

Lenovo Q24i​ Monitor (24-inch)

€169.00 (including VAT)

September 2019

Lenovo ThinkVision S28u Monitor

€300 (excluding VAT)

October 2019

Lenovo Premium Care

Pricing varies by hardware, package terms (from one to three years), geographical location, distribution, and other factors. To upgrade, consumer PC users can call their local sales team, visit www.lenovo.com, select a plan via the Lenovo Vantage dashboard, or by scanning the eSupport QR code on their device.

motorola one zoom

From €429

September 2019

moto e6 plus

From €139

September 2019