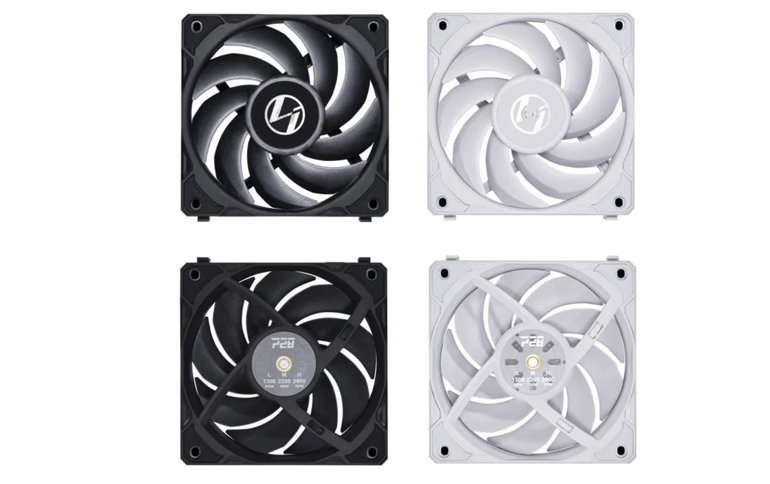 LIAN LI Launches First Performance-Focused UNI FAN with the P28
LIAN LI announces its first performance-focused UNI FAN with the P28, a 120mm PWM fan available in black, and in white. With a 28mm thick frame, Liquid Crystal Polymer blades, Fluid Dynamic Bearing, and 3-speed modes: quiet operation, balanced noise/performance, and maximum performance, the P28 is geared towards performance. As with all UNI FANs, the P28 can be interconnected to create clusters of fans capable of being powered via a single cable, and up to 2 clusters can be bridged with an extension cable. For users wanting added flare without sacrificing performance, an optional Side RGB Strip accessory is added to the side of the fan.
The P28 features a 9-blade design made of liquid crystal polymer (LCP), a stronger material capable of supporting higher speeds without deformation for tighter tolerances with the fan frame (0.6mm). Combined with an overall frame thickness of 28mm, the increase in the surface area of the blades results in added performance. In addition, the P28 is equipped with Fluid Dynamic bearings (FDB) for the fan motor to operate quieter and smoother. The use of a thicker fan frame, sturdy LCP blade material, and the FDB result in great performances, and quieter operation.
The P28 comes with a controller which can be magnetically mounted anywhere in the case and offer 3-speed profiles. Users have the option to opt for quieter operation in L mode, a perfect balance of noise and performance in M mode, or maximum performance in H mode.
The P28 can be interlocked and daisy-chained together to create clusters of fans that only require a single cable to be powered on. The innovative approach introduced with the original UNI FAN SL120 greatly reduces the number of cables required to power a large number of fans, making cable management a breeze. In addition, the P28 has removable interlocking keys to improve compatibility with radiator fittings, and support for an extension cable to bridge two clusters of fans (up to 6 fans max) to a single controller, further reducing cable clutter.
While the P28 is focused on performance, users also have the option to replace the side aluminum strip with a Side ARGB Strip accessory. The strip can be added to a single side of the fan, or both, and is powered via a standard 5V ARGB cable and can be daisy-chained seamlessly like the fans. By adding the side ARGB strips to the P28, available in black and white, users can achieve the same sophisticated RGB look as the UNI FAN SLV2, without sacrificing performance.
The UNI FAN P28 is now available at AliExpress: ​https://www.aliexpress.com/store/group/UNI-FAN-P28/1101594887_4000000411...​
The UNI FAN P28 is now available at NEWEGG:
Single pack black: https://www.newegg.com/p/1YF-005G-000C4?Item=9SIAFSTJNS5695​
Single pack white: https://www.newegg.com/p/1YF-005G-000C5?Item=9SIAFSTJNS5982​
Triple pack black: https://www.newegg.com/p/1YF-005G-000C2?Item=9SIAFSTJNS5529​
Triple pack white: https://www.newegg.com/p/1YF-005G-000C3?Item=9SIAFSTJNS5632​
ARGB black: https://www.newegg.com/p/1W8-014H-00035?Item=9SIAFSTJNS7016​
ARGB white: https://www.newegg.com/p/1W8-014H-00036?Item=9SIAFSTJNS7275​
​
​The UNI FAN P28 is now available at Overclockers UK:
​https://www.overclockers.co.uk/lp/lian-li-uni-fan-p28​
The UNI FAN P28 is now available at Caseking:
​https://www.caseking.de/en/lp/lian-li-uni-fan-p28-performance-evolved.html​