A Look At Upcoming SSD Controllers
During last week's Computex show in Taiwan, Seagate, JMicron, Silicon Motion, Phison and Marvell had on display their latest SSD controllers that will find their way to new products later this year. Starting with Seagate, the company had on display its new SandForce SF3000 enterprise and the SandForce SF3500 client SSD Controller series, which has been announced quite some time ago but it has not yet reached actual products yet.
The Seagate SandForce SF3500 family of flash controllers are designed to enable SSD manufacturers to build SATA and PCIe NVMe SSDs with a greater capacity (up to 1TB) using the latest 10nm-class MLC, TLC and 3D NAND flash.
Series

SF3500

SF3700

SKU

SF3514

SF3504

SF3524

SF3739

SF3759

# of NAND Channels

4 (400MT/s each)

9 (400MT/s each)

Controller Frequency

275MHz

275MHz

300MHz

N/A

N/A

Interface

SATA 6Gbps

PCIe 2.0 x2 (NVMe)

SATA 6Gbps + PCIe 2.0 x2 (NVMe)

SATA 6Gbps + PCIe 2.0 x4 (NVMe)

Max Capacity

1TB

2TB

NAND Support

MLC, TLC

MLC, TLC

SLC, eMLC, MLC, TLC

Sequential Read

550MB/s

900MB/s

900MB/s

1600MB/s

1600MB/s

Sequential Write

450MB/s

525MB/s

525MB/s

670MB/s

670MB/s

4KB Random Read

100K IOPS

130K IOPS

130K IOPS

130K IOPS

130K IOPS

4KB Random Write

80K IOPS

120K IOPS

120K IOPS

80K IOPS

80K IOPS

Mixed 70R/30W Random 

80K IOPS

120K IOPS

120K IOPS

100K IOPS

100K IOPS

Sector Size Support

512B

4KB

4KB (PCIe NVMe),
512B (SATA)

512B (SATA)
4KB (PCIe NVMe)

DuraClass technology

DuraWrite data reduction
Enhanced RAISE data protection
SHIELD error correction
Intelligent block management and wear leveling
Intelligent read disturb management
Intelligent garbage collection
Intelligent data retention optimization
Power/performance balancing
Thermal threshold management

Power Fail Protection

FW + partial + full

Data Protection

RAISE 1 + Fractional RAISE

RAISE 1 + Fractional RAISE
RAISE 2 + Auto-reallocation

Package

401-ball FCBGA - 11 ? 18 mm

624-ball FCBGA - 17 ? 17 mm, 0.65 mm pitch

Encryption

AES-256, TCG Opal 2.0 & IEEE-1667 (eDrive)

AES-256

AES-256 & TCG Entrerprise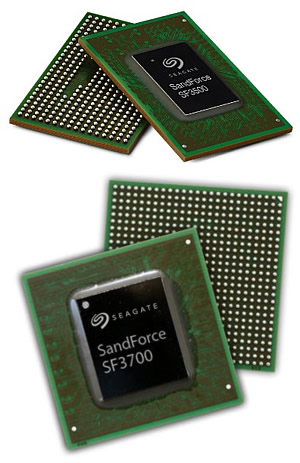 The SF3500 is a 4-channel version of the SF3700. It is optimized for low-power environments and supports ultra-low power sleep modes to maximize battery life and meet the aggressive power requirements in laptop and Ultrabook systems. It combines several techniques to extend flash memory life and maintain data integrity. Enhanced DuraWrite data reduction lowers write amplification and P/E cycles to maximize SSD endurance. SHIELD advanced error correction further extends flash memory life by implementing an LDPC code that combines hard-decision, soft-decision, DSP and adaptive ECC. The SF3500 flash controllers also provide superior data protection with enhanced RAISE (Redundant Array of Independent Silicon Elements) technology that includes levels of data protection optimized for client applications and additional redundancy ensuring access to data even after a page or block failure. RAISE technology provides the protection and reliability of RAID on a single drive without the 2? write overhead of parity.
The SF3500 family also implements high-level security protocols to safeguard data stored in flash memory. Dual AES-256 hardware encryption protects data at rest, and optional support for TCG Opal and eDrive provide interoperability with self-encrypting drive (SED) management tools.
The SF3500 series includes three SKUs and similar to the SF3700 silicon the controller supports both SATA 6Gbps and PCIe 2.0. The SF3514 and SF3504 are SATA and PCIe respectively, but the SF3524 could be set by OEMs to allow the SSD to operate in both SATA and PCIe modes similar to the SF3700 SKUs.
In addition, the SF3500 uses external DRAM for caching the NAND mapping table, whereas the SF3700 and all older SandForce controllers only use the integrated SRAM.
Another difference between the SF3500 and the SF3700 is their RAISE support. The client-oriented SF3500 only supports level-1 RAISE, which uses one NAND die for protection against single page/block failures. The SF3700 has full RAISE support and can operate in either level 1 or 2 mode with level-2 protecting against a full die failure.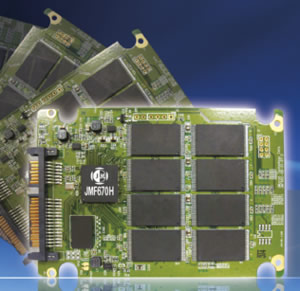 JMicron
Moving on with JMicron, the company is set to ship its new JMF670H controller for mainstream SSDs. It supports SATA III, MLC NAND and capacities of up to 512GB. JMicron qoutes sequential read speed of 540MB/s and seqential write of 450MB/s.
JMicron is also working on the JMF680 controller, which is still a SATA 6Gbps design, but it will bring support for TLC NAND thanks to what JMicron calls 'advanced ECC'. The JMF680 will support capacities up to 2TB and has a 2GB DRAM controller. The four NAND channels will also get an upgrade to Toggle 3.0 and ONFi 4.0 standards to support the upcoming NAND dies. The JMF680 also supports Write Booster, which is JMicron's SLC caching feature.
On the high-end side JMicron has the JMF815, a PCIe 3.0 x2 design with four NAND channels and support for SLC/MLC/TLC NAND. Sequential read/write speeds are 1200/1000 MB/s, respectively.
First engineering samples of the JMF680 and JMF815 are expected to be ready in Q4'15 with first retail products entering the market in early 2016.
Silicon Motion
Silicon Motionis working on a PCIe controller called SM2260 and it's a PCIe 3.0 x4 design with support for NVMe.
The controller supports both MLC and TLC NAND at lithographies as small as 15nm, which suggests the use of LDPC error correction similar to the company's SM2256 controller. Performance specs include up to 2.2GB/s sequential read and 200K random read IOPS.
The SM2260 will be available next year.
In addition to the SM2260, Silicon Motion showcased at Computex the SM2256 controller that will be shipping this year. It supports TLC NAND.
The SM2246XT is a DRAM-less version of the SM2246EN controller. Although it's a bit slower than the SM2246EN, it offers lower cost due to a smaller die.
Phison
Phison showcased the new PS5000-E7 controller at Computex 2015. It is compatible with NVMe 1.1b and connects via the PCIe 3.0 x4 connection. It is expected to find its way to 2.5" SSDs, add-in card designs and M.2 products.
Phison says that the controller supports sequential read/write up to 2,500/1,200 MBps and 300,000/250,000 random read/write IOPS. The design also supports up to 16 NAND packages, which allows the capacity to reach up to 2 TB.
The controller supports standard Toshiba A19nm MLC NAND, Toshiba 15nm as well as TLC NAND.
Marvell
Marvell had on display the currently available PCIe 2.0 x4 Alta+ controller, currently implemented by Kingston in the HyperX Predator SSD.
For the near future, Marvell is preparing the Eldora (88SS1093) and Eldora Lite (88SS1094) NVMe 1.1 controllers that connect through PCI Express 3.0 x4. Eldora uses 8-channels for add-in cards (AIC) and m.2 form-factor devices.
The Eldora has a tricore CPU architecture and will support Toshiba's 15nm lithography process for SLC, MLC, TLC and 3D NAND. Marvell NANDEdge LDPC error correction control and management is also supported, and SSDs will be able to offer capacities of up to 2 TB.
Expect the Eldora Lite to ship in m.2 2280 form factor products by early 2016.
Marvell's 88SS1074 SATA 6 Gbps controller was also on display, paired with both Toshiba 15nm TLC and Hynix 16nm TLC. This one will be found in LiteOn's upcoming CV2 SSD.