Microsoft HoloLens Developer Kits To Start Shipping For $3,000
Microsoft's HoloLens developer kits will start shipping in the US and Canada on March 30, so developers can already buy the mixed-reality goggles for $3,000. Introduced just over one year ago, Microsoft HoloLens is a holographic computer. HoloLens enables holographic computing natively with no markers, no external cameras, no wires, no phone required, and no connection to a PC needed.
The device consists of multiple environment understanding sensors and it's powered by a custom-built Microsoft Holographic Processing Unit (HPU) and an Intel 32-bit architecture. The HPU is custom silicon that allows HoloLens to understand gestures and gaze while mapping the world all around you, all in real time.
HoloLens has see-through holographic lenses that use an optical projection system to generate multi-dimensional full-color holograms with very low latency so you can see holographic objects in your world. The key to a great holographic experience is holograms that are light point rich, i.e., they have a high holographic density and are pinned, or anchored, to the world around you. To achieve this, HoloLens has been designed for optimal holographic density of 2.5K radiants. The more radiants and light points there are, the brighter and richer the holograms become.
HoloLens contains sensors to capture information about what you're doing and the environment you're in. The built-in cameras also enable you to record mixed reality captures (MRC) - HD pictures and video of the holograms in the world around you that you can share with others even when they don't have a HoloLens.
With HoloLens you can create and shape holograms with gestures, communicate with apps using your voice, and navigate with a glance. HoloLens understands your gestures, gaze, and voice, enabling you to interact in the most natural way possible. With spatial sound, HoloLens allows you to hear holograms from anywhere in the room, even if they are behind you.
The device also supports Bluetooth 4.1. Other hardware specifications include 2GB of RAM, 64GB of flash storage, and Bluetooth and Wi-Fi connectivity. The Bluetooth support allows HoloLens owners to make use of a new Clicker accessory, included in the box, instead of the air tap gestures to navigate around. Microsoft says the entire HoloLens headset will weigh no more than 579 grams, and the battery will run for around two or three hours of active use. HoloLens is fully functional when it's charged over Micro USB, and the device will also have a standby time of two weeks.
A carrying case will house the HoloLens, Clicker accessory, charger, and additional nose pads.
Starting today, developer applicants will start receiving invitations to purchase the Microsoft HoloLens Development Edition – which will begin shipping on March 30th.
HoloLens is a Windows 10 device, and the APIs responsible for holographic computing are already available in Windows 10. Developers may visit dev.windows.com/holographic for guides and detailed tutorials. Additional development tools that include Visual Studio projects and a HoloLens emulator will be released when HoloLens devices start shipping. The emulator will allow developers to test holographic apps on their PC without a physical HoloLens and comes with a HoloLens development toolset – to help developers who haven't yet received their devices get started right away.
Developers who purchase HoloLens will have immediate access to hundreds of Universal Windows Platform (UWP) apps through the Windows Store.
Microsoft has already introduced new partners like Volvo Cars, Autodesk Fusion 360 and has made progress in its partnerships with Case Western Reserve University and the Cleveland Clinic, Trimble, and NASA.
First apps and games available
An example application for HoloLens is HoloStudio. It is allowing people to create 3D in 3D – at real-world scale. HoloStudio also shows how to use the HoloLens interaction model of gaze, gesture, and voice. The interactions needed to create detailed holographic models push the platform's ability to make interacting in 3D natural. HoloStudio also allows for integration with OneDrive, and exports to 3D print or Sketchfab.
The Hololens Development Edition also runs Skype enhanced to allow people to communicate using holograms. Skype on HoloLens allows people running Skype on any Windows device to interact in the holographic world. This application will show how holograms can be used for remote collaboration and training in a way previously impossible.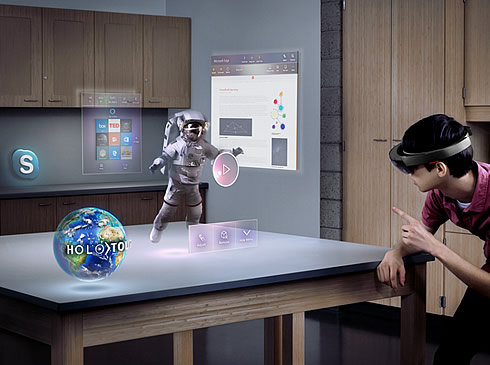 With Skype, you can see the holograms the other person is seeing and you can use holograms to illustrate techniques or development approaches.
HoloTour is a digitally immersive application that allows people to transport to a different location and experience it like they are really there. You see high-resolution 360-degree panoramic displays of places like Rome and Machu Picchu. HoloTour highlights two unique capabilities of HoloLens. Being untethered, HoloLens allows you to enjoy a virtual trip by actually walking around the location.The experience still embraces mixed reality, as it allows you to physically walk around spaces and get up close to objects while remaining untethered from a PC, phone or other device. HoloTour is also a showcase for the spatial sound capabilities of this platform. When you are walking around Rome, the sounds of the city surround you – just like you were actually there. It is incredibly realistic and has to be heard to be believed.
Microsoft has also delivered 3 examples of mixed reality games that demonstrate the elements of holographic gameplay.
The first is called Fragments, a mixed reality crime drama that unfolds in your own environment. Gamers are able to investigate clues and solve crimes that are seemingly taking place in their own living rooms. As a holographic platform highlight, Fragments demonstrates how creators can build characters and storylines that drive a higher level of emotional engagement and attachment than you can with any other medium. Fragments characters comes in to your home, sits down on your sofa, and strikes up a conversation with you (!) The game actually blurs the line between the digital world and the real world. When your living room has been used as the set for a story, it generates memories for you of what digitally happened in your space like it was real.
Microsoft has also built a delightful platform game called Young Conker. Young Conker is unique because it takes traditional platform gaming mechanics and sets them loose in your real world environment as the gameplay level. This creates gameplay that can only be done in mixed reality. One of the most exciting things we discovered with Young Conker is how unique the gameplay is based on where you play. Unlike with traditional video games, where people play the same digitally created levels – Young Conker tailors each of the levels you play to your real world. This means every person gets a unique gameplay experience since each gamers real world environment is unique. The play experience feels differently based on playing the game in your living room versus your kitchen or your bedroom. Since the environments are real world ones instead of digitally created, it puts the development focus on making the gaming mechanics fun.
Both Fragments and Young Conker were created by Microsoft in partnership with Asobo Studio.
The third gaming experience available to all developers in the Windows Store is called RoboRaid. Previously codenamed Project X-Ray, RoboRaid started as a project inside Microsoft's development team. The basics of RoboRaid were built during our team's "wacky week" where Microsoft let their developers build anything with holograms they want. Within a week, a small group of developers had a compelling 1st person holographic shooter up and running. RoboRaid has you defending your own home against an alien invasion. It is a highlight of how our key holographic platform features can be used in gaming. It uses your real world as the environment. Alien robots will be breaking through the walls of your own home. It uses spatial sound as a huge feature of the game. When you hear walls crumbling behind you it is impossible to not spin around and defend your turf.
Finally, starting this summer, developers will be able to experience a new holographic storytelling medium for the Development Edition that Microsoft calls Actiongram. It will offer a new way to tell digital stories that might otherwise be impractical or impossible. Actiongram uses mixed reality capture (MRC) to blend holographic content into real world settings, allowing anybody to create emotionally compelling and humorous videos.