Microsoft Unveils Surface Pro 6, Surface Laptop 2, Surface Studio 2 and Surface Headphones
Microsoft today unveiled Surface Pro 6, Surface Laptop 2, Surface Studio 2 and Surface Headphones, and announced availability of the Windows 10 October 2018 Update and new Office 365 experiences.
Surface Pro 6
The form factor that established the 2 in 1 category, is now 67 percent faster with Intel 8th Gen Quad Core processors and available in a Black color option. Surface Pro 6 offers all-day battery for up to 13.5 hours of work or fun. The full friction hinge enables transitions between Laptop Mode, Studio Mode, and Tablet Mode. The device has a 12.3" PixelSense Display and multi-screen docking, and now includes a 8.0 MP auto-focus camera.
While there's an internal redesign, the outside looks very familiar. It's still 1.7 pounds, and it has the same display and up to 16GB of RAM inside.
Unfortunately, the Surface Pro 6 will include the same connectivity and external design as the existing model, which means there are still no USB-C ports.
You can pre-order your Surface Pro 6 beginning on Oct. 2, starting at $899, with an Intel Core i5 processor.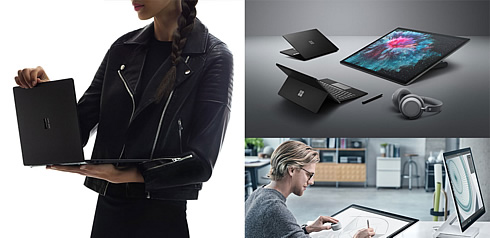 Surface Laptop 2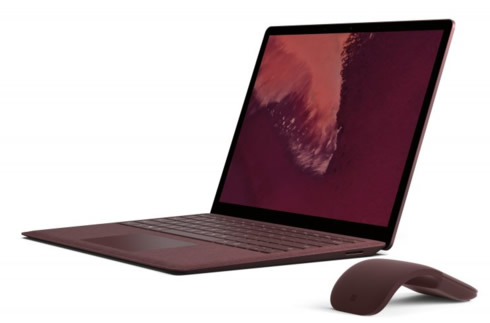 Surface Laptop offers speed in a slim, fast-charging laptop that fits in your bag. Surface Laptop offers the blend of texture, subtle details, and clean, elegant lines-plus the luxurious touch of the Signature Alcantara material-covered keyboard. Announced today, Black joins the rich tone-on-tone color combinations of Platinum, Burgundy and Cobalt Blue. And Surface Laptop 2 gets supercharged with Intel 8th Gen Quad Core Processor, 8GB of RAM, while offering up to 14.5 hours of battery life and faster and quieter typing. It comes with a 13.5" PixelSense Display screen, with an edge-to-edge display and ultra-thin bezels. Surface Laptop 2 also includes OmniSonic speakers.
Storage still starts at a 128GB SSD and goes up to 1TB, and ports are still limited to a single USB 3.0 and Mini DisplayPort. That means another year without USB-C.
Surface Laptop 2 will be available to pre-order beginning on Oct. 2, starting at $999.
Surface Studio 2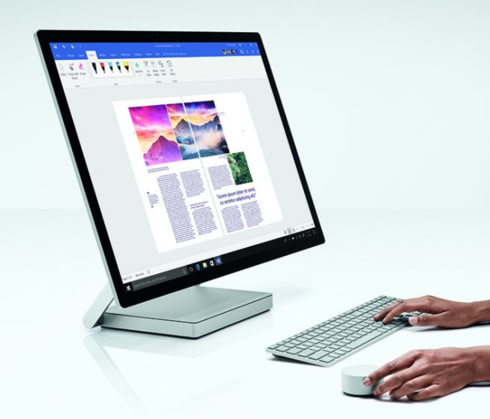 Designed for creativity, Surface Studio lets you turn your desk into the creative studio. With 50% more graphics performance, Surface Studio 2 is the fastest Surface ever made offering professional grade power and performance. The 28" Brilliant PixelSense Display is adjustable offering a huge canvas. Now offering USB-C support and Xbox Wireless built in gaming-class performance, Surface Studio 2 includes the latest Surface Pen with tilt sensibility and 4096 levels of pressure. Of course, Surface Studio 2 offers Surface Dial integration and Ink experiences with a wide variety of software, including Office.
There's a 2TB SSD inside, instead of the slower hybrid drive on the original Surface Studio. Microsoft has decided to stick with a 7th Generation Intel Core i7 processor inside.
The base model comes with an Intel Kaby Lake-based i7 processor and 16GB RAM, and the price will start at $3,499.
Surface Headphones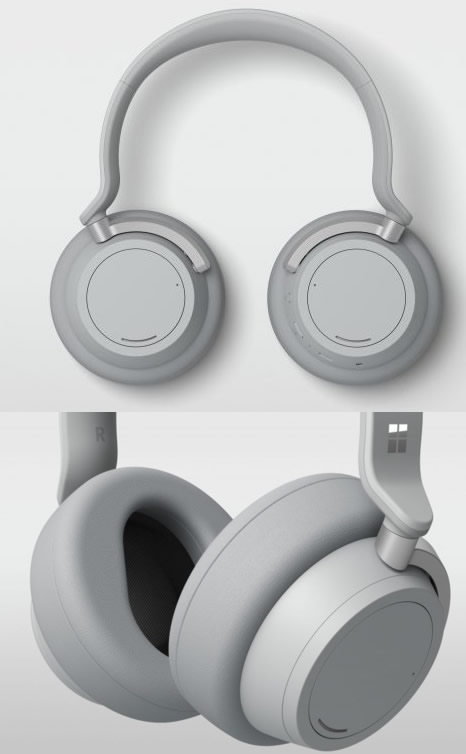 Microsoft's first smart headphones offer premium design and integration with familiar services. Surface Headphones offer a smarter way to listen, with rich audio and hands-free calling. Surface Headphones make it easy to block out the world to get more done with adjustable noise cancellation. With automatic pause and play, they will even pause the movie or video you are watching when you remove them from your ears. Cortana, a hands-free digital assistant, is built in to offer you guidance, read you emails, or kick off your conference call.
Surface Headphones are $349 and will be available later this year.
Specs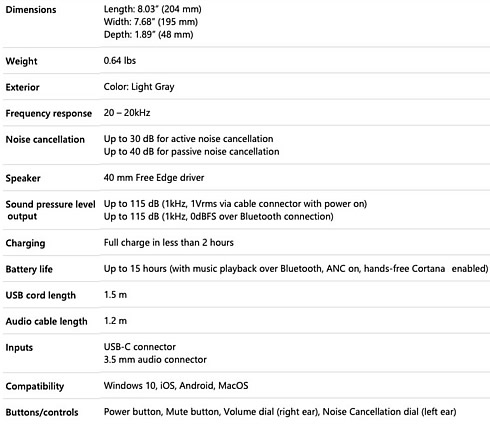 Surface All Access
Surface All Access offers the option of paying monthly for the Surface product of your choice, starting at just $24.99 per month for 24 months, complete with an Office 365 subscription, access to in-store training and top-tier support. Surface All Access is available at Microsoft retail stores in the U.S.
Windows 10 & Office 365 announcements
Your Phone App
Pausing a task on your PC to respond to a text or notification on your phone can break focus and take you out of your flow. The Your Phone App brings instant access to your texts and photos from your Android phone right on your PC, enabling you maintain your focus.
Windows Timeline on Phone
As we move throughout our day switching between work and personal tasks on our PCs and phones, it has become more challenging to find files and documents or web pages across our devices. Windows Timeline has been available on your Windows 10 PC since April, and Microsoft has now brought it to your iPhone or Android phone, enabling you to scroll back in time and find the files and websites you were using across your devices.
To-Do Integration with Outlook.com & Skype
It's simple to make a long list of To-Do's, but much more challenging to actually make time to complete each task. With To-Do integrated with Outlook.com, you can drag a task into an open slot on your calendar and block time to complete it. If you receive an email that has a task associated with it, you can even drag that into To-Do to automatically create a new task, keeping you organized and in flow.
In Skype, just select the message and tap "Create a task" to open the tasks pane. From here, you can add, edit, and check off tasks. Tasks will be saved and available in Skype, or in the To-Do app.
Family Safety for Microsoft Launcher
With Microsoft Launcher installed on your family's Android devices and a Microsoft family group of accounts set up, parents can stay up to date on their kids' location and rest easier knowing they are safely where they should be. Parents can also check in on kids' app activity on their Android device, including which apps are accessed and time spent on each app. With Xbox One or a Windows 10 PC set up in your family portal, you can also view their activities on those devices through Microsoft Launcher.
Inking in PowerPoint
Micrsoft is infusing Office with AI. With today's updates Microsoft is making it easy to create and ideate using just your digital pen and your touch enabled device:
An inked bulleted list will transform into formatted text.
If you're inking a flow chart or diagram, you can draw both words and shapes, and PowerPoint will convert them into text and snapped shapes in one fell swoop.
Or, you can let our intelligent design engine do the work for you. Start with a blank canvas, design your slide using ink, and Designer will use AI to recommend slides for you to choose from.
Inking in Word
With new intelligent functionality in Ink Editor, you can add a word, split words or add new lines to your document without touching a keyboard. Now, you can edit a Word document from start to finish using your digital pen and your touch enabled device.
Embedded 3D Animations
In PowerPoint and Word, dynamically animated movements are now built into 3D objects, making it effortless to use 3D and animation to bring your projects to life.