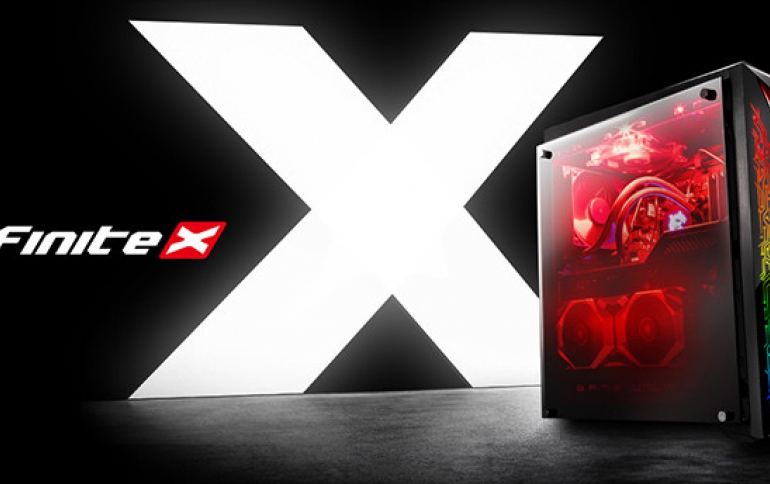 MSI Debuts New Gaming Monitors and Powerful Gaming Desktop
Gaming hardware maker MSI has released the Oculux NXG251R eSports and the MSI OPTIX MAG series of gaming monitors, along with the MSI Infinite X 9TH gaming desktop powered by Intel's 9th generation processors.
Tournament standard MSI Oculux NXG251R gaming monitor
Designed for gamers, the MSI NXG251R eSports monitor supports a 1920x1080p Full HD resolution, a 240Hz refresh rate, 1ms response time and Nvidia G-Sync.
Together with swivel, height and tilt adjustment possibilities, this eSports monitor is tailored for tournament events.
The design also comes with a USB port set, a RGB back light and anti-flicker panel.
The MSI brand new Optix MAG series is available globally.
MSI OPTIX MAG series curved gaming monitors
The MSI Optix MAG series of curbed gaming monitors include the 27-inch Optix MAG271CQR and 32-inch Optix MAG321CQR models.
Both of Optix MAG271CQR and MAG321CQR come with a 2560 x 1440 Resolution, curved VA panel of 1800R curve, 144Hz refresh rate and 1ms response time.
Together with a wide viewing angle of 178 degrees, blue light, anti-flicker technology and swivel, height and tilt adjustment possibilities, these gaming monitors are tailored for a gaming day. Moreover, if you just start playing and need some help, MSI has a built-in FPS sight toggle on screen, so you can perfectly hit all the targets.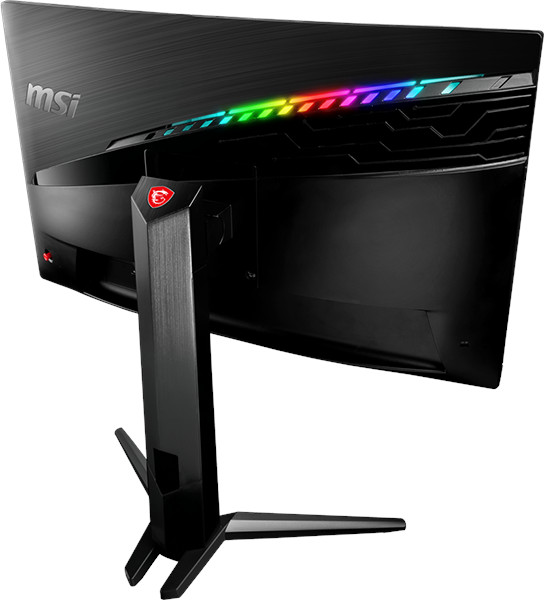 The design also comes with a hidden headset hanger on the left side of the screen, and an RGB back light design called Gaming Echo. In addition, Gaming Echo helps create an atmospheric environment by flashing the back light of the monitor based on the audio signal that comes out of your computer.
The MSI brand new Optix MAG seriesis available globally.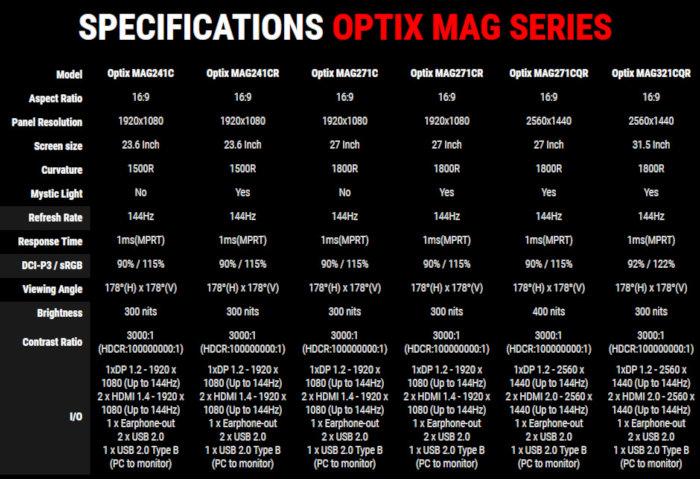 MSI Infinite X 9TH
The latest Infinite X Gaming desktop is powerd by up to i9-9900K 9th generation Intel processors and up to RTX 2080 Ti graphics cards. The desktop uses MSI's Silent Storm Cooling 3 thermal design for efficient cooling and quietness, and it offers convenience for upgrading as new components appear in the market. MSI has also added its own gaming DNA features such as a tempered glass side panel and RGB Mystic Light to customize this gaming desktop to your own likings.