MSI K8N Neo 4 Platinum
MSI, the leading computer motherboard manufacturer and the top AMD platform solution provider, introduces the new cutting-edge technology, the MSI DBS (Dual Bridge System) Technology.
The application of the MSI DBS can be found on the MSI K8N Neo 4 Platinum mainboard. MSI DBS Technology supports dual PCI Express graphics card with PCI Express x16 and PCI Express x2 interface onboard. DBS technology offers expansion capability to support quad display with different model of PCI Express graphics cards. It can extend the desktop to 4 monitors.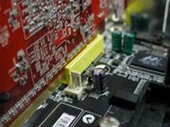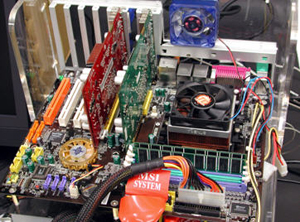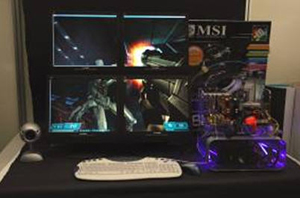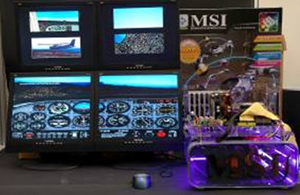 The PCI Express X2 slot onboard is an open-ended slot for ordinary PCI Express X1, X2 add-on card or PCI Express X16 graphics card population. The major advantage of PCI Express X2 slot as second graphics interface versus PCI legacy that is 4 times higher bandwidth. And most important of all, the bandwidth of PCI Express X2 is point-to-point and exclusive for single add-on device. Bandwidth of PCI bus is shared by every PCI devices. When more devices are installed, there is less bandwidth left for sharing, but more interruptions.
| | | | | | |
| --- | --- | --- | --- | --- | --- |
| Graphics Card Interface | Total Bandwidth | Bidirectional Transfers? | Full Duplex Mode Transfers? | Max. Downstream Transfer Rate | Max. Upstream Transfer Rate |
| PCI Express x16 | 8.0GB/s | Yes | Yes | 4.0GB/s | 4.0GB/s |
| AGP 8x | 2.1GB/s | Yes | No | 2.1GB/s | 266MB/s |
| PCI Express x2 | 1GB/s | Yes | Yes | 512MB/s | 512MB/s |
| PCI (Legacy) | 266MB/s | Yes | No | 133MB/s | 133MB/s |
Based on benchmarks results on PCI Express X16 and PCI Express X2, there is only 3% drop on 3D Mark 2003 and 15% on DOOM3. These facts indicate that PCI Express X2 is sufficient for moderate 3D Graphics and daily usage.
| | | | |
| --- | --- | --- | --- |
| 6600GT | 3D Mark 2003 | 3D Mark 2005 | DOOM3 |
| PCI Express X16 | 8253 | 3315 | 60.8 |
| PCI Express X2 | 8016 | 2720 | 52.1 |