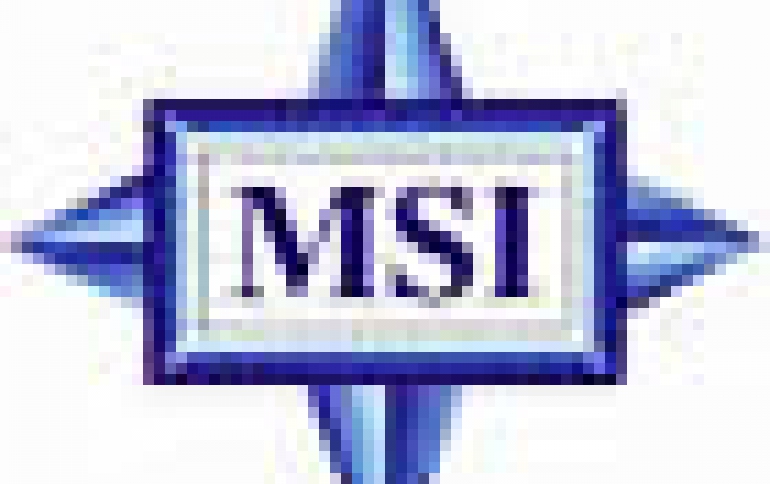 MSI NX6600 series on PCI Express
MSI announces its new powerful members of the nVidia GeForce family: the MSI NX6600 series. These Graphic Cards with NX6600 Native PCI Express GPU supports nVidia SLI Technology, GDDR3, HDTV, MSI D.O.T., DirectX 9.0 and the newest technologies from nVidia. Thanks to MSI's silent T.O.P. TECH Cooling technology these graphic cards run at a low GPU temperature at less then 30dB noise level. MSI NX6600 series graphic cards come with an exclusive game bundle including full versions of "Prince of Persia: The sands of time", "URU" and "XIII".
MSI NX6600 series support revolutionary MSI features like:
- MSI D.O.T. (Dynamic "Express" Overclocking Technology) - is an advanced overclocking engine, designed to deliver up to 10% extra performance, greatly enhances the synchronized GPU & DDR performance.
- MSI T.O.P. TECH(tm) Cooling - This advanced ventilation cooling mechanism enables 8°C lower cooling performance than the original cooling system, while still remaining comparable low fan noise level at 28db.
- MSI Media Center Deluxe II - The industry-leading multimedia software for DVD playing, music listening and photo viewing in one application.
PCI Express: Revolutionary Breakthrough
The new generation VGA interface - PCI Express x16 - almost jumps 200% from 2.1 GB/sec AGP interface to 4 GB/sec data transferring rate. MSI makes all the gamers' eyes go wide open with the latest MSI NX6600 series Graphic Cards.
HDTV
HDTV (High-Definition Television) offers higher resolutions (up to 1920x1080i) and a wider aspect ratio than a traditional TV signal.
SLI (Scalable Link Interface) Technology
SLI technology dramatically enhances the 3D performance of the MSI NX6600GT card by using two cards and taking advantage of parallel 3D computing.
NVidia IntelliSample 3.0 Technology
MSI NX6600 series take advantage of the nVidia IntelliSample 3.0 high-resolution compression technology, which extends the experience of ultra-realistic visuals at high frame rates at unprecedented high resolutions and antialiasing levels. IntelliSample 3.0 is designed to deliver true anisotropic filtering for incredible image quality without performance degradation. The advanced antialiasing and anisotropic filtering techniques combined with the industry's only true 128-bit precision computation capabilities result in image quality unmatched by any other solution.
NVidia CineFX 3.0 Engine
The new CineFX 3.0 engine doubles the floating-point pixel shader power of previous-generation GPUs. This allows faster, more efficient execution of even the most complex pixel shading tasks. In addition, CineFX 3.0 continues to deliver the highest level of image quality and precision through true 128-bit precision computing.
NVidia UltraShadow II Techonolgy
With the latest nVidia UltraShadow II Technology, MSI NX6600 series graphic cards increase shadow volumes for next generation games, it accurately maintains shadows and discards non-useful information.