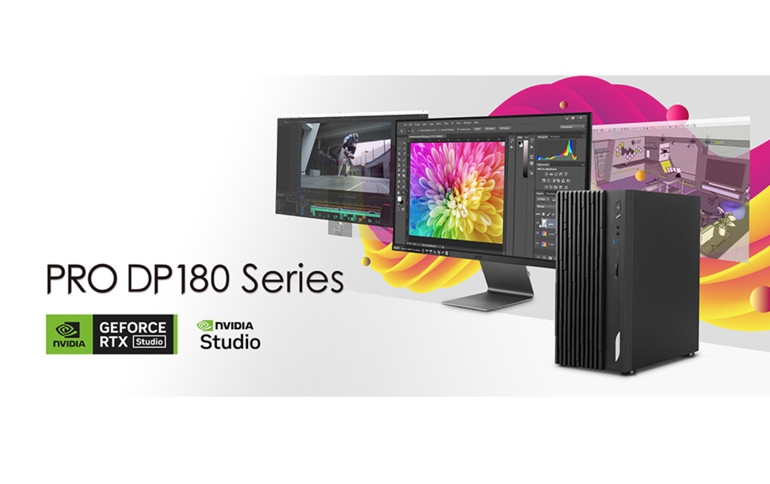 MSI PRO DP180 Desktop PC with NVIDIA RTX Studio Validated for Exceptional Creative Performance
MSI has announced its PRO DP180 desktop, an ultimate business computer designed for creators and business professionals. The PRO DP180 is validated by NVIDIA RTX Studio, a platform designed for creative professionals who rely on powerful computing platforms to work with the most demanding applications in content creation, AI, and scientific research.
The MSI PRO DP180 is loaded with up to an Intel® Core™ i7-13700 CPU alongside a discrete NVIDIA GeForce RTX GPU. Designed and tested specifically for creative workflows, it is capable of up to 8K video, real-time ray tracing, and other AI-assisted features. As a result, creators can efficiently work with the best out-of-box experience for them. In addition, PRO DP180 comes pre-installed NVIDIA Studio Drivers, which are extensively tested to provide performance boosts and new features in creative apps, providing artists, creators, and 3D developers the best performance and reliability.
NVIDIA Studio validation ensures that the MSI PRO DP180 delivers the highest level of performance and reliability to handle complex and demanding creative workflow, so users have the confidence and assurance that their hardware is optimized for their workloads.
Greatness Demands an Arduous Journey; There Are No Shortcuts.
Creativity stems from details. The PRO DP180 helps users work with acceleration, precision, and attention. The PRO DP180 is an incredible tool for any visual artist, 2D / 3D content creator, live streamer, or business professional to hone their craft to their fullest potential. Thanks to its sophisticated cooling design, this system works well under the pressure of intense video rendering, multitasking with 8K resolution, or real-time design previews.
The MSI PRO DP180 Desktop PC offers a range of user-friendly features. With up to 64GB of dual-channel DDR4 RAM and plenty of storage space, it is perfect for even the most demanding creative or professional projects. Moreover, its 2.5G and 1G Dual-LAN design coupled with Wi-Fi 6E help network connections be faster and more stable than ever. The DP180 also offers a quick and straightforward level of connectivity through USB 3.2 Gen 2 Type C and various other IO ports. In addition, its built-in card reader supports SD & Micro SD Card for the best compatibility and convenience. With the TPM 2.0 design, you can store your sensitive data & passwords with encryption keys for advanced security. Furthermore, the built-in Padlock and Kensington Lock dual design protect the unit with the physical lock to enhance security making the MSI PRO DP180 an ideal machine for businesses that require fast, secure, and easy workflow.
Intelligence and Efficiency Are the Cornerstones of Productivity
The MSI-exclusive software MSI Center, with NVIDIA Studio RTX acceleration, is the behind-the-scenes magic that supports creators & professionals. Through the MSI Center, you can easily customize, allocate and optimize the hardware resources to prioritize and boost the performance of those applications used daily to provide the most intuitive creating experience.
The other exclusive software, MSI Cloud Center, gives you personal cloud storage and helps backup files from your mobile devices. It is designed to quickly and securely back up and download files between your PC, Android, and iOS mobile devices.
PRO DP180 is any Creator's or Professional's' dream desktop. Validated by NVIDIA Studio, it is primed to help its users unleash their originality and unlimited potential.
More information at https://www.msi.com/news/detail/MSI-PRO-DP180-Desktop-PC-with-NVIDIA-RTX...