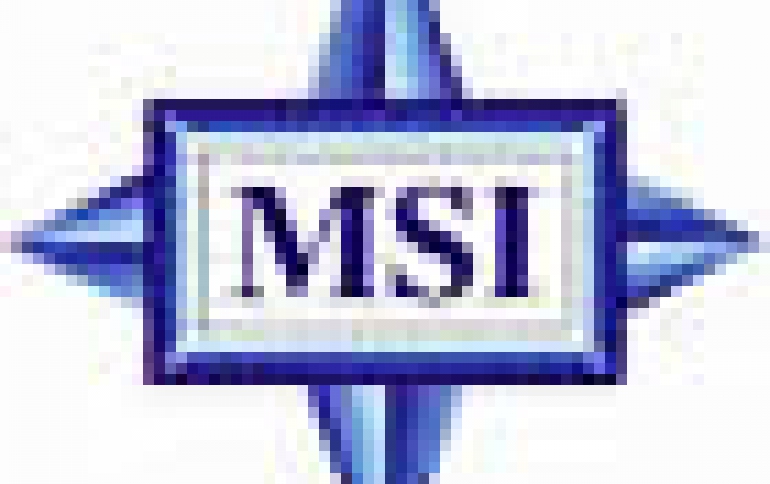 MSI's new solutions based on Intel E7520 and E7320
MSI is delighted to introduce its latest server motherboards and rack-mount servers based on the most up-to-date Intel? E7520 and E7320 chipsets and the new Intel? Xeon? processor.
Based on E7520 chipset, MSI's newest platform solutions include E7520 Master-S2M motherboard, X2-201 (2U) and X2-102 (1U) rack-mount barebones. And for E7320 chipset, there are the E7320 Master series motherboard and X2-103 1U rack-mount barebone. These new products enabled servers to transmit data at higher bandwidth and provide superior performance by supporting 800 MHz FSB, Intel? EM64T (Intel? Extended Memory 64 Technology), PCI-Express (onboard Lan) , and they also can function on 64-bit OS and software. MSI's most recent Intel? Xeon? based solutions offer excellent price/performance, flexibility and leading-edge technology to its customers.
The E7520 Master-S2M is designed around Intel? E7520/Hance Rapids/PXH chipsets, which can support 8x Registered ECC Dual-channel DDR 333/266 SDRAM up to 32 GB as well as 1 PCI-X 133, 2 PCI-X 100 and 1 PCI expansion slots. Moreover, the E7520 Master-S2M integrates Dual Gigabit Ethernet controllers and provides Dual-channel Ultra 320 SCSI interface thru the built-in Adaptec? 7902W chipset, which can link up numerous SCSI devices. The abundant expansion capabilities of E7520 Master-S2M make it a perfect choice for HPC usage.
With the support of E7520 chipset, the X2-201 and X2-102 rack-mount servers are designed based on the concept of Full Redundancy Protection. The Full Redundancy Protection enhances the stability and reliability of the server system. It keeps both X2-201 and X2-102 working very well and minimizes the damage or data loss caused by system failure. The redundancy protection is achieved from the power supply (redundant), fan (redundant), CPU (fail-over protection), memory (mirroring and sparing), and HDD (mirroring). On the other hand, the X2-201 and X2-102 are both built on a tool-free and module design concept, which include tool-free chassis and module designs like CD drive, FDD drive, hotswap HDD, redundant power supply, fan and PCI riser modules. The tool-free & module installation concept offer a more user-friendly and time-saving system assembly. What's more, the sophisticated design of the fan speed control in X2-201 and X2-102 enables excellent cooling system for both thermal and acoustic performance, even when operating on the highest frequency like 800MHz CPU.
Based on E7320 chipset, the E7320 Master server motherboard targets value segment and is positioned as a front end and general purpose server. Even if this new board has a small ATX form factor, still, it boasts a lot of important features. E7320 Master can support 6x Dual-channel Registered ECC DDR 333/266 SDRAM up to 24GB, and it supports 2 PCI-X 66 and 1x PCI expansion slots. The networking capabilities of the E7320 Master offer Dual Gigabit Ethernet controller with the most recent PCI-Express interface and PCI interface. Also, this new board provides optional single channel Ultra 320 SCSI and 2 port SATA connector. On the other hand, as for the rack-mount server solution based on E7320 chipset, here comes the X2-103. This 1U rack-mount server is assembled with E7320 Master motherboard and contains outstanding features in a 24" depth rack-mount chassis. The X2-103 provides 4x hotswap SCSI HDDs or 2 hotswap SATA HDDs option; its memory capacity and other specs are similar to the E7320 Master motherboard. E7320 Master and X2-103 offer compact-size solutions with rich features, and they can definitely provide users with the best price-to-performance ratio.