Musk's Boring Company Granted $48.6 Million Contract to Build Las Vegas Transit System
The board of the Las Vegas Convention and Visitors Authority (LVCVA) on Wednesday voted to grant Elon Musk's "The Boring Company" a $48.6 million contract to build a two-mile Loop at the expanding Las Vegas Convention Center.
The company will build a twin tunnel transit system using self-driving vehicles underneath the Las Vegas Convention Center. The 1.6km-long tunnel system will use self-driving electric vehicles capable of transporting up to 16 people. The system also will include three underground stations and a pedestrian tunnel.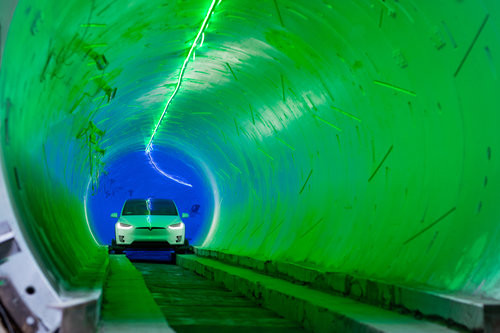 The company plans to start construction in September and debut the system by December 2020.
Elon Musk's Boring Company plans to move people through tunnels on electric cars or electric skates at speeds of up to 155 miles per hour. Musk has said he can significantly reduce the cost of tunneling through the company's technical improvements to boring machines, the reuse of dirt to create concrete reinforcement, the use of continuous tunneling and reinforcing operations, and by digging smaller tunnels that don't need to accommodate internal combustion engines.
Chicago's former mayor also approved a partnership with The Boring Company to build an express O'Hare-to-downtown line last year, but contract negotiations have appeared to stall.