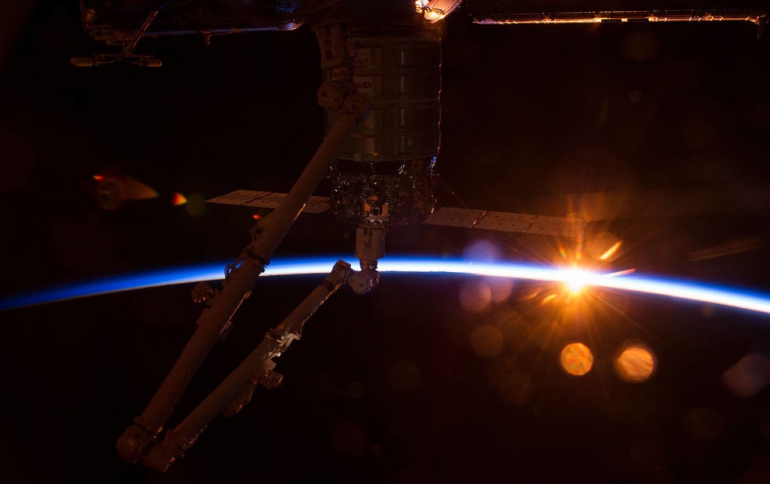 NASA Opens International Space Station to Private Astronauts
NASA announced on Friday that its side of the International Space Station is open for business but it won't come cheap.
NASA is opening the International Space Station for commercial business. NASA also is enabling private astronaut missions of up to 30 days on the International Space Station to perform duties that fall into the approved commercial and marketing activities outlined in a directive released Friday, with the first mission as early as 2020.
This move comes as NASA focuses full speed ahead on its goal of landing the first woman and next man on the Moon by 2024, where American companies also will play an essential role in establishing a sustainable presence.
Private astronauts will want regenerative life support and toilet facilities ($11,250 per person per day), supplies like food, air and exercise gear ($22,500 per person per day), power ($42 per kWh), data downlink ($50 per GB), and storage ($105 per Cargo Transfer Bag Equivalents per day). And that's on top of the cost of getting there and back to Earth, up to 90 hours of ISS crew assistance, and other expenses like trash disposal ($3,000 per kg).

The flight could be provided by Elon Musk's SpaceX aboard its Dragon or on Boeing's CST-100 Starliner as part of NASA's Commercial Crew Program for an estimated $50 million per person.
NASA has also published solicitation guidelines for private entities interested in space commercialization aboard the ISS. A key requirement is that those affiliated with the Chinese government or Chinese companies may not participate.
More than 50 companies already are conducting commercial research and development on the space station via the International Space Station U.S. National Laboratory, and their results are yielding great promise. In addition, NASA has worked with 11 different companies to install 14 commercial facilities on the station that support research and development projects for NASA and the ISS National Lab.
This effort is intended to broaden the scope of commercial activity on the space station beyond the ISS National Lab mandate, which is limited to research and development. A new NASA directive will enable commercial manufacturing and production and allow both NASA and private astronauts to conduct new commercial activities aboard the orbiting laboratory.
Pricing released Friday is specific to commercial and marketing activities enabled by the new directive, reflects a representative cost to NASA, and is designed to encourage the emergence of new markets.
Commercial Destinations in Low-Earth Orbit
In the long-term, NASA's goal is to become one of many customers purchasing services from independent, commercial and free-flying habitable destinations in low-Earth orbit. A low-Earth orbit economy will need multiple commercial destinations, and NASA is partnering with industry to pursue dual paths to that objective that either go through the space station or directly to a free-flying destination.
As a first step, NASA is making one space station port and utilities available for industry to attach a commercial module to support commercial activities.
President Trump on Friday weighed in via Twitter, indicating that he's not so keen to hear about the Moon, despite supporting the plan less than three weeks ago.
"For all of the money we are spending, NASA should NOT be talking about going to the Moon - We did that 50 years ago. They should be focused on the much bigger things we are doing, including Mars (of which the Moon is a part), Defense and Science!" Trump wrote on Twitter.