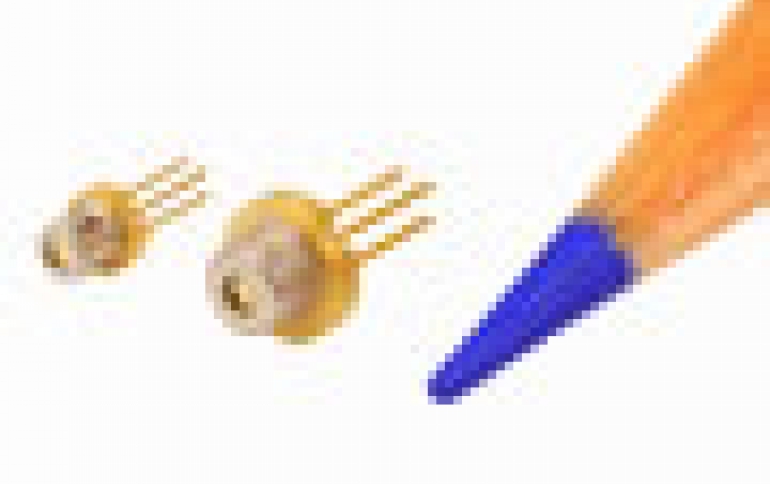 New 250mW Laser Diode Offers 6x Recording For Blu-ray
Sharp announced plans to start volume production of a High-Power Blue-Violet Laser Diode for Blu-Ray recorders powerful enough to burn dual layer Blu-ray Discs at the 6x speed. Sharp wil lstart production of two variations of the new diode in April. The GH04P25A4G features a proprietary facet structure and its ultra compact dimensions (3.3mm diameter) make it suitable for use in notebook BD drives. The other model (GH04P25A2G) fatures a diameter of 5.6mm and can be installed in desktop BD drives.

The supported power output of 240 mW makes possible high-speed 6X recording on dual-layer Blu-ray Discs (BD). The power consumption of the laser chip was decreased, and mounting on 3.3mm diameter package was enabled by suppressing the rise in heat of the package, according to Sharp.

Sharp will start mass production of the new diodes on April, priced at 50,000 yen.

Since beginning mass production of the industry's first infrared laser diode for use in CD players in 1982, Sharp has been an industry leader in this field. Now, based on proprietary technologies and know-how nurtured over long years of involvement in this area, Sharp has succeeded in moving high-power blue-violet laser diodes, the key device in next-generation DVD recorders, into volume production (capacity 700,000 units/month).

The japanese company is also working on new laser diode prototypes that are expected to further speed-up the dual-layer recording speed of next generation media. The next product aims at a maximum output of 350mW that will support 8-12X recording in two layers. Note that 8x recording on two-layers requires a power of 230-280mW. The 12x burning speed is the physical limit of recording in the next-generation media. These new developments are expected to be available during 2008 and 2009.