New 8th Gen Intel Core vPro Processors For Laptops
Intel is driving PC platforms built for business with the announcement of new 8th Gen Intel Core vPro mobile processors, based on Intel's Whiskey Lake architecture.
Intel vPro clients configured with Intel Wi-Fi 6 (Gig+) solutions will be some of the first available in the marketplace to enable faster Wi-Fi 6 connections.
With this launch, Intel brings its new Intel Hardware Shield technology, which delivers out-of-the-box protection to help defend against firmware attacks. Intel Hardware Shield helps ensure your OS runs on legitimate hardware and provides hardware to software security visibility, enabling the OS to enforce a more complete security policy. Importantly, no additional IT infrastructure is required.
Compared to a 3-year-old PC powered by an Core i7-6600U, the latest 8th Gen Intel Core vPro i7-8665U processor delivers up to 65% faster overall performance and up to 11 hours of battery life, according to Intel.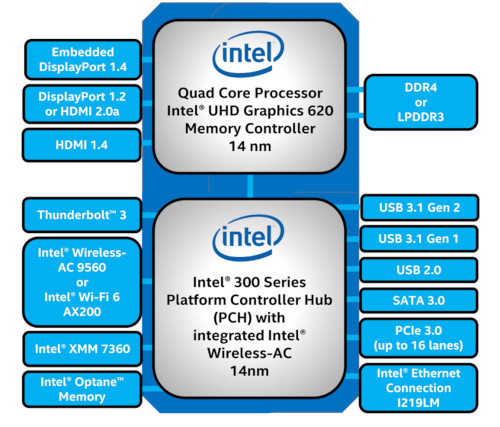 Intel announced a pair of 4-core, 8-thread chips: the 1.6GHz Core i5-8365U, and the 1.9GHz Core i7-8665U. Compared to AMD's business offerings (Ryzen Pro), Intel's new chip run more slowly.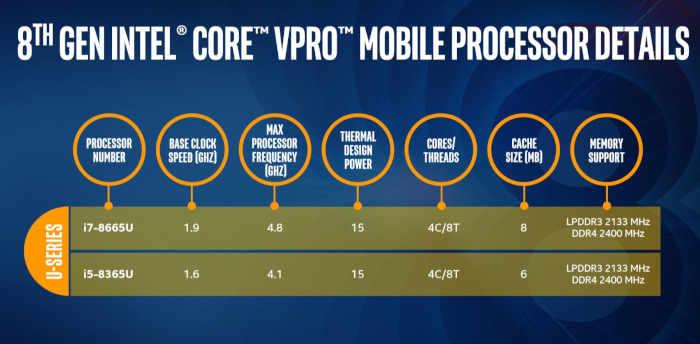 Optane, which Intel just combined with SSD storage on the H10 card, is also tied to vPro, pairing an NVMe SATA SSD with a small amount of Optane cache for better immediate performance. There will also be a sizeable push for Thunderbolt over Type-C, to enable better connectivity options.
Dell, HP, Lenovo, Panasonic and other OEMs will bring new corporate designs to market over the next several months.