New AV1 Video Codec to Compete With H.265
The Alliance for Open Media (AOMedia) announced the public release of the AOMedia Video Codec 1.0 (AV1) specification, which delivers cross-platform, 4K UHD or higher online video, royalty-free - all while lowering data usage.
Launched in 2015, the Alliance for Open Media (AOMedia) was formed by internet giants including Google, Cisco, and Microsoft to define and develop media technologies to address marketplace demand for an open standard for video compression and delivery over the web. The group is finally ready for public release of the AOMedia Video Codec 1.0, dubbed AV1.

"Nearly three years after launching AOMedia, the AV1 codec addresses real bottlenecks for unleashing the highest-quality video for the entire ecosystem, allowing for better viewing experiences across all screens and data networks," said AOMedia Executive Director Gabe Frost. "By listening to the industry's feedback in an open and collaborative manner and bringing together leading experts to develop AV1, an entire ecosystem can begin creating video products and experiences that customers love."
According to AOMedia members, AV1 is delivering 4K UHD video at an average of 30 percent greater compression over competing codecs - namely the VP9 and H.265/HEVC. This means that AV1 enables more screens to display the vivid images, deeper colors, brighter highlights, darker shadows, all while using less data.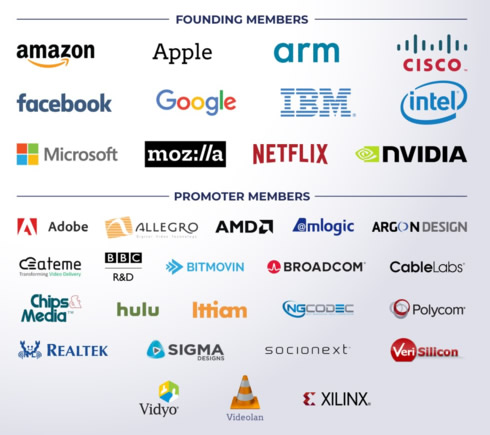 "We expect that the installed base of 4K television sets to reach 300 million by the end of 2019 and therefore there is already latent demand for UHD services over today's infrastructure. AV1 will be widely supported across the entire content chain, especially including services. We forecast rapid introduction of AV1 content delivery to help the widespread proliferation of UHD streaming," said Paul Gray, a Research Director at IHS Markit, a global business information provider.
The availability of AV1 as an open-source codec is a milestone in fulfilling the organization's promise to deliver a next-generation video format that is interoperable, open, optimized for internet delivery and scalable to any modern device at any bandwidth. Designed at the outset for hardware optimization, the AV1 specification, reference code, and bindings are available for tool makers and developers to download here to begin designing AVI into products.
Specifically, the release of AV1 includes:
Bitstream specification to enable the next-generation of silicon
Unoptimized, experimental software decoder and encoder to create and consume the bitstream
Reference streams for product validation
Binding specifications to allow content creation and streaming tools for user-generated and commercial video

Members of the AOMedia board are Amazon, Netflix, Google, Microsoft, Facebook, Mozilla, and Cisco. Semiconductor companies such as Arm, Intel, and Nvidia are also members of the group,
The polular HEVC (High-Efficiency Image File Format), also known as H.265, a codec with which AV1 will compete, has fallen into a quagmire of three competing patent pools - MPEG LA, HEVC Advance, and Velos Media.
However, the AV1 is not different from HEVC. It is built on the evolutionary improvements on VP6, VP7, VP8, VP9, VC-1 (Windows Media Video), H.264, and HEVC. But is also includes some improvements that make AV1 different from earlier video codecs.
Gabe Frost, executive director of AOMedia and principal group program manager at Microsoft, said that AOMedia has spent the last three years not only improving video coding but also applying a lot of rigor to AV1's essential patents, carrying out patent reviews to build a legal defense fund around AV1.
AOMedia explained that participants in AOMedia Working Groups have adopted the Alliance for Open Media Patent License 1.0. "This is intended to fulfill their commitments to make available their Essential Claims, as defined in the W3C Patent Policy," he said.
The group is also making sure to build a royalty-free ecosystem around AV1. Hence, users of AV1 in a YouTube app, for example, can implement it without fear of infringing patents.
However, the AV1 seems to be very heavy on encoding, meaning that it would take much more time to encode content in AV1 that in HEVC. That could make live encoding of AV1 problematic. On the other hand, AV1 decoding is a much less demanding process, potentially making the new codec attractive for streaming (Netflix, Amazon, e.t.c).
As a note, Apple and Qualcomm are not membes of the AOMedia. For its part, Apple's iOS 11 and macOS High Sierra include support for HEVC. Apple also belongs to MPEG LA, one of the three patent pools for HEVC.
Qualcomm belongs to Velos Media, another HEVC patent pool, along with Ericsson, Sony, Panasonic, and others.
AOMedia's AV1 will take center stage at NAB 2018 in Las Vegas, where member companies will present AV1 demonstrations throughout the event:
ATEME will demo a production-ready TITAN - its converged video delivery solution - with AV1 support, available to new and existing customers via simple software upgrade.
Bitmovin and Mozilla will show an end-to-end playout of AV1 video in Firefox, using Bitmovin Cloud Encoding and Player in Mozilla's developer browser Firefox Nightly.
Ittiam will showcase its Content Adaptive Encoding (CAE) technology with a significantly speeded-up version of the AV1 encoder.