New Chromecast, Pixel C, Nexus Smartphones, Android Marshmallow And More at Google's Nexus Event
Google today took the stage for an event to announce a couple of new Nexus phones - the Nexus 5X and 6P -- Android Marshmallow, new Chromecast 2.0 announcements, the new Pixel Chromebook and more. Starting with the smartphones, LG is back to build Google's 5.2-inch Nexus 5X. The powerhouse phone is featuring a Qualcomm Snapdragon 808 CPU, 2GB of RAM and a 12.3MP rear camera with laser-assisted autofocus, dual flash that's capable of shooting 4K video.
It will ship with the latest version of Android, Marshmallow 6.0 and includes Google's new Sensor Hub chip inside that keeps notifications and fitness stats up-to-date at all times. It also has the new USB Type-C port along with a new fingerprint sensor on the back -- Nexus Imprint. The sensor gives you quick and secure access to your phone, as well as use of Android Pay (in the U.S.). There's also a a 2,700mAh battery inside, and it's going to be available in both 16GB and 32GB versions.
Nexus 5X pricing starts at $379, it will begin shipping in late October and two years of Nexus Protect coverage are available for $69.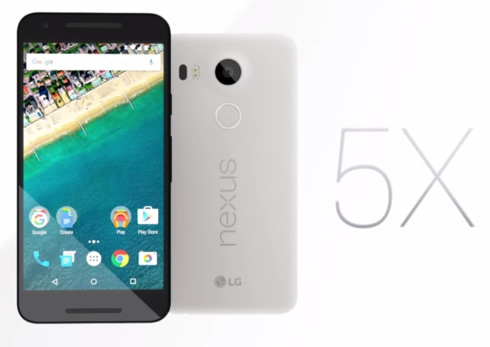 Google's next Nexus flagship is the 5.7-inch, Huawei-built 6P. The phone is running the latest version of Android, 6.0 Marshmallow and has a 5.7-inch screen running at 1440p resolution - meaning it packs 518 pixels per inch.
Designed using "aeronautical-grade aluminum," the 6P has the new Nexus Imprint fingerptint sensor, and Google says it opens up fingerprint recognition to the "entire app ecosystem." Once trained, the sensor can recognize fingerprints in less than 600 milliseconds, and it learns more about your fingerprint over time to get more accurate.
Under the hood, the Nexus 6P features a 12.3-megapixel back camera with an impressive f/2.0 aperture and uses IR lasers to assist with autofocus, a feature found on devices like LG's G4. The front-facing camera has an 8-megapixel resolution and an f/2.4 aperture.
There's a new burst mode on board that captures photos at 30 frames per second. The camera can also shoot slow-motion video at 240 frames per second, and it can also shoot 4K video.
The Nexus 6P is running off of the Snapdragon 810 v2.1 processor with 3GB of RAM. The phone will be available in 32GB, 64GB, and 128GB configurations and features USB Type-C connectivity.
Google said the Nexus 6P will be available in Google's online store as of today for pre-order in the US, UK, Ireland, and Japan. More countries will be coming over the next few weeks. Outside the US, both phones will be sold through local retailers and carriers. The 6P will start at $499 for a 32GB model and will start shipping in October. Google's also offering a 90-day free subscription to Google Play Music as well as a $50 Google Play credit with every purchase.
Google is also offering the new Nexus Protect program that provides two years of coverage for both mechanical problems and accidental damage. You'll be able to get a replacement phone as quickly as the next business day, and you'll be able to file a claim 24 hours a day. It'll cost you $89.
Moving on with Android 6.0 Marshmallow, the new OS will reach existing Nexus devices by next week, including the 5, 6, 7, 9 and Player. And of course, if you spring for the new Nexus 5X or 6P, you'll get Marshmallow right out of the box. There's no word on third-party device updates just yet, but we'd expect news from some manufacturers in the near future.
As a note, Google Now voice commands work a lot faster than before, and you can now also control apps with your voice. For example, asking an Android Marshmallow to "Play NPR" pops up the NPR One app, which prompts a followup question about what specifically you'd like to hear. Any developer will be able to plug in similar "hands free" voice features in their apps.
Among other new features of Marshmallow, Google has also revamped notifications to drop down from the top of the screen, and the home screen now scrolls and searches faster. The new Doze feature also brings some much-needed battery improvements to Android by placing your phone into a deep "sleep" mode when it's not in use. Google claims the addition of Doze will give the Nexus 5 30 percent more battery life.
Google is also expanding the Pixel family by introducing the first Android tablet built end-to-end by Google. The Pixel C brings together the benefits of a full-size keyboard with the portability of a tablet. The tablet and keyboard attach magnetically, so it's easy to switch between typing and using the touch screen. And if you're familiar with the Chromebook Pixel, you'll immediately see the family resemblance: the Pixel C has the same aluminum design and USB Type-C port.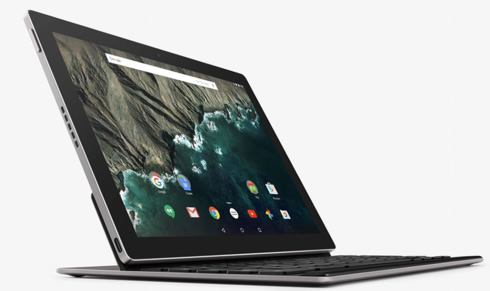 The 10.2-inch Android Marshmallow device is a not-so-subtle attempt at competing with Microsoft's Surface line, Apple's iPad Pro and other high-end tablets that turn into makeshift laptops with the right add-ons.
Google is offering an optional smart Bluetooth keyboard ($149) that docks with the Pixel C when you're bent on getting work done, clings to the back of the tablet when you're not using it, and charges when closed with the tablet attached.
The device is powered by NVIDIA's Tegra X1 and has a bright (500 nits), 308 pixels-per-inch display.
The Pixel C will be available in time for the holidays on the Google Store. It will start at $499 for a 32GB version and $599 for a 64GB version.
Google also introduced two new Chromecast devices. The new Chromecast has a fresh design, and is easier to plug into TVs with crowded ports. It supports the latest Wi-Fi standards and adapts more easily to changing Wi-Fi conditions in your home, so you get higher quality video with less buffering. Most importantly, Google added two new colors.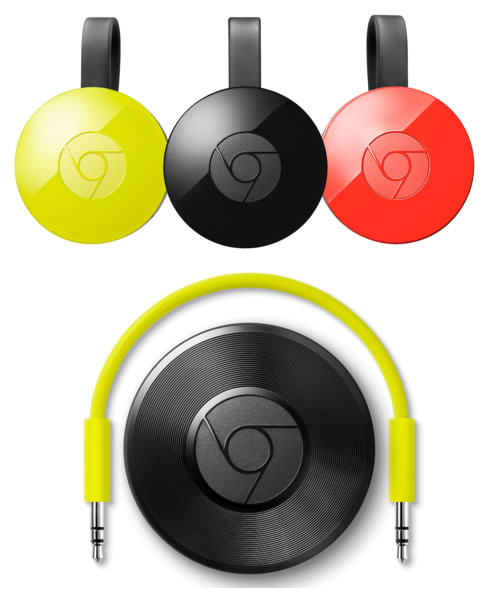 Chromecast Audio is a small device that plugs (standard 3.5mm auxiliary input, RCA jacks and an optical input) into your existing speakers, so you can stream your favorite music, radio and podcasts over Wi-Fi, similar to Chromecast. It works with tons of apps, including Spotify, Pandora, Google Play Music and the BBC iPlayer.
Just like Chromecast, it works from anywhere in your home with your favorite devices, including Android, iOS, and laptops. And it's available on the Google Store and other online retailers for just $35-way less than most Wi-Fi speakers today.
Google also updated the Chromecast app to make it easier for you to find things to watch or to play, across the thousands of apps that work with Chromecast-whether you feel like browsing or want to search for a specific TV show or movie. For Cast-enabled apps that aren't already on your phone, Google will suggest one for you. The updated Chromecast app is rolling out on Android and iOS over the next few weeks.
Google is also making a few updates to Google Play Music and Google Photos.
First, Google Play Music will offer a new family plan later this year. Up to six people will be able to use one account for a shared fee of $14.99 a month (instead of $9.99 per person).
That's exactly what Apple offers, and it's a much better deal than Rdio and Spotify which only allow two people to stream for that price. With Play Music, each member of the crew will be able to listen on any device and the app will serve up recommendations that are tailored to each user.
Sharing is a theme of today's Google Photos updates, too. Google is adding Chromecast support to give you that old-school slideshow experience-dimmed lights optional. In the U.S., you can now add private labels to your photos to make it easier to search for specific pics of people with things, places or other people. And soon you'll be able to pool all your photos and videos with friends and family in one place, and get updates as soon as new photos are added. There's no setup involved, and you can use any device.