New Enterprise Hard Disk Drives By Seagate
Seagate today unveiled two new enterprise-class hard disk drives (HDD) optimized for cloud infrastructures and large scale data centers - the Seagate Terascale HDD and the Seagate Enterprise Performance 10K HDD v7. Delivering the highest capacity HDD (4TB) available in a 3.5-inch enterprise-class SATA HDD, the Terascale HDD provides data centers with the maximum storage scalability they need to meet demands in low workload, 24x7 replicated environments. The drive is Seagate?s lowest $/GB enterprise HDD for use in scalable multi-drive systems.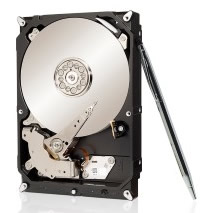 Seagate claims that the Terascale HDD lowers costs by operating at 4.8Watts, reducing ongoing energy and cooling costs for multi-drive large scale operations.
Equipped with Seagate's own Instant Secure Erase (ISE) technology,
The Terascale HDD is also equipped with Seagate?s own Instant Secure Erase (ISE) technology, which reduces drive erasure times from hours to milliseconds. It also features a 6Gb/s SATA interface for easy integration with lower cost SATA infrastructures.
Rounding out its enterprise portfolio, Seagate also today announced the next-gen version of its Enterprise Performance 10K HDD - the Seagate Enterprise Performance 10K HDD v7.
The 2.5-inch 10K-RPM enterprise hard disk drive is equipped with 1.2TB of data storage. Aimed at mission critical server and storage solutions, the drive is engineered for high performance computing and high random and sequential workloads.
The drive also incorporates Seagate?s PowerChoice technology which enables IT organizations to tailor systems for enhanced power consumption during idle periods. It is equipped with a 6Gb/s SAS interface, supports Seagate RAID Rebuild technology for fastRAID recovery along with the Secure Erase Technology.
Seagate Terascale HDD
Capacity
4TB
Form Factor
3.5"
Interface Options
SATA 6Gb/s
Performance
 
Spindle Speed (RPM)
5900
Cache (MB)
64
Transfer Rate, Max Ext (MB/s)
600
Sustained Data Rate OD
160MB/s
Average Latency (ms)
5.1
Power Management
 
Idle, Typical Operating (W)
4.59
Environmental
 
Temperature
 
Operating
5° to 60°C
Non-operating
-40° to 70°C
Shock
 
Operating: Gs (ms)
70 / 40 (2ms)
Non-operating: Gs (ms)
300 (2ms)
Acoustics (bels - sound power)
 
Idle
2.3
Operating
2.8
Physical
 
Height (in/mm) (maximum)
1.028/26.10
Width (in/mm) (maximum)
4.010/101.85
Length (in/mm) (maximum)
5.787/147.00
Weight (lb/g)
1.33/606
Seagate Enterprise Performance 10K HDD v7
Capacity
1200GB
Form Factor
2.5"
Interface Options
SAS 6Gb/s
Performance
 
Spindle Speed (RPM)
10000
Cache (MB)
64
Transfer Rate, Max Ext (MB/s)
600
Sustained Data Rate OD
204MB/s
Average Latency (ms)
2.9
Power Management
 
Idle, Typical Operating (W)
4.65
Physical
 
Height (in/mm)
 
Width (in/mm)
 
Length (in/mm)
 
Height (in/mm) (maximum)
0.591/15.00
Width (in/mm) (maximum)
2.760/70.10
Length (in/mm) (maximum)
3.955/100.45
Weight (lb/g)
.450/204