New High-Def Camcorder from Sony
Sony announced on Tuesday it will soon start selling a new consumer high-definition camcorder, its smallest and lightest to-date. The HDR-HC3 follows on the heels of the company's HC1 model, which was launched in the second half of 2005 and has been selling well in several markets, according to Sony. The Tokyo company will launch the HC3 camera in Japan in March and overseas from April and hopes the unit will mean high-definition camcorders can capture a larger slice of the digital-video camera market in 2006.
Last year high-definition camcorders accounted for 7 per cent of all camcorders sold in Japan, according to a Sony estimate. For 2006 the company thinks high-definition camcorders, of which it has the largest market share in Japan, will capture around 20 per cent of the domestic market, said Naoya Hatai, general manager of mobile network product marketing group of Sony, at a Tokyo news conference on Tuesday.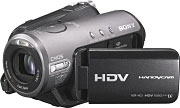 At that level it would give high-definition camcorders based on the HDV format a market share equal to standard-definition models based on DV, according to Sony's estimates. The company sees DVD-based camcorders taking a 45 per cent share of the market and hard-disk drive-based models having a 15 per cent share in 2006 in Japan.
The HDR-HC3 is both 26 per cent smaller and lighter than the HC1 thanks to continued miniaturization of the lens unit and main components. Sony has combined the functions carried out by 11 integrated circuits into 3 chips and that's enabled engineers to bring together two main circuit boards and a small audio board from the HC1 into a single circuit board in the HC3. This not only helps reduce size and weight, but there's an overall reduction in power consumption too, said Sony.
A standard battery will last for around 1 hour 40 minutes in high-definition video mode while using the viewfinder and not the camera's 2.7-inch widescreen LCD monitor.
The camera uses one of Sony's recently launched ClearVid CMOS image sensors and can take 4-megapixel class photos even while something is being video recorded. The same sensor is more sensitive than that on the HC1 so the camera can capture video at lower light levels, down to 11 lux versus 15 lux for the HC1. It has a 10X optical zoom lens.
Also new from the previous model is an HDMI (high-definition multimedia interface) output, for watching high-definition content on a suitable television. The previous model supported high-definition output on analog and iLink connectors. Like the last model it records video in HDV format, which uses conventional MiniDV cassette tapes.
The HDR-HC3 will go on sale in Japan on March 3 and will be available overseas beginning in April. It will cost around 160,000 YEN ($1,354) in Japan and no prices have been disclosed for overseas markets.