New Oculus Quest VR System Coming Spring 2019
Today at Oculus Connect 5 (OC5), Facebook's Oculus introduced Oculus Quest, the company's first all-in-one VR system with six degrees of freedom that lets you look around in any direction and walk through virtual space just as you would in the physical world.
The device will ship in spring 2019 for $399 USD (64GB headset.)
Offering six degrees of freedom and Touch controllers, Oculus Quest makes it easy to jump right into the action - with no PC, no wires, and no external sensors.
With the same buttons, thumbsticks, and sensors that have defined VR gaming, the Touch controllers bring your real hands into VR and let you naturally interact with the world around you. By shipping Oculus Quest with Touch, everything developers have learned about game design for Rift applies to Oculus Quest.
Oculus Quest includes the same optics as Oculus Go with a display resolution of 1600x1440 per eye, while incorporating a lens spacing adjustment to help maximize visual comfort. And Oculus has improved our built-in audio, so you get high-quality sound with even deeper bass.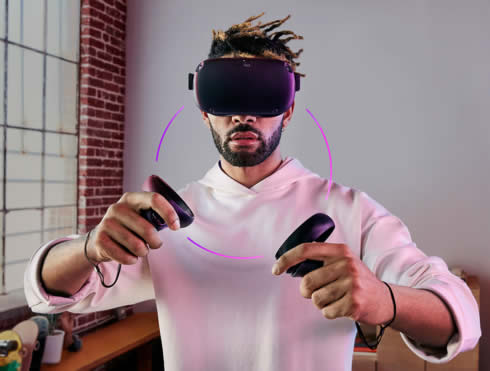 Oculus promised to have more than 50 games and experiences for Oculus Quest at launch, including some favorite Rift games like Robo Recall, The Climb, and Moss.
What if you could step inside the Star Wars universe and interact with one of the most iconic villains of all time-and even wield a lightsaber? Oculus also shared a sneak peek of a new project from ILMxLAB, Lucasfilm's entertainment division, that will turn that every fan's dream into (virtual) reality.
The companies announced the first of three episodes of Vader Immortal: A Star Wars VR Series'a yet untold story in the Star Wars universe that will debut with Oculus Quest in 2019. ILMxLAB is again working with Writer and Executive Producer David S. Goyer of the Dark Knight Trilogy, Call of Duty, and Blade:in addition to Star Wars: Secrets of the Empire produced by ILMxLAB in collaboration with The VOID.
Oculus also unveiled Oculus Insight, the technology that powers inside-out tracking, Guardian, and Touch controller tracking. This system uses four ultra wide-angle sensors and computer vision algorithms to track your exact position in real time without any external sensors. Insight gives you a greater sense of presence, and mobility, plus the ability to go beyond room-scale.
Rift updates
At OC5, Oculus also gave a first look at the latest Rift updates and a glimpse of what's next.
Ready At Dawn, creators of the beloved Echo VR universe, announced Lone Echo II, the sequel to the Lone Echo.
The team also revealed how the Echo VR franchise is expanding and announced that its zero-gravity shooter Echo Combat will launch worldwide on November 15.
Defector, the first-person spy thriller from Twisted Pixel Games, debuted a new level and trailer that takes you from gambling parlors to parkour chases through India. Your mission begins in 2019.
Launching today, Vox Machinae is a giant robot warfare experience for you and up to 15 friends. Customize your mech with a powerful arsenal of lasers, missiles, cannons, and more as you're pitted against rival squads in an escalating war.
Strategy fans got a taste of the single-player campaign in Final Assault, a WWII-themed RTS game from developer Phaser Lock Interactive. With classic base-building and item-gathering taken out of the equation, players get straight to the action and tower over the battlefield as they take direct command of troops, enemy engagement, and resource management. Final Assault releases later this year.
Ubisoft's upcoming arcade shooter Space Junkies enters its second Closed Beta today. For this beta window, the competitive shooter debuts a new mode (2v2 King Mode, where players compete to hold the crown as long as possible), maps (Canyon Chase and Dark Ice), equipment (the Medkit), characters (Templar and Cray-Cray), and a team-based feature where players can jump in with a friend and play against other matched teams.
Oculus desktop app is your gateway to the Rift community, and now the new Oculus mobile app supports Rift. You can discover events, connect with friends, and browse the store right from your phone. You can even buy and remote install games to your PC on the go.
The updated Oculus mobile app is available starting today on iOS and Android.
Core 2.0 Exits Beta
After months of work, Core 2.0 Rift's updated system software is out of beta, rolling out to the Public Test Channel today and to the entire Rift community in early October. This new version delivers performance improvements, user interface changes, and a wealth of new features. Rather than a static storefront, Home is now a customizable social space you can share with friends. Your new system interface, Dash, brings your apps and PC display to your fingertips across the Rift platform.
Oculus Home is now a personal space to design and decorate to your content. Throughout the beta, Oculus gathered feedback to improve the overall experience, tweaking everything from locomotion to the user interface.
An Early Look at Hybrid Apps
Dash's virtual desktop brings the power of your PC into VR. And today, Oculus announced a new, experimental technology to help developers bring their traditional desktop apps to VR: Hybrid Apps. Hybrid Apps let developers leverage Dash's virtual desktop tech to build applications that transition more seamlessly between 2D and VR.
To demonstrate this, Oculus worked with Allegorithmic Labs, the research team from the makers of Substance Painter, to create an experimental demo build. With Hybrid App support, a user can move from desktop to VR painting, instantly scaling and manipulating the model's colors and textures.
Oculus Go @ OC5
In May 2018, Oculus launched the $199 Oculus Go, their first all-in-one VR headset.
With Oculus TV and apps like Netflix, Hulu, and Pluto TV, Oculus Go has become the go-to personal theater and living room for all kinds of media lovers.
Today, Oculus gave people even more to watch. Oculus Product Manager Sean Liu announced that YouTube VR is coming soon to Oculus Go, bringing more than 800K VR videos on a variety of subjects to the platform, from nature documentaries to the latest 360° concerts.
Last May, Oculus debuted Oculus Venues, an exciting new way to watch LIVE concerts and sporting events inside a massive virtual stadium. Today, Oculus unveiled a roster of upcoming performances and events coming up in the fall. And for the first time, NBA games will come to Oculus Venues. Plus, everyone who attends an NBA game in Venues this season will unlock an NBA avatar jersey to show off all season long.
Of course, sitting courtside isn't the only reason people love Oculus Go.
If you're a fan of spy thrillers, then you'll want to keep an eye out for Covert from developer White Elk. Covert is a social experience that modernizes couch co-op through clever puzzling. One player uses an Oculus Go headset while a friend uses a mobile phone to provide vital intel like blueprints and guard locations.
Even better, players can soon share their epic VR moments with friends outside of the headset. Oculus Go will support casting as early as next month.
Mixed Reality and Arena-Scale Gaming
At OC5, attendees also got to try out prototype technologies-arena-scale tracking, mixed reality (MR), and co-location-under development at Oculus with the new Dead and Buried Arena demo.
Players teamed up with five others to participate in a shared game environment through co-location, where players enjoy a shared virtual experience while also sharing a physical space. They played in an environment where the real world can blend with a virtual one through the magic of MR. And they did it on a 80x60-foot play area thanks to the arena-scale tracking available with Oculus Insight on Oculus Quest.
For the Dead and Buried Arena demo, Oculus prototyped arena-scale technology on top of Oculus Insight, pushing inside-out tracking beyond current limitations.
The company started by incorporating physical props for enhanced tracking. The environment was mapped to ensure real obstacles aligned with their in-game counterparts and ensured each headset localized in the same map. Taking advantage of the four ultra wide-angle sensors on Oculus Quest, the carpet design was optimized, and physical clouds were hung from the ceiling to provide additional tracking features.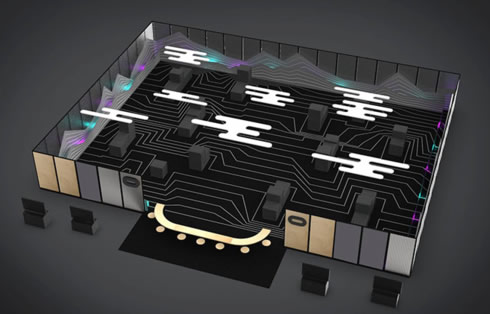 In the Dead and Buried demo, Oculus showcased an early application of MR to enable self-presence (seeing your body in virtual space) and spatial awareness (seeing your environment while in VR). As players bring the headset over their eyes, MR lets them see their environment and fellow players-no bumping into obstacles or each other-as they gradually "enter" the western-themed virtual world of Dead and Buried. Attendees were seeing their bodies in real-time, anchoring them to the fictional environment.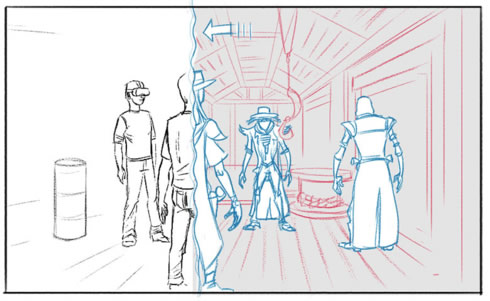 Oculus leveraged the existing tracking cameras used for Oculus Insight. First, they ran a real-time stereo depth-matching algorithm on each camera image to extract lines and contours of the environment. Then these images were re-constructed from the player's eye position to make everything perceptually comfortable. All these complex algorithms run on-device and in real-time.
Playing together or watching a movie in shared virtual space introduces a unique set of challenges. A shared physical space means individual headsets need to share a common play area and need to be aware of each other's location in real-time.
Oculus Insight can build and store a "spatial map" of any environment. It can retrieve this map and use camera data to "see" where it's located. In the current demo, Oculus created a master map of the entire space and made the map accessible to multiple devices in the same room over the network. That way, the devices know where they are in relation to one another, allowing them to co-locate each other.
Oculus' asymmetric co-location technology lets you grab your mobile device, walk around the play space, and see what your friends are doing in VR. This is a proof-of-concept example of how the gap across different platforms can be bridged, and bring people together in a single immersive experience.
Oculus leveraged Oculus Insight and the shared spatial map used by each headset to localize a tablet into the same frame of reference. As the participant walked around, they weretreated to a 1-to-1 mapping of the tablet's movement in the shared space, so they could see the action in real-time-from their exact vantage point.
These new technologies are a proof of concept used to demonstrate the potential of headsets like Oculus Quest. Facebook expects location-based entertainment (LBE) developers will benefit from these technologies and hopes the broader developer ecosystem will take advantage of these innovations to deliver enhanced social experiences in VR.