New Ultrastar SS300 is WD's Highest-Performing SAS SSD to Date
The Ultrastar SS300 is the newest generation of Wsetern Digital's SAS SSD, integrating advanced controller technology with 3D NAND (3D MLC or TLC NAND) to power challenging workloads with efficiency.
The new SSD offers twice the write performance, higher capacities, and better data durability than the company's previous generation along with great SAS SSD watt per IOPs consumption. Developed in partnership with Intel, the new SSD is offering speeds of up to 400,000 IOPS random read and up to 200,000 IOPS random write.
The Ultrastar SS300 is offered in a variety of endurance classes and comes with a range of features and power settings. This includes a 14-watt power envelope that can unlock additional performance capabilities and an ultra-low power setting for more efficient energy consumption.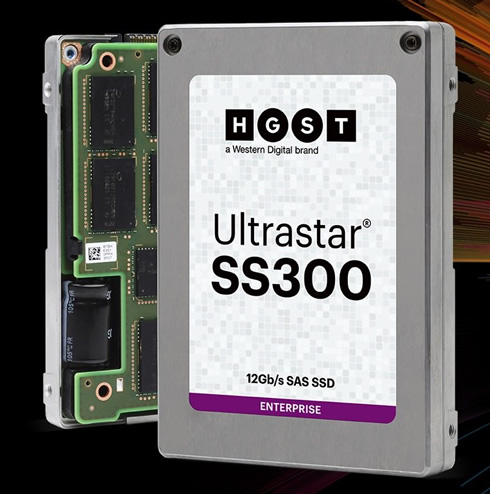 The SS300 family achieves a 0.35% annual failure rate (AFR), or 2.5 million hours mean-time- between-failure (MTBF). For extreme write-intensive applications, the 3.2TB 10 DW/D capacity Ultrastar SS300 supports unlimited reads and endures up to 59 petabytes of random writes. That's the equivalent of writing 32 terabytes per day, for five years.
Additional Ultrastar SS300 12Gb/s SAS SSD features and specifications include:
Sequential read and write speeds of up to 2050 MB/s
Four endurance choices, from 0.5 to 10 drive writes per day
Offers a choice of security options, including Instant Secure Erase (ISE), Self-Encrypting Drive (SED)-compliant with TCG Enterprise and SED-compliant with
TCG Enterprise with FIPS 140-2 certification
The new SSD is currently shipping to WD's OEM partners.