Nvidia SHIELD Tablet Gets Android Lollipop, Valve Bundle, GRID Game Streaming
Nvidia is updating its SHIELD tablet adding new capabilities and new content, including an online PC game-streaming service. Android 5.0 Lollipop; a new bundle that includes "Half-Life 2: Episode One"; and the new GRID on-demand gaming service – which includes more than 20 AAA titles – all highlight a major upgrade for our SHIELD tablet, rolling out a few months after its initial launch.
NVIDIA engineers are bringing the new Android 5.0 Lollipop to SHIELD on Nov. 18. It will feature a new "material design" interface and improved app performance.
SHIELD tablet's preloaded Dabbler app. Besides a new interface inspired by Lollipop's material design language, Nvidia's painting software will offer full support for layers, and users can now share live Dabbler sessions over Twitch.
The iconic Half-Life 2: Episode One from Valve is coming to mobile, optimized for Tegra K1 and exclusively on SHIELD tablet. It will be part of a "Green Box," bundled for free with the 32GB/LTE version of the SHIELD tablet. The bundle also includes Half-Life 2and Portal, two games Valve already brought to the SHIELD platform.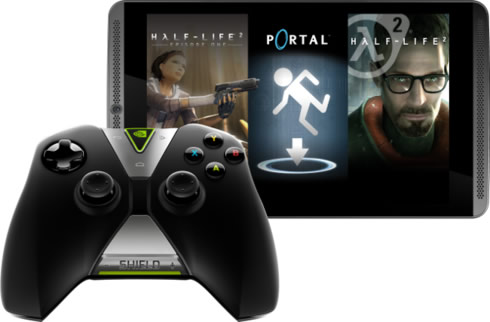 Also four new SHIELD-optimized games will be available through Google Play: OddWorld: Stranger's Wrath, Pure Pool, Strike Suit Zero and Turbo Dismount.
NVIDIA GRID on-demand gaming service will be available Nov. 18 in North America, next month in Europe and next year in Asia. It is GRID is free on SHIELD tablet and SHIELD portable through June 30, 2015.
The technology behind the service promises to stream GeForce GTX-quality graphics to SHIELD devices. Streaming games will load in a matter of seconds and the service runs off servers powered by Amazon's cloud infrastructure. The games are processed and streamed (60 FPS) from Nvidia's GRID servers packed with thousands of GPUs based on the Kepler architecture. Nvidia made tweaks in servers to reduce latency and ensure gaming quality remained consistent. In addition, virtualization allows many gamers to share the Geforce cloud gaming supercomputer.
Nvidia is recommending that the service not be used over LTE connections. It runs best over Wi-Fi routers that support the 5GHz spectrum.
The streaming service won't work on mobile devices from other companies, though that could change in the future.
GRID is offering triple-A titles like Batman: Arkham City and Borderlands 2, as well as classics like Brutal Legend and Psychonauts. Nvidia has 20 games on GRID at launch worth over $400, and plans to add more games every week.
The SHIELD and the new SHIELD Hub app (Google Play ) will become available Nov. 18.