Panasonic, Semiconductor Energy Laboratory And Philips Take Center Stage At FPD
The FPD International 2013 kicked off on the 23rd in Japan and many companies including Panasonic, Semiconductor Energy Laboratory, Philips and Japan Display showcase their latest flat panels including 4K OLEDs for tablets and smartphones as well as flexible displays.
Panasonic is showcasing 55-inch a 4K IPS LCDs (3,840 × 2,160 pixels), which delivers a contast ratio of 1,500:1, a brightness 700cd/m2 and covers the 72% of the NTSC color gamut. Typically, it will find its to business and medical applications.
A 31-inch 4K (4,096 × 2,160 pixels) LED backlight display prototype supports 97% DCI color along with a brightness of 850cd/m2. This one is intended for use in video monitoring and broadcasting.
For tablets, Panasonic showcases a 10.1-inch IPS display with a 2,560 x 1,440 pixel resolution and a contrast ratio of 1,400:1. It covers the 100% sRGB color gamut and a has brightness of 400cd/m2. In addition to this, a 8.9-inch (2,560 × 1,600) model for tablets was on display.
Semiconductor Energy Laboratory, known for the development of IGZO LCDs with Sharp, is focusing on OLEDs. A 13.5-inch (3,840 × 2,160 pixels) curved display uses an RGB color filter alng with white OLED and can display 24bit colors covering more than 90% of the NTSC color gamut.
Curved OLED displays that can roll over smartphone devices also appeared at the show. These are rolling (4mm radius) to cover either the top or the side of portable devices such as smartphones, and the protoypes inlcude a 3.4-inch, (326ppi) and a 5.3-inch (302ppi) model. Mounted to a smartphone, these rollable touchscreens can offer new ways of interaction between the device and its user. For instance, touch buttons can be placed on the side of a smartphone or a screen placed on the top side of the device could notify its user for an incoming call.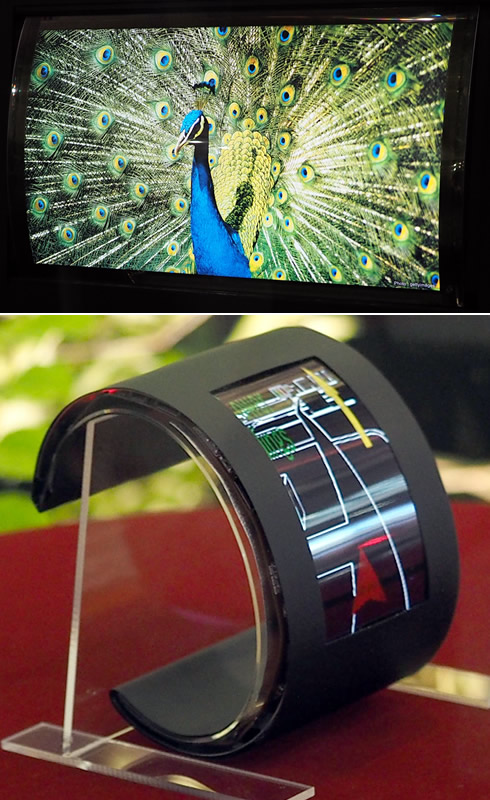 SEL is also experimenting with a wristwatch-type device powered by a curved rechargeable battery.
Philips, Dolby and Sharp are showcasing their naked-eye 3D technology with an 85-inch 8K (7,680 × 4,320 pixels) display, a brightness of 300cd/m2, 10bit colors and a 60Hz frame rate.
Philips mounted on the huge screen its own "fractional lenticular lens" on the display. There are several viewpoints that are optimal for viewing 3D video displayed on a naked-eye 3D display using a conventional lenticular lens. When the eyes of the viewer are not positioned at any of those points, it is impossible to accurately view 3D video correctly. The fractional lenticular lens enables viewers to naturally view 3D video because Philips made improvements to the position and shape of the lens.
However, commercialization of the 3D display has not been decided yet.
Last but not least, Japan Display is showcasing a 5.4-inch,543ppi TFT LCD naked-eye 3D Display, a high-density (473ppi) 6.2-inch WQHD TFT LCD module for smartphones, a 12.1-inhch 4K (3,840 × 2,160 pixels - 365ppi) display for tablets.