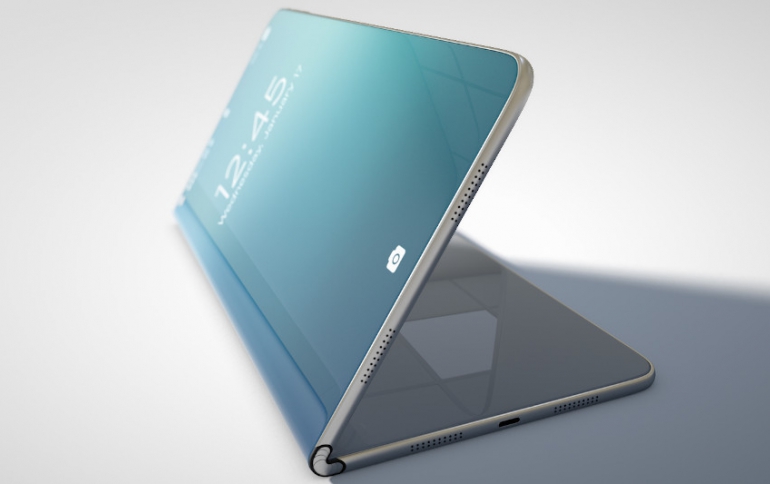 SCHOTT Introduces the Xensation Flex Glass for Foldable Displays
SCHOTT – a global UTG powerhouse – has made available what the company calls "the industry's most flexible glass," with a bending radius lower than 2 mm and thicknesses less than a human hair after processing.
Besides its great flexibility, the new Xensation Flex can be chemically toughened. This makes it a suitable material for flip phones, which require both flexible and strong displays.
Available in mass production, the new flexible cover glass also offers high transparency.
SCHOTT is supplying ultra-thin glass to Samsung now.
The German company has refined the core UTG production process known as "down draw technology". During the down-draw process, a glass ribbon is pulled down from the top, moving across various rollers and through the cooling track. Thanks to this eco-friendly technique, glass of desired thinness is directly drawn from the melt to achieve stable thinness – with no further harmful acid etching needed.
Initially invented as a rigid, high-performance cover glass, Xensation Flex now proves that strength can also come with the ability to bend.
SCHOTT's high-performance cover glass for rigid-display solutions provides resistance against breakage, especially with regard to set drop performance. The lithium aluminosilicate (LAS) cover glass is built on a heritage of more than 130 years: SCHOTT was the first company to use LAS as a protective cover glass.
Another SCHOTT product, the Xensation Up, has enabled new designs and innovations from smartphone makers, including leading manufacturers from China vivo and OPPO. vivo recently launched a series of smartphones, including NEX 3s 5G phone with a curved waterfall display, iQOO 3 5G phone, and new design piece X30 Pro with Alexander Wang edition and rainbow edition. OPPO just launched OPPO Smart Watch in March, 2020 with a 3D curved screen design. All of these concepts underline the capabilities of Xensation Up. cover glass.
With Xensation 3D, SCHOTT was the first cover glass maker worldwide to develop a protective smartphone cover based on aluminosilicate with the addition of lithium. Now with Xensation Up. of enhanced strength and Xensation Flex for foldable displays, SCHOTT Xensation provides specialty glass solutions to all available display technologies with mass production capacity.