Panasonic Showcases Optimized Workflow at IBC 2014
Panasonic showcases its broadcast and professional video solution under the theme of "See the Future of Your Business," at IBC (International Broadcasting Convention) 2014, which is held in Amsterdam, Netherlands, on September 12 -16, 2014. The company launched the Varicam, along with a range of products that will make film and TV production easier.
The Varicam retains the modular design first introduced at NAB in Las Vegas, as the third generation Varicam arrives in two new variants, the super35mm, 4K Varicam 35, and the 2/3 type, high speed HD Varicam HS.
Andre Meterian, Director of Panasonic's Professional Camera division, said, "Inherited from original Varicam, the Varicam 35 features a V-Log gamma to cover a wide latitude - an impressive 14+ stops.
"What is more, the ability to simultaneously record in two different formats and codecs together with its in-camera colour grading function means, for instance, that it is possible to record 4K master and HD simultaneously and begin colour grading on site. This will greatly help production companies to streamline their workflows."
He continues, "Varicam HS will provide smooth slow motion effects, by recording in 240fps HD, without a cache memory." The new Varicam 35 and Varicam HS start shipping in October 2014.
Panasonic have also promised to make Electronic News Gathering easier, with the introduction of lightweight shoulder 2/3 type camera-recorder equipped with 3MOS image sensors.
Set for release in October, the AJ-PX800 weighs just 2.8kg, captures both SD and HD, and comes with a comprehensive range of codecs including AVC-Intra and the AVC-Long G (50/25/12Mbps) codec set.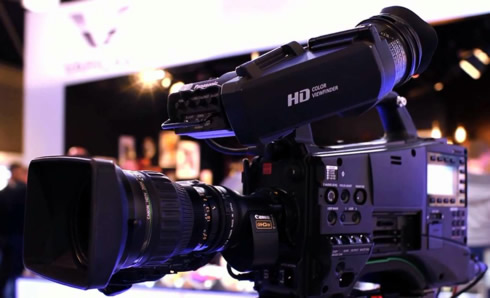 Testing of the news gathering network workflow began last month with UK broadcaster Independent Television News and will continue to be carried out on a rolling basis with the company's broadcast partners in countries around the world.
The AJ-PX800 will be released alongside the new AJ-PG50 portable recorder which enables dual-codec recording and comes with two micro P2 and a single P2 card slot.
A collaboration with LiveU will see future releases of Panasonic broadcasting camera recorders support a direct connection with LiveU Central, the unified management system which allows broadcasters to acquire both live and recorded content from the field, preview it centrally or remotely, broadcast it live or in scheduled programming and distribute it to any location.