Panasonic Showcases VR Headset, Produces World's Largest Aspheric Lens
Japanese Panasonic is developing a virtual reality headset that can be hooked on ears like glasses. The prototype, which was exhibited at a press show in Ariake, Tokyo, uses an OLED panel for its display and can realize a viewing angle of 90° and a frame rate of up to 75fps. It covers a whole field of view and shows an omnidirectional image in accordance with movements of the head.
Panasonic claims the device can be more easily worn than Oculus Rift or Sony's Project Morpheus alternatives.
The company has not yet decided to commercialize it.
Panasonic also showcased an omnidirectional camera equipped with seven image sensors. The company pans to commercialize it by the Tokyo Olympic Games in 2020.
Seperately, Panasonic has developed the industry's largest glass-molded aspheric lens measuring 75 mm in diameter that can be used for interchangeable lenses for high-resolution cameras and projectors.
The glass-molded aspheric lens/mirror has a diameter of 75 mm. Panasonic says its mass production technology prevent cloudiness and cracks and maintains shape precision in the process of molding large-diameter lenses.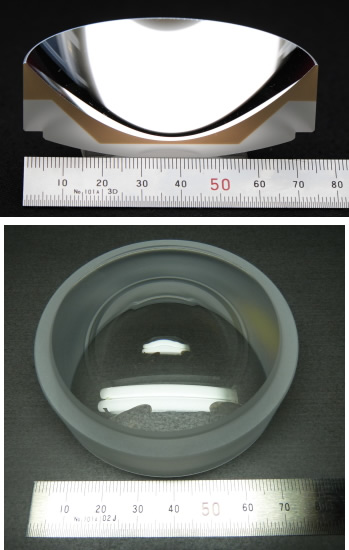 This lens enables a reduction in the number of parts by about 25% compared with comparable conventional products.
The company will start sampling the lens on February 13, 2015.