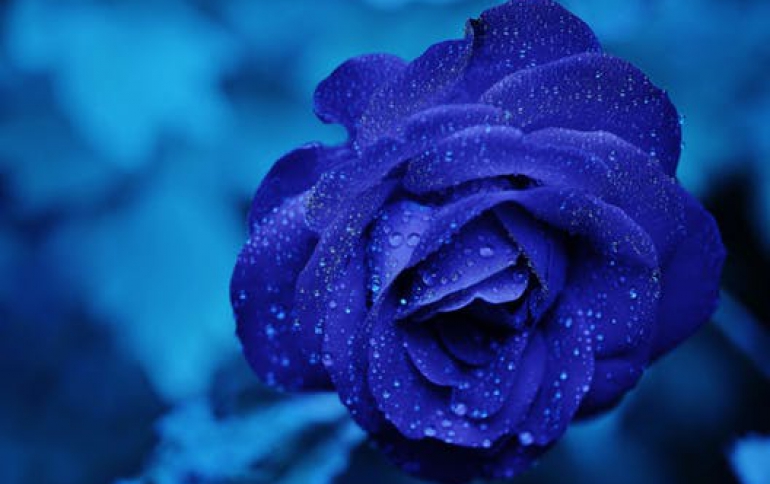 Pentax Unveils The Pentax Q
PENTAX has announced the PENTAX Q, in hat the company describes as the world?s smallest and lightest interchangeable lens camera (ILC). The Q features a 12.4 megapixel, 1/2.3 inch CMOS image sensor and a a newly designed PENTAX Q-mount lens system for convenient interchangeability. Capable of producing 12 bit DNG RAW and JPG images, the backlit CMOS sensor is an efficient light-gathering instrument designed specifically to produce very low noise at high levels of sensitivity.
The camera also offers the power and flexibility of traditional DSLR shooting modes such as Program, Aperture/Shutter Priority, and Metered Manual exposure control as well as the PENTAX Auto Picture and 21 scene modes for casual shooting, including new Forest and Stage Lighting options.
A variety of creative modes, Smart Effect options, or camera settings that assign to the Q's Quick Dial located on the front of the camera. Brilliant Color, Vintage Color, Warm Fade, Bold Monochrome, and Water Color are just some of the Smart Effects available and may be assigned on the Q?s Quick Dial.
In-camera HDR capture mode shoots 3 images of varying exposures, blending them to bring out the details in even the darkest shadows and brightest highlights of extreme contrast shots.
The Q processes the full HD video using high quality h.264 compression, its shutter speeds range from 1/2000 to 30 seconds and the bulb mode adds flexibility for low light photography and motion effects.
A built-in popup flash adds extra light to an image with a high extension to naturally reduce the redeye effect common to compact cameras. The Q's flash is effective to 23 feet at 200 ISO, and covers a wide angle 28 degree field of view.
The camera is also compatible with the latest generation SD, SDHC, and SDXC memory cards.
The PENTAX Q will be available in white or black body models and shipped in a Standard Prime lens (available in silver) kit. Initially, the PENTAX Q system will ship in Japan. Anticipated shipping time to the United States is early Fall 2011 at around $800 for the standard lens kit.
An optional shoe-mounted viewfinder will be available at the same time for $249.95 USD.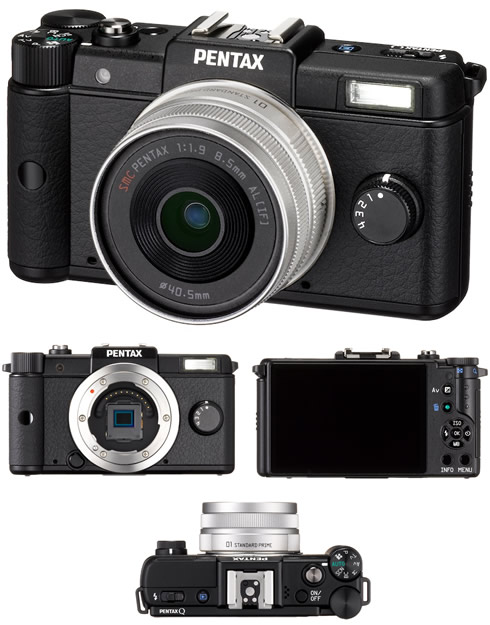 Four lenses for the Q system
PENTAX also announced four accessory Q-mount lenses designed for exclusive use with the PENTAX Q camera.
PENTAX 02 Standard Zoom
With a focal length equivalent to a 27.5-83.0mm zoom lens in the 35mm format, this standard zoom lens is ideal for wide angle to medium telephoto range. The Standard Zoom features a minimum focusing distance of 11.8 inches (30 centimeters) at all focal lengths for close-up photography. Featuring a high-grade finish, this lens incorporates the special optical glass elements and PENTAX exclusive lens coating technology for high quality images. The AF motor installed in the lens assures smooth, quiet focusing operation. The lens shutter mechanism allows the PENTAX Q's built-in auto flash to be synchronized to the camera's top shutter speed of 1/2000 second (or 1/250 second when using an accessory flash unit). This lens is also equipped with a built-in ND (neutral density) filter for open aperture shooting at bright locations or when using slower shutter speeds. The lens price $299.95 USD.
PENTAX 03 Fish-Eye
This ultra wide angle lens offers an extra wide 160 degree angle of view allowing photographers to create a fish-eye visual effect. The lens price is $129.95 USD.
PENTAX 04 Toy Lens Wide and PENTAX 05 Toy Lens Telephoto
With optics designed specifically to retain various lens aberrations, these lenses produce subdued, nostalgic images like photos taken with a traditional toy camera. The Toy Lens Wide is a unifocal wide angle field of view with a focal length equivalent to 35mm in the 35mm format. The PENTAX 05 Toy Lens Telephoto is a unifocal medium telephoto lens with a focal length equivalent to 100mm in the 35mm format. The PENTAX 04 Toy Lens Wide price is $79.95 USD and the PENTAX 05 Toy Lens Telephoto is $79.95 USD.