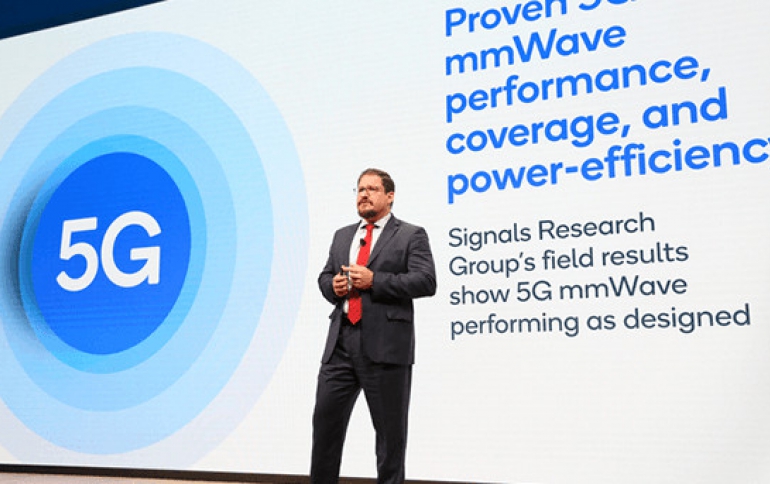 Qualcomm Addresses Key Questions About 5G
During the Qualcomm Tech Summit, Qualcomm executives tried to debunk "5G misconceptions" that have been allegedly fueled by the press.
The company did mention some of those misconceptions, which range from "mmWave is not really happening yet" and "5G rollout will take a long time," to "where are all the 5G apps?"
Qualcomm President Cristiano Amon talked about "a tremendous momentum happening across regions." He said that as of 2019, more than 40 operators have launched 5G services and some 50 OEMs have announced 5G products. Further, 325 operators in 109 countries are investing in 5G. By the end of 2020, "5G subscribers to grow to 200 million, while 5G will achieve 2.8 billion connections by 2025," Amon predicted.
There has been a confusion around the various approaches followed in different regions to get to 5G. Companies have been talking about 5G mmWave, 5G mid-band sub-6GHz, and dynamic spectrum sharing (DSS) between 4G low-band and 5G. Amon said that DSS will be the key to the acceleration of 5G deployment, because operators will be able to use it to simultaneously transmit LTE and 5G NR in the same band.
The DSS will allow cellular network operators to make the transition to 5G easier and more cost efficient than when they moved from 3G to 4G.
Operators are executing on "a phased approach" for 5G rollout, said the Qualcomm president. Different phases involved include Non-Stand Alone (NSA) sub-6GHz, mmWave, sub-6GHz FDD (with DSS), sub-6GHz carrier aggregation, sub-6GHz + mmWave aggregation and Stand Alone (SA) 5G.
This means that 5G coverage could differ from city to city depending on the available network infrastructure. For example, in San Francisco, when mmWave leverages the existing LTE infrastructure, 5G can achieve 65% outdoor coverage. In Frankfurt using mid-band spectrum sub-6 GHz, 5G scores around 78%.
Of course, all of this talking is related to the launch of Qualcomm's new 5G mobile platforms and the new Snapdragon X55 5G modem-RF system that accopmanies them. The new Snapdragon 865 'flagship' apps processor is a global single-chip multi-mode modem supporting virtually any combination of spectrum bands and/or modes: 5G mmWave and sub-6 GHz, standalone and non-standalone modes, TDD and FDD, spectrum sharing, LTE and legacy modes (3G, 2G). The X55 provides peak speeds of up to 7.5 Gbps for download and 3 Gbps for upload.
Alex Katouzian, Qualcomm senior vice president and general manager of mobile, said that the claim that "mmWave is not really happening" is not true. The performance, coverage and power efficiency of mmWave are already proven, according to Qualcomm. 5G mmWave provides more than 10 times peak performance gains compared to LTE only. It offers 200+ Megabits per second for non-line-of-sight, and 1+ Gigabits per second for line-of-sight operations. 5G mmWave can offer more than 14 hours of use while meeting power and thermal requirements. The technology is already developed, and Qualcomm is already opffering corresponding chips.
Katouzian also explained that it's easy to upgrade an existing network to 5G. China, for example, will have installed 120,000 base stations by the end of the year, with a million projected by the end of 2020, he noted.
Regrding 5G apps, Qualcomm believes this gap can be easily bridged by a rollout of newly developed apps and services over the next two to three years.
The Qualcomm president also said that 5G will give birth to new services such as 4K video streaming and sharing. Real-time cloud gaming will be also possible.
"5G will change apps," stressed Amon. When Android OS SDK lets software developers develop 4G apps, it asks if the app uses Internet or no Internet. In contrast, Android OS SDK for 5G app asks the availability of a 5G connection, and if there is 5G, it will modify the behavior of the app, explained Amon.
He also expects to see new, emerging 5G uses, which will combine different 5G features such as low latency and broadband and deploy on "networks slices," for example. 5G is potentially much more reliable than 4G for exploiting flexible slot structures in the network, said Amon. For automotive applications, for example, achieving six 9's reliability is possible, he added.
"China has already identified 100 new use cases for 5G," according to Amon, and is planning trials in 2020. These possible uses include connected manufacturing for robots, connected cars, smart retail, hand-held devices on an industrial scale, autonomous pilots and tele-medicines.