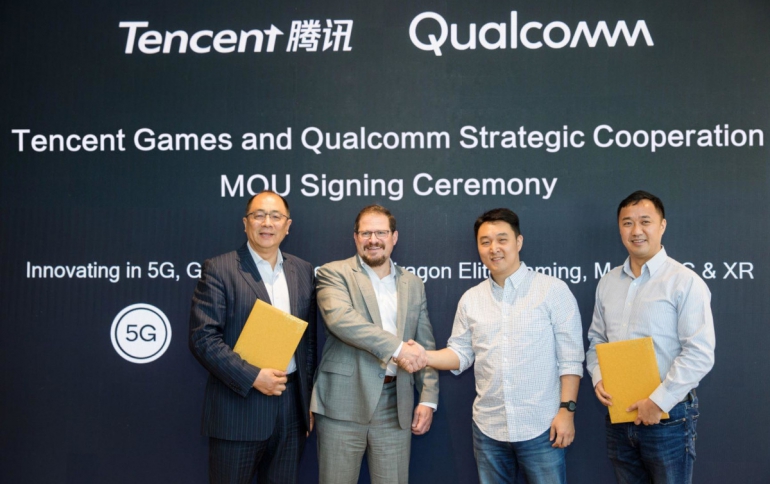 Qualcomm Announces Cooperation with Tencent Games
Qualcomm Wireless Communications Technologies (China) Limited announced today the cooperation with Tencent Games.
The two companies have signed a nonbinding memorandum of understanding (MoU) for a strategic cooperation wherein they are expected to have collaborations in the field of digital entertainment. The cooperation includes joint efforts anticipated to optimize future projects including Qualcomm Snapdragon based mobile gaming devices, game content and performance optimizations, Snapdragon Elite Gaming enhancements, cloud gaming, AR/VR, 5G gaming use case developments and additional relevant technologies.
Steven Ma, Senior Vice President at Tencent, said: "Tencent has worked closely with Qualcomm Technologies and we are very pleased that the strategic cooperation announced today has deepened and expanded the relationship between the two parties. We hope that fostering cooperation between both parties can utilize our respective technologies and R&D expertise to further innovate the game industry, thereby bringing better game quality and interactive experience to users."
By utilizing Qualcomm Technologies key products & technologies based on Snapdragon platforms, and Tencent's game development expertise & resources, both parties aim to develop high quality games that can be experienced by consumers across a variety of Snapdragon platforms and devices. With the advent and integration of 5G applications marking the new generation of connectivity, the landscape of mobile gaming will forever be changed as real-time gaming becomes faster and more powerful.
Earlier this month, Tencent paired with Asustek Computer Inc's gaming device division, Republic of Games, to introduce a gaming phone with a Qualcomm chip.