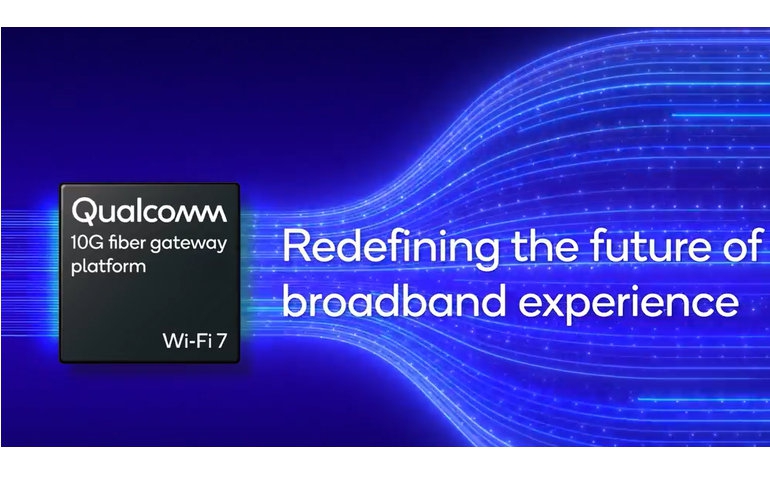 Qualcomm announces Network powered products with its partners
Charter Communications, Inc. (NASDAQ: CHTR) and Qualcomm Technologies, Inc. (NASDAQ: QCOM), today announced a collaboration to deliver the next-generation Advanced Wi-Fi router that will bring Wi-Fi 7 and 10 Gbps Wi-Fi capabilities to Spectrum Internet users, helping support and enhance the converged connectivity experience for residential and small and medium-sized business customers. Advanced Wi-Fi routers with Wi-Fi 7 are expected to be available to Spectrum customers in 2024.
Qualcomm-image
"The leading Wi-Fi 7 innovations from Qualcomm Technologies will enable our Advanced Wi-Fi service to continue delivering robust and responsive internet connectivity and ultra-fast Wi-Fi speeds to our customers," said Dave Rodrian, Charter's Group Vice President of Wi-Fi Products. "This next generation of Wi-Fi will support the delivery of new experiences, such as fully immersive, ultra-low latency VR, and aligns with our network evolution plan to enable multi-gig wireless connectivity across our entire footprint."
With internet usage and the number of Wi-Fi-connected devices continuing to grow, the demand for wireless connectivity has never been greater. Wi-Fi 7 advances the delivery of wireless connectivity by leveraging all three Wi-Fi bands – 2.4 GHz, 5 GHz, and 6 GHz – and enabling both higher throughput and lower latency through the implementation of new features including:
Increased channel size, up to a peak of 320 MHz, delivering massive throughput gains from 6 GHz spectrum.
Multi-Link Operation (MLO), supporting the use of multiple radios on a router to increase throughput and reduce latency.
4K modulation, boosting peak rates to increase throughput and capacity.
Flexible channel utilization, an advancement based on preamble puncturing to avoid channels with interference.
"Qualcomm Technologies' obsessive focus on technology development for advanced user experiences, along with our years-long collaboration with Charter, is on full display with the development of the Spectrum Advanced Wi-Fi router featuring Wi-Fi 7," said Ganesh Swaminathan, Vice President and General Manager of Wireless Infrastructure and Networking, Qualcomm Technologies, Inc. "As broadband subscribers' demand for high-performance connectivity continues to accelerate, we're proud to deliver service-focused platforms to help customers meet those needs."
In addition to supporting the latest Wi-Fi technology, Spectrum's Advanced Wi-Fi product provides customers with control of their network via the My Spectrum App and includes Security Shield to protect their devices from online threats. It also powers exclusive Spectrum Mobile ™ features like Speed Boost and the Spectrum Mobile SSID, taking converged connectivity to the next level.
Qualcomm Technologies, Inc. is ushering in a new era of home connectivity, and new opportunities for service providers, with the introduction of the Qualcomm® 10G Fiber Gateway Platform and its signature feature, Qualcomm® Service Defined Wi-Fi technology.
The overwhelming majority of subscribers experience their broadband service through Wi-Fi. In today's broadband systems, the access network from the service provider to the home and Wi-Fi within the home are managed separately - with a quality of service which is nearly impossible to maintain across the entire network, given the diversity of devices, applications, connectivity technologies, and the near-constant change across all these elements.
The Qualcomm Service Defined Wi-Fi technology addresses this management challenge by offering a unified data flow management architecture, from cloud to device. It delivers orchestration, classification, scheduling, and insights that help ensure subscriber performance expectations for 10G Fiber are met – adapting to user activity whether they are gaming, streaming, video conferencing or sharing content.
"Qualcomm Technologies has positioned itself to lead a revolution in connectivity," said Rahul Patel, senior vice president and general manager, connectivity, broadband and networking. "By adding 10G Fiber to our technology portfolio, along with 5G and Wi-Fi 7, we now offer a compelling mix of solutions to help service providers drive revenue growth, service innovations, and deliver more immersive, and engaged subscriber experiences."
"Qualcomm's latest advancements in home gateways will help accelerate the ongoing transformation of home Wi-Fi networks," said Andrew Spivey, Senior Analyst at ABI Research. "Given the rapid deployment of fiber-optic cable, alongside the concurrent decline of legacy cable and DSL technologies, the new platform is timely, and combined with Qualcomm's Wi-Fi 7 technology will prove indispensable in delivering the advanced speeds modern homes require. We are also confident that Qualcomm's Service-Defined Wi-Fi Technology will help underpin the home networking revolution through the enablement of guaranteed Quality of Service (QoS) for consumers."
Qualcomm 10G Fiber Gateway Platform
The Qualcomm 10G Fiber Gateway Platform is architected to enable 10Gbps to and through the home. Its software-defined architecture combines 10G Passive Optical Network (PON) technology with multi-Gigabit Wi-Fi 7 connectivity to ensure high-speed connectivity and low-latency access can be delivered seamlessly through the home to end devices – such as phones, PCs, smart TVs, home cameras or appliances.
Featuring the Qualcomm Service Defined Wi-Fi technology, a groundbreaking cloud-to-device quality of service framework, the 10G Fiber Gateway Platform is designed to give providers unprecedented orchestration and insights to help improve their subscribers' quality of experience.
The Qualcomm Service Defined Wi-Fi technology's application-type orchestration is built to enable providers to create a new level of user experience based on reliable and fast end-to-end connectivity. Service providers will be able to offer differentiated services optimized for applications such as gaming, streaming, and employer-supported work-from-home optimized service.
The Qualcomm 10G Fiber Gateway Platform and Qualcomm Service Defined Wi-Fi technology are scheduled to be commercially available by summer 2024. For more information, please visit https://www.qualcomm.com/products/internet-of-things/networking/wi-fi-ne...