Qualcomm Unveils New Audio Platforms for IoT and Smart Home Devices
To meet today's demand for smart speakers, wireless headphones, and new interfaces like USB Type-C, Qualcomm's Voice and Music division has unveiled a range of new audio related products at its developer conference in Shenzhen, China.
The new products include the high-end CSRA68100 flash chip for wireless speakers and headphones,the QCC3XXX family of Bluetooth SoCs for entry and mid-tier products, the WHS9420 and WHS9410 SoCs, along with a new DDFA class-D amplifier for more powerful speaker setups. Qualcomm also unveiled its smart audio platform, which is based on existing Snapdragon technologies, designed to provide the additional processing power demanded by today's smart home speakers.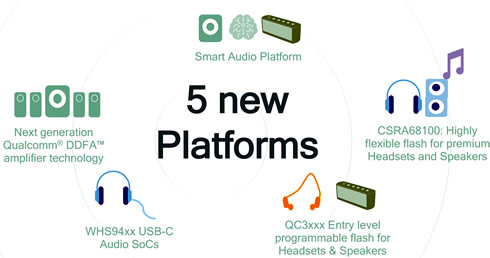 Bluetooth speakers and headphones
CSRA68100, Qualcomm's next generation high performance single chip Bluetooth audio flash-programmable platform, has been designed for premium wireless speakers and headphones. The platform offers four times the DSP processing power of its predecessor, along with a 32-bit dedicated developer application processor. It also supports a selection of connectivity, system processing, audio processing and power management resources. The platform includes an Audio Development Kit (ADK) ADK6.0 which is designed to provide developers with a suite of Bluetooth SIG qualified applications and profiles, alongside a multi-processor software development environment, tool chain, and audio DSP framework.
The QCC3XXX is a new family of entry-level, flash-programmable audio SoC platforms at competitive price points for Bluetooth headsets and speakers. The QCC3XXX family includes eight SoCs - three which support Bluetooth speaker applications, and five which support Bluetooth headset applications. The QCC3XXX family is designed to provide consumers with access to technologies at some of the most affordable price points for listening devices, including features such as Qualcomm aptX audio and Qualcomm cVc noise cancellation technology and Qualcomm TrueWireless Stereo.
Smart Audio Platform
The new Qualcomm Smart Audio Platform has been designed to help manufacturers accelerate the development and commercialization of smart and networked speakers. The solution offers two Qualcomm SoC options based on APQ8009 and APQ8017.
The voice solution is designed to deliver multi-mic far-field voice capability with responsive voice activation and beamforming technologies. The platform's voice software also incorporates echo-cancellation, noise suppression and "barge-in" capability, supporting a reliable voice interface in loud or noisy environments even when users are far from the smart speaker.
Qualcomm AllPlay multi-room audio technology supports OEMs to utilize Qualcomm's open ecosystem for whole-home audio music streaming. AllPlay compatible speakers are designed to be configured to play synchronized music across multiple rooms, different music in multiple speaker zones, and multi-channel wireless surround sound to multiple speakers in the same room. Consumers can play music from cloud-based streaming music services including Hi-Res 32-bit/192kHz content, local music libraries on mobile phones, or DLNA media servers. Moreover, the new platform supports Qualcomm aptX HD audio technology, which is designed to deliver 24-bit high-definition wireless audio over Bluetooth.
The Qualcomm Smart Audio Platform pre-integrates a range of Wi-Fi and Bluetooth solutions including improvements for Wi-Fi and Bluetooth coexistence. This flexible set of options are designed to allow customers to select from a variety of dual-band 802.11b/g/n/ac Wi-Fi chips with both 1x1 and 2x2 MIMO, Bluetooth 4.2, and Bluetooth Low Energy.

Key software features:
Operating system: Linux and Android Things

Far-Field Voice multi-microphone technology including:
voice activation, beamforming and echo cancellation
barge-in and voice capture in highly noisy environments
software supporting virtual assistants
support for high-quality hands-free voice calls over both VoIP and HFP

Support for Amazon Alexa Voice Service (AVS) (available later this year)
Support for the Google Assistant (available later this year)
Support for Android Things along with Google Cast for Audio (available later this year)
AllPlay networked audio solution
Bluetooth audio encode and decode with aptX and aptX HD
Audio playback from a wide range of industry audio codecs including MP3, AAC, OggVorbis, FLAC, AIFF, WAV, PCM, ALAC
Qualcomm Hexagon DSP SDK
Key Bluetooth profiles including HFP/AG, PBAP, PANU and NAP, A2DP, AVRCP
Bluetooth/Wi-Fi coexistence
The Qualcomm Smart Audio Platform is expected to be available Q3 2017.
USB Type C
At the conference, Qualcomm also introduced its WHS9420 and WHS9410 single chip USB audio SoC platforms designed for USB-C connected audio devices.
The USB-C connector is becoming standard on next generation smartphones for charging, but offers the added advantage of supporting high quality digital audio interfaces. As smartphone manufacturers move toward slimmer, monolithic handset designs and start to remove the 3.5mm headphone jack, the USB-C connectors offer an excellent option for those who want to continue to use wired headsets and speakers.
These two SoC options are designed to address both the entry level and mid to high end sections of the emerging market. The WHS9420 with integrated ANC supports up to 192kHz/24-bit audio over the USB connection and very high quality DAC output. The WHS9410 is an entry level solution designed to bring quality audio performance to lower tier products.
DDFA Class-D Amplifier
Qualcomm's next generation Qualcomm DDFA audio amplifier technology can be used in high-resolution audio devices including wireless speakers, soundbars, networked audio and headphone amplifiers.
Traditional class D amplifiers, although power efficient, typically don't deliver the audio quality of traditional linear amplifiers. Qualcomm claims that DDFA's all-digital PWM (pulse width modulator) and patented closed-loop architecture compensate for nonlinearities of power supplies and output stages and are designed to deliver much higher fidelity audio and design flexibility while retaining the advantages of class D amplifiers.
The new DDFA will be available on the CSRA6620 SoC, an integrated platform which includes a DDFA controller with eight channel inputs, two channel outputs, microcontroller and configurable audio processor. The platform is available as a 9mm x 9mm QFN package.
Key CSRA6620 performance metrics:
SNR and dynamic range up to 113 dB (A-wt, 20Hz to 20Khz)
THD+N < 0.005% (20Hz to 20Khz)
Noise floor modulation <2dB (-60dBFS to 0dBFS)
Residual noise : 35μVrms @ 1Khz
Support for 384Khz and DSD64/128 inputs