Samsung and Harman Kardon Provide Sound in New Premium Soundbar Lineup
Samsung Electronics released two co-branded premium soundbars - the HW-N950 and HW-N850, in collaboration with Harman Kardon.
These new soundbars were largely developed by Samsung, with Harman Kardon certifying the audio quality through sound quality testing. Available beginning August 20, the HW-N950 and HW-N850 feature both Samsung and Harman Kardon's logos to represent their partnership.
Following Samsung's acquisition of Harman International in March 2017, the two companies have been collaborating on mobile products including the AKG headphones bundled with certain Samsung mobile phones and tablets tuned by AKG, as well as professional solutions for cinemas with the JBL Professional brand. The HW-N950 and HW-N850 soundbars are the first major collaboration between Samsung and Harman Kardon to enter the premium category. With the audio quality certified by Harman Kardon and hands-on direction from the brand's acoustics experts, consumers can enjoy three-dimensional sound thanks to the addition of DTS' proprietary DTS:X technology as well as Dolby Atmos.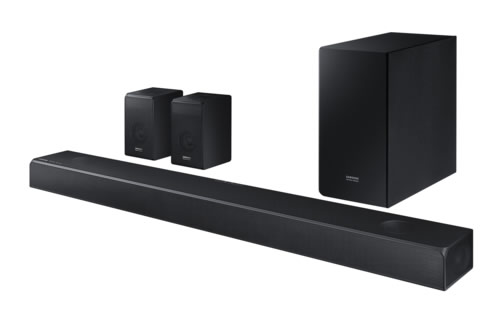 The HW-N950 especially is equipped with a main unit, four speakers and two wireless surround sound speakers. Also, thanks to its 7.1.4 channels, the largest number of channels currently available in a soundbar, the HW-N950 features a built-in wireless subwoofer and rear wireless speaker kit. The HW-N850, a more simplified version of the HW-N950, boasts a 5.1.2 channel featuring a main unit speaker and woofer.