Harman at CES 2020
HARMAN showcases its full portfolio of lifestyle audio solutions at CES 2020.
SoundSticks 4
Harman Kardon adds to its most iconic speaker series with the SoundSticks 4. The latest design brings harmony into any living space with beautiful sound quality and transparent materials.
The new design carries on the signature form factor and materials of the original SoundSticks. Its transparent dome and silhouette blend in with any home décor. The two satellite speakers and powerful subwoofer cover look great with an inner rippled surface design.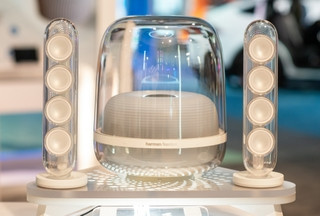 Features:
Transparent dome design with two satellite speakers and subwoofer cover with an inner rippled surface design
Dome subwoofer for vibrant treble and great bass
Two satellite speakers each have four drivers
100-watt dome subwoofer
Wireless Bluetooth streaming
The Harman Kardon SoundSticks 4 will be available Spring 2020 for $299.95.
Harman Kardon Citation Expands Home Audio Series
Following the Harman Kardon Citation Series announcement last year, the brand has expanded its wireless speaker series with additional form factors for every room and living space. Outfitted with Harman Kardon's sound, the new Citation Series includes the portable Citation 200 speaker designed with a charging base, IPX4 splash-proof protection, and built-in rechargeable battery with 8 hours of playtime, as well as the Citation Oasis. The Oasis is a multipurpose compact speaker with a built-in alarm clock, wireless phone charging capabilities and music streaming.
Additionally, the Citation Multibeam 700 joins the family as the newest compact soundbar with a color LCD display, MultiBeam technology and seven speaker drivers for surround sound. The latest soundbar can also be paired with the Citation Sub S, a compact, wireless subwoofer. Powered by WiSA technology, these two devices together with Citation Surround and or Tower speakers, deliver a low latency, wireless HD home theatre experience.
The dirt-repellant and flame-retardant wool fabric by Kvadrat, a European leader in acoustic textiles, covers the speakers, while new colors add to the elegance and sophistication.
All new speakers in the Citation Series offer options to use individually or build a 5.1-channel surround sound system. With the Google Assistant built-in, users can control the whole series using their voice by simply saying "Hey Google" followed by the command. This function makes it easy to set an alarm, generate to-do lists, check on the timing of a favorite television show, control other smart home devices and more.
With the addition of Chromecast and Apple AirPlay capabilities, music lovers can access audio streaming services in HD quality. Once connected on the same Wi-Fi network as Citation, tap the AirPlay or Chromecast icon on any smartphone or tablet and music will play on the Citation speakers.
Additionally, the Citation ONE MKII features Apple Airplay and is available in Dusty Pink, Royal Blue, Black and Grey for $229.95. The Citation ONE Duo is a new offering which includes two Citation ONE MKII speakers for $349.95. The new additions to the Citation Series will be available Spring 2020.
Mark Levinson's № 5105 Turntable
HARMAN is introducing the Mark Levinson № 5105 Turntable at CES 2020.
The № 5105 is a premium precision-engineered turntable with a completely original custom design. It blends lustrous elements intrinsic to the 5000 series industrial design, while introducing new material combinations essential for its high performance.
The № 5105 features one-inch thick, bead-blasted, black-anodized, solid aluminum front panels that are machined and contoured to flow into the sleek glass display. The tinted glass is recessed into a bead-blasted, clear-anodized aluminum bezel, with aluminum Speed and Standby control buttons to match. The Mark Levinson hourglass knob design is also featured as a record weight; bead-blasted machined aluminum with a gently curved profile mass loaded with solid brass. This silhouette is echoed in the custom aluminum tonearm gimbal.
A custom 10-inch high-gloss back carbon fiber tonearm tube is fused to a solid aluminum headshell with an integrated finger lift and. A14 lb solid aluminum platter suspended on a ground, hardened steel axle rotates on bearings. An oil-free bearing bottom made of a mix of composite material with integrated lubrication and a maintenance-free sintered brass bushing ensures reliable operation for years to come.
The nearly 2" thick solid aluminum plinth is machined from a single billet and is suspended on three adjustable aluminum feet, each with a mixed-material internal suspension system. The integrated white bubble level aids in deck leveling.
The 12V synchronous motor's control signal is digitally generated; therefore, it exhibits no temperature drift, ensuring speed stability and low wow/flutter. The integrated wide-range power supply is designed for global use with 90-260 VAC and four included AC cables.
The signature platter mat and user guide are delivered stylishly in the Nº5105 12-inch double LP gatefold jacket.
The № 5105 turntable will be available either with or without a factory-installed moving coil phono cartridge. Pricing starts at $6,000 for the version without phono cartridge and $7,000 for the version with a cartridge, both versions will be available in Summer 2020.
Harman Kardon FLY Headphone Series
Harman Kardon launched its first new headphone series since 2014, the Harman Kardon FLY. This line-up of headphones includes three models – FLY BT, (Bluetooth), FLY TWS (true wireless) and FLY ANC (active noise cancelling).
For a wireless experience, there's the FLY TWS. Once connected to a smartphone, the FLY TWS provides full-functioned touch control. Designed for commuters, the FLY TWS provides a transfixing audio experience for 15-hours of combined playback. With TalkThru functionality, users can chat with a barista or say hello to a friend without skipping a beat. For impromptu conference calls, stay connected with the hands-free stereo mode for clear audio and suppressed ambient noise. Queue up a personal voice assistant by tapping the ear bud to activate the built-in smarts of the Google Assistant and Amazon Alexa. The FLY TWS is also rain- and sweatproof.
The in-ear FLY BT model brings features in an effortless design. Harman Kardon's signature sound ensures each note is captivating, while 8.6mm drivers guarantees 8-hours of active listening. The FLY BT is equipped with speed charge functionality. Magnetic earbuds, a high-quality fabric cable and compact storage pouch provide a tangle-free experience, while retaining durability if listeners need to quickly toss the headphones in a bag or pocket. The FLY BT even supports smartphones' native voice assistants – tap a button on the in-line controls to activate the Google assistant or Amazon Alexa.
The FLY ANC over-ear headphone comes with 40mm custom drivers and a sound signature optimized for travel. Listeners can block out external noise for up to 20-hours of listening with Bluetooth and active noise-cancelling enabled. Easily transition from watching a movie to taking a call with multi-point connection between two separate devices. A detachable audio cable, speed-charge capabilities and a hard-sided travel case provide flexibility while traveling. For a seamless transition from takeoff to landing, listeners can tap the earcup to activate the Google Assistant or Amazon Alexa to call a rideshare or find directions to the hotel.
The Harman Kardon FLY is the first headphone with added support from the Harman Kardon app. By connecting the headphones to the app, users will be able to have advanced control over their listening experience. Adjust the audio to fit each individual song, with pre-set equalizer options for Classic, Orchestra and Stadium modes. Audio enthusiasts can create their own custom sound signature though the app and control hands-free with voice assistant support.
Harman Kardon Aura Studio 3
Harman Kardon announced the latest speaker to join its sophisticated icons collection, the Harman Kardon Aura Studio 3. This dome-shaped home audio combines style and function, while delivering 360-degree sound in a timeless design. The Aura Studio 3 will be distributed through the brands' partnership with Sprint and Brightstar.
With wireless Bluetooth audio streaming, this home speaker system guarantees impeccable sound from anywhere in the house. The Aura Studio 3 is engineered with subwoofer power with 100W.
With a transparent body and ambient lighting, the Aura Studio 3 will add prestige to any interior home décor. Tinted glass and black fabric features complement the speaker's 360-degree integrated ambient light show, displaying a water wave ripple effect. The speaker's ambient lighting ensures that audio not only sounds beautiful but looks beautiful too.
Harman Kardon Aura Studio 3 Features:
Elegant design
360-degree sound
Ambient light

Wireless Bluetooth streaming
The Harman Kardon Aura Studio 3 will be available in black for $399.95. The speaker will be sold exclusively at Sprint stores in the U.S and Brightstar customers worldwide starting in winter 2020.
JBL L82 Classic Bookshelf Loudspeakers
HARMAN International is introducing the JBL L82 Classic, a modern bookshelf version of the all-time best-selling JBL L100 loudspeaker.
Based on the JBL L100 Classic loudspeaker introduced in 2018, the new L82 Classic's 8-inch, 2-way system design is more compact, but still delivers a hi-fi sound experience and an attractive aesthetic.
Packaged and sold as mirror-image pairs, the L82 Classic loudspeakers feature a 1-inch titanium dome tweeter with acoustic lens waveguide and front-panel HF Level attenuator. The tweeter is the same as used in the larger L100 Classic. The system's 8-inch cast frame white poly cone woofer delivers a natural sound with bass-reflex tuning via a front-firing Slipstream port.
The L82 Classic loudspeakers feature a retro design with vintage JBL styling including an iconic Quadrex foam grille in a choice of three colors — black, orange, or blue -- all with a black and bronze JBL logo.
Accessories for the JBL L82 Classic loudspeakers include the JS-80 floor stands (sold as a pair), to elevate and angle the enclosures to a correct tweeter height and to direct high frequencies to ear level. Additional retro Quadrex foam grille packs (black, orange, or blue) are also available to fit the speakers into any decor.
The L82 Classic has a US retail price of $2,500 per pair, while the JS-80 floor stands are $250.00 per pair and additional grille colors are $199.00 per pair. Availability begins in April 2020.
JBL Quantum range for gamers
Harman unveiled the first-ever JBL headset range and PC speaker designed exclusively for gamers, featuring the JBL QuantumSOUND Signature.
With seven headset models available, from wired to wireless and affordable to professional level, the range includes options for both casual and competitive gamers. The JBL Quantum 300, JBL Quantum 400, JBL Quantum 600 and JBL Quantum 800 feature the newest JBL QuantumSURROUND sound technology powered by the JBL QuantumENGINE PC software. The flagship JBL Quantum ONE takes sound to the next level, built exclusively with JBL QuantumSPHERE 360 sound technology. This feature uses proprietary algorithms and integrated head tracking sensors, so competitive gamers can hear enemies and movements around them like never before.
All headsets in the JBL Quantum Range have multi-platform capabilities for connection to PC, Mac, Xbox, PlayStation, Nintendo Switch, mobile and VR. The JBL Quantum Range incorporates flip-up or detachable boom microphones with echo cancelling technology. The JBL Quantum Range also features PU leather-wrapped memory foam ear cushions on the JBL Quantum 100, JBL Quantum 200, JBL Quantum 300 and JBL Quantum 400 models, and leather-wrapped memory foam ear cushions on the JBL Quantum 600, JBL Quantum 800 and JBL Quantum ONE models.
Complementing JBL's gaming headset line-up is the JBL Quantum DUO speaker, which pairs JBL's proprietary surround sound with Dolby Digital. Players can easily pinpoint incoming fire with JBL's QuantumSOUND Signature. Exposed drivers and tweeters deliver sound clarity. The Quantum DUO's unique lighting effects supercharge the gaming rig, allowing players to choose from a variety of color options and lighting patterns to visualize the beat. Stay focused on the next epic gaming moment with the Quantum DUO's plug-and-play volume and lighting controls. Like the rest of the QUANTUM Series, the Quantum DUO is fully compatible with any gaming system, including PC, Mac, Windows and gaming consoles – connect with audio-in and USB.
The JBL Quantum Range will be available for purchase starting April 2020. The JBL Quantum headsets will be priced from $39.95 - $299.95 and the JBL Quantum DUO will be available for $149.95.
JBL Wireless Headphone Line-up
JBL is adding two more options to its wireless headphone lineup.
The JBL LIVE 300TWS is the latest addition to the JBL LIVE Series. From over-ear to in-ear, all headphones in the series offer JBL's Signature Sound and offer IPX5 water-resistance. The JBL LIVE 300TWS has also a built-in dual microphone for calls and 20+ hours of combined playback time with a compact charging case.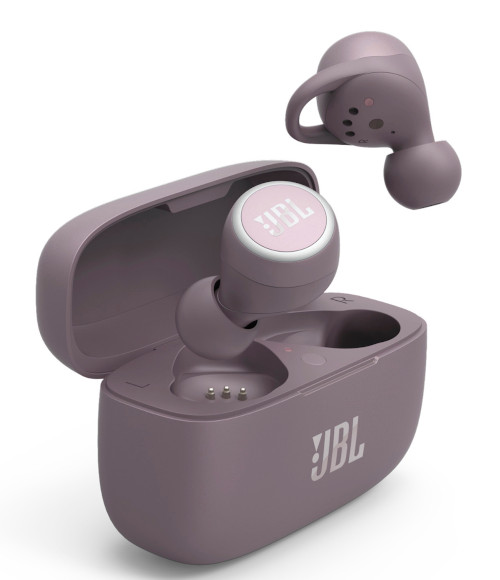 Along with the rest of the LIVE Series, the JBL LIVE 300TWS has The Google Assistant and Amazon Alexa voice services built-in, as well as Ambient Aware and TalkThru technologies. With TalkThru, the sound is lowered, and speech is amplified with a touch of an earbud making it easy to chat with friends without removing either earbud. In Ambient Aware mode, listeners can hear background noise, so they are always aware of their surroundings.
The JBL LIVE 300TWS will be available on JBL.com for purchase in Spring 2020 for $149.95 in four color options – Triple Black, Glacier White, Thunder Purple, and Petroleum Navy.
Features of the JBL LIVE 300TWS:
JBL Signature Sound
TalkThru and Ambient Aware sound control technologies
My JBL Headphones App for added personalization and ease to activate the Google Assistant or Amazon Alexa; find "My buds" feature, EQ customization and configure touch controls
Up to 6 hours of music playback in the buds, and an additional 14 hours in the charging case for 20 combined hours
IPX5 sweatproof and water-resistant
Hands-free stereo calls
Ergonomic fit and design
Type-C charging with 10-minute speed charging capabilities for 1 full hour of battery life
The JBL TUNE headphone line continues to grow with the addition of the JBL TUNE 220TWS. The JBL TUNE 220TWS features JBL Pure Bass Sound with its 12.5 mm driver and easy access to the native voice assistant on a user's device. It is compatible with Android and iOS and supports hands-free stereo calling capabilities.
The JBL TUNE 220TWS is engineered with an ergonomic design for all day comfort and offer 19 hours of combined playback time with its matching charging case.
The JBL TUNE 220TWS will be available on JBL.com for purchase starting early Spring 2020 for $99.95.
Features of the JBL TUNE 220TWS:
JBL Pure Bass Sound

Ergonomic fit earbuds
19 hours of combined playback time
Compact 16-hour charging case and Speed Charge capabilities
Premium material and metallic finish
Connect to devices' native voice assistant like The Google Assistant or Siri
Hands-Free Stereo Calls
JBL CLUB Headphone Series
JBL is introducing its first headphone series inspired by touring musicians, the JBL CLUB. Equipped with Legendary JBL Pro Sound, Personi-Fi and native voice assistants, the JBL CLUB series – CLUB ONE, CLUB 950NC and CLUB 700BT – marries stage-ready performance with advanced features designed for every day. Available in both over-ear and on-ear design options, this series amplifies personal audio, whether jamming out at home or traveling overseas.
The star of the series, JBL CLUB ONE, is designed with High Res certified graphene drivers and True Adaptive Noise Cancellation + SilentNow listening capabilities. The driver construction utilizes graphene, a lightweight, highly conductive, and rigid material for more accurate tuning. With True Adaptive Noise Cancellation technology, environmental sound is monitored 50,000 times per second and adapted to the perfect level of noise cancellation for the user's environment. The technology also compensates for sound leakage caused by factors, such as eyeglasses, hair or head movement. The SilentNow feature gives the user the ability to simply touch the dedicated button to switch ON noise cancellation mode without activating Bluetooth, for complete isolation from outside noise and even music. With 45 hours of playback time, replaceable ear cushions, a dual-aux audio input and a flight adaptor, traveling to the next show just got a lot more enjoyable.
In addition, the CLUB series comes equipped with the intelligence of the Google Assistant and Amazon Alexa voice assistant services and HARMAN's Personi-Fi technologies.
All three Bluetooth headphones are packaged with a 1.2m audio cable and microphone and outfitted with full metal hinges for added durability. The JBL CLUB 700BT offers a protective pouch, while the JBL CLUB 950NC and ONE come with a hard case. JBL CLUB ONE has a full leather headband.
The JBL CLUB Series will be available in black starting Spring 2020.
The JBL Boombox 2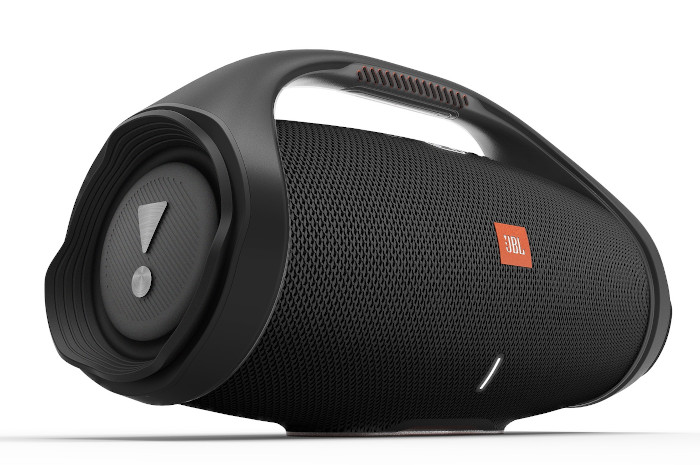 Turn up the volume, because the latest speaker in the JBL portables portfolio is here and it does not disappoint. JBL's Boombox 2 provides JBL Original Pro Sound with big bass, clear mids and smooth highs in a portable speaker.
Despite being the toughest and most durable speaker in the JBL lineup, Boombox 2 boasts a bold, modern design. With its iconic JBL handle and side detailing, Boombox 2 stands out in all the right ways.
With 24 hours of playtime and a built-in powerbank to recharge your devices, the Boombox 2 guarantees epic sound, all day long. With a durable, waterproof design, this speaker can handle just about anything that's thrown at it.
JBL Boombox 2 Features
Listen all day with a built-in, rechargeable Li-ion battery that supports up to 24 hours of playtime
JBL Original Pro Sound
Wireless Bluetooth Streaming: Wirelessly connect to any smartphone or tablet via streaming technologies
PartyBoost: Connect to an unlimited amount of other JBL PartyBoost compatible speakers to create an even bigger sound
IPX7 Waterproof
Built-in power bank: Charges smartphones and tablets via USB even while music is playing
The JBL Boombox 2 (USD: $449.95) will be available on JBL.com and select retailers starting in Spring 2020.
The JBL Bar 9.1 True Wireless Surround Sound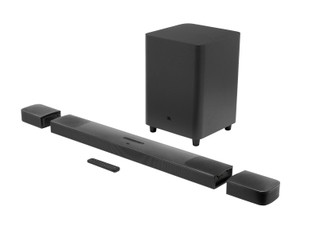 Movie lovers could be interested in the latest addition to JBL's popular Bar Series. The JBL Bar 9.1 creates wireless surround sound with crowd-pleasing JBL Original Pro Sound – now with the added punch of Dolby Atmos and the streaming support of Google Chromecast and Apple Airplay 2.
The Bar 9.1 is the first JBL soundbar with Dolby Atmos built-in. Listeners will almost feel the helicopters circling over their favorite action star thanks to four upward-facing Dolby Atmos drivers. The two battery-powered detachable, wireless rear speakers shoot sound off to the ceiling and back down, creating a 3D listening experience. The system has a total power of 820 watts. To round out the Bar 9.1 System, an included 10-inch powered subwoofer delivers pulse-pounding bass.
On top of its dynamic audio, the Bar 9.1 supports Dolby Vision, a 4K video input that transforms the viewing experience, automatically optimizing the picture for every screen. The Bar 9.1 also has Chromecast and Airplay 2 built-in.
Features:
Upward-firing drivers, detachable wireless surround speakers and 9.1 channels from the combined audio expertise of JBL and Dolby
Built-in batteries mean audio freedom. Place the two detachable surround speakers anywhere in a room. After 10 hours of playback, dock them to the soundbar to recharge
10-inch wireless powered subwoofer:
Built-in Chromecast and Airplay 2: Stream high-resolution music straight to the soundbar

Wireless Bluetooth streaming
The JBL Bar 9.1 will be available on JBL.com in Spring 2020 for $899.95.