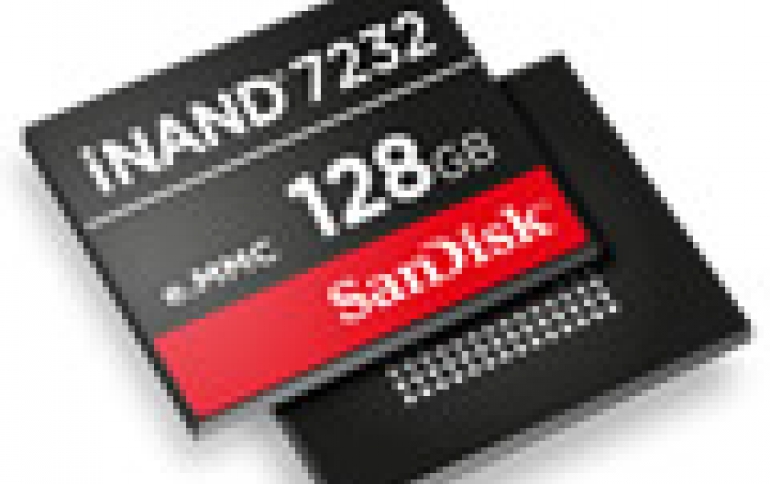 SanDisk Releases High Capacity iNAND 7232 Storage Solution
SanDisk today introduced the iNAND 7232 storage solution, a new embedded flash drive (EFD) optimized to deliver high imaging performance and capacity in flagship mobile devices. Available in capacities up to 128GB, the iNAND 7232 storage solution enables original equipment manufacturers (OEMs) to introduce smartphones, tablets and other connected devices that feature more storage.
The iNAND 7232 storage solution features SanDisk's second-generation SmartSLC technology. iNAND 7232 is SanDisk's fastest embedded flash storage device to date. It boasts sequential write speeds of up to 150MB/s, a 25 percent increase from the previous generation product. The sequential write speed can further increase in the intelligent iNAND 7232 storage solution to an impressive 1.2 gigabit (Gb) per second and beyond when application performance demands it.
The iNAND 7232 storage solution is built on the e.MMC 5.1+ HS400 specification, which includes Command Queue functionality. This further enhances random read speed.
iNAND 7232 is built on SanDisk's 15-nanometer (nm) 3-bit-per-cell (X3) NAND flash storage.
Samples of the iNAND 7232 storage solution are currently available in capacities of 32GB to 128GB.
Features and specifications include:
Latest e.MMC Specification: Built on the e.MMC 5.1+ HS400 specification, which features Command Queue
Designed for the Latest Wi-Fi Standards: Fast transfer speed to support gigabit wireless performance; 802.11ad ready; supports 802.11ac two-by-two rates
Enhanced Speed Over Previous Generation: Sequential read speeds up to 280 MB/s; sequential write speeds up to 150 MB/s
Thin Form Factor Enables Integration In Slim Host Devices: Available in packages just 11.5mm4 x 13mm in size and as thin as 0.9 mm
Easily Integrated and Optimized to Support Fast Mobile Device Product Development Lifecycles: The iNAND 7232 storage solution is supported by advanced simulation, trouble-shooting and engineering tools.