SanDisk Unveils New SanDisk Express High-Performance Line
SanDisk today launched the SanDisk Express line of high-performance flash memory products, based on the ExpressCard technology standard.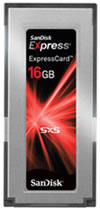 SanDisk Express products aim to deliver storage solutions for professional videographers and photographers.
The first product in the SanDisk Express line is the SanDisk ExpressCard, a flash memory card designed for a new generation of professional camcorders that record to ExpressCards rather than magnetic tape, hard discs or optical discs.
The SanDisk ExpressCard is expected to be available in November, in 8 gigabyte (GB) and 16 gigabyte capacities. Recording time for high-definition video capture, at 35 megabits per second, will be approximately 30 minutes on the 8GB card and 60 minutes on the 16GB card.
Sony is the first major video equipment manufacturer to adopt ExpressCards as video recording media, with its new XDCAM EX camcorder. SanDisk and Sony have jointly developed SxS, a specification to verify that ExpressCard memory cards will support the high-speed performance required for professional video. The SanDisk ExpressCard carries the SxS logo, and is expected to be fully compatible with the XDCAM EX, which has two ExpressCard slots.
ExpressCard is a standard created by the Personal Computer Memory Card International Association (PCMCIA) as a successor to the PC Card standard. By connecting directly to a computer's PCI Express bus, ExpressCards can read and write data at least 2.5 times faster than PC Cards. Also, ExpressCards are half the size of PC Cards, allowing slimmer designs in notebook computers and ExpressCard-based camcorders.
The SanDisk ExpressCard is expected to be available in November in North America and Europe, in two capacities: 8GB, with a manufacturer's suggested retail price of $499.99 in the United States; and 16GB, with a U.S. MSRP of $899.99.