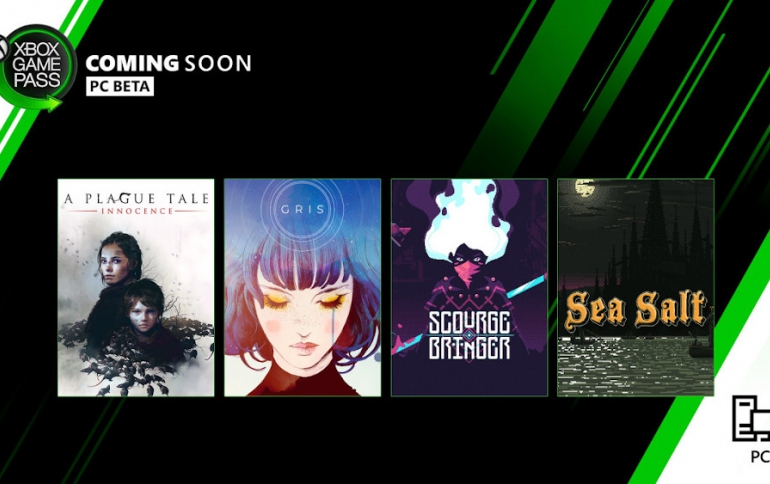 ScourgeBringer, Sea Salt, and More Coming to Xbox Game Pass for PC
Microsoft unveiled new games and membership benefits available to Xbox Game Pass for PC (Beta).
Here are the games:
A Plague Tale: Innocence
Hunted by Inquisition soldiers and surrounded by unstoppable swarms of rats, guide the young Amicia and her little brother Hugo through a brutal, unforgiving world as they struggle to survive against overwhelming odds. Developed by Asobo Studio, experience this action adventure game as you journey through some of the darkest hours of history.
Gris (ID@Xbox)
Explore a meticulously designed world brought to life with delicate art, detailed animation, and an original score where light puzzles, platforming sequences, and optional skill-based challenges will reveal themselves as the story unfolds, allowing Gris to see her world in a different way, unlocking new paths to explore using her new abilities.
ScourgeBringer (ID@Xbox)
With fluid control, aerial combat, pixel graphics and a punchy soundtrack ScourgeBringer aims to channel the mystery and rawness of an early rogue-platformer. Armed with a trusty combat drone, you must shoot and slash your way through the infinite depths of an ever-changing dungeon, wherein gigantic bosses, ancient machines, strange ghosts and untold secrets from previous explorers await.
Sea Salt (ID@Xbox)
Sea Salt is an action strategy hybrid, in which you are an old god summoning unfathomable horrors to blight the human lands. By summoning a tide of minions, your army will emerge from the sea to take vengeance on the religious figures who have dared to defy you… and anyone else that stands in your way. You will have your sacrifice, and humanity will pay for denying you what you are owed.
Last week, Microsoft announced the following games that are either available now or coming soon:
Children of Morta (Available now)
Frostpunk (ID@Xbox)
FTL: Faster Than Light (ID@Xbox)
In addition, starting January 30, you can pre-install Wasteland Remastered. Turn on your automatic updates, pre-install the game starting today, and you'll be ready to play as soon as the game releases on February 25.
Gears 5 Title Update 4 is available now. The Kantus has been added to the ranks of the villains in Versus multiplayer. If you've already purchased the Operation 2: Free For All bundle, the Kantus will be automatically added to your inventory for free.