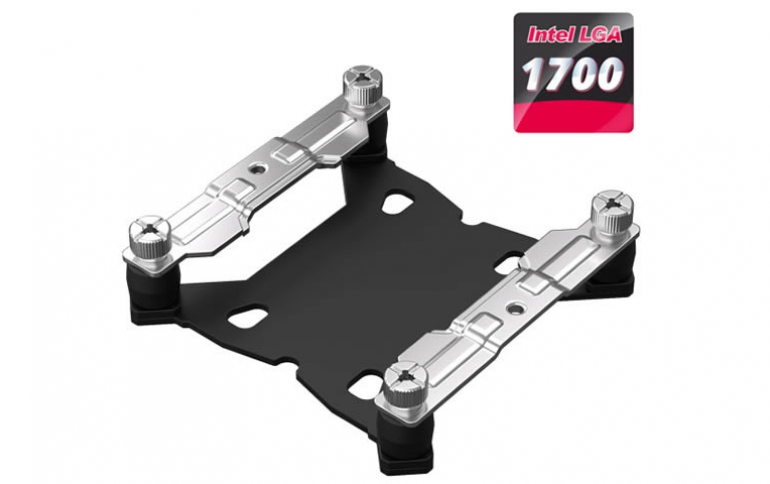 Scythe announces Mounting Kit for Intel´s LGA1700 Socket
The Japanese cooler specialist Scythe presents the new LGA1700 mounting kit (SCMK-1700), which enables users of Scythe products to upgrade their coolers to Intel's new LGA1700 socket. The upgrade kit will be available mid November at a suggested retail price of EUR 7.99. It can be ordered from local retailers and distributors or directly from Scythe customer service if you are located in Europe. In addition, the current cooler models will be equipped with a new LGA1700 compatible mounting system in the near future. The following coolers can be used on LGA1700 with the upgrade kit:
* MUGEN 5 Series: SCMG-5000/SCMG-5100/SCMG-5PCGH/SCMG-5102AR/SCMG-5100TUF/ SCMG-5100BE
* FUMA Series: SCFM-1100/2000
* NINJA 5: SCNJ-5000
* BIG SHURIKEN 3: SCBSK-3000/SCBSK-3000R
* SHURIKEN 2: SCSK-2000
* KOTETSU Mark II: SCKTT-2000/SCKTT-2000TUF
* CHOTEN TUF: SCCT-1000TUF
Current cooler models that are already LGA1700 compatible and do not require any additional mounting parts:
KATANA 5 (SCKTN-5000)
CHOTEN (SCCT-1000)
Further Information & Links at https://www.scythe-eu.com/en/products/pc-accessory/lga1700-mounting-kit....