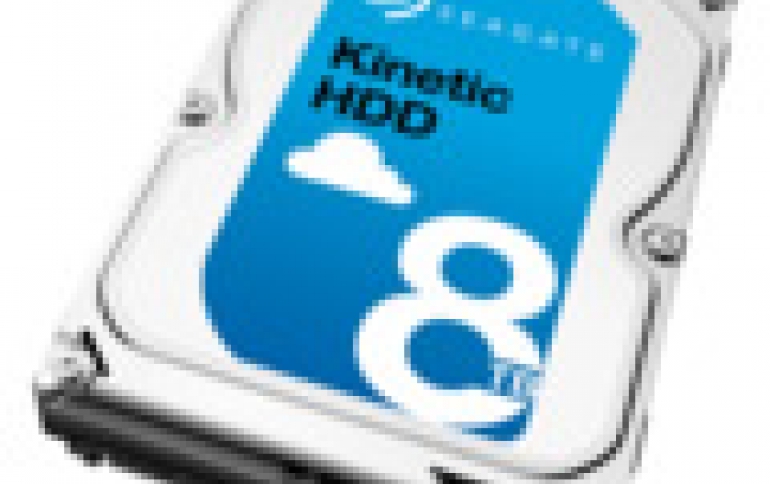 Seagate Develops High Density Mobile Hard Drive Technology, New Portfolio of 8TB Hard Drives
Seagate has achieved a milestone in areal density with a new hard disk that can offer as much as 2TB of capacity in a slim 7mm package. The company also unveiled its new portfolio of 8TB high capacity drives. "In an industry first, our engineers have been able to boost areal density to 1TB per platter in a 2.5-inch form factor, which will give OEMs the flexibility to design and build virtually any kind of mobile device they can envision, with plenty of storage to boot," said Mark Re, Seagate's chief technology officer. "Combining new mechanical firmware architectures, with state of the art heads, media and electronic design, this technology is a real game changer- providing four times more capacity than a 0.25TB SSD at a substantially lower cost."

The new drive technology is the first to incorporate recording-subsystem components - head, media, preamp, channel - to achieve even greater areal densities, well ahead of competitive offerings. Sagate claims that its high-spatial efficiency mechanics deliver lightweight, low acoustics and strong mechanical robustness capable of new levels of drive stability even when subject to intense shock and vibrations.

The new drive weighs 3.17 oz., and is 25 percent lighter than the previous generation of Seagate's mobile hard drive products. With up to 2TB of space, the drive can also enable affordable high capacity storage - storing more than 500,000 songs.

While the new areal density milestone was achieved in a traditional HDD format, Seagate is also examining a hybrid format as well. A Hybrid version would combine NAND flash with Seagate's proprietary learning algorithms.

Seagate's new portfolio of 8TB high capacity drives include the Seagate Enterprise Capacity 3.5 HDD, Seagate Enterprise NAS HDD and Seagate Kinetic HDD. The new drives provide small- and medium-sized businesses and large enterprises with the world?s highest capacity, most reliable, and highest performance storage solutions available.

Seagate?s 8TB Enterprise Capacity 3.5 HDD drive incorporates conventional magnetic recording hard drive technology. The 8TB Enterprise Capacity 3.5 HDD delivers a 100 percent increase in random read/write performance compared to previous generations.

Small- and medium-sized businesses require high reliability too. Seagate?s 8TB Enterprise NAS HDD takes conventional hard drive recording technology to the next level by providing one third more storage density for any tower or rack mount solution compared to the previous 6TB generation drive.

For organizations making the transition to the cloud with an eye to leveraging open source innovation, the 8TB Kinetic HDD focuses on total cost of ownership (TCO) by emphasizing scaled-out storage and rapid deployment in data centers. In cases where archiving data is a priority, emerging technologies such as Shingled Magnetic Recording can be of strategic and business value. Combined with the Kinetic Open Storage platform, this storage solution can change the TCO equation.

The platform reduces TCO by redefining and simplifying storage architectures for today?s use-case scenarios. By combining an open source object storage protocol with Ethernet connectivity, Kinetic HDD eliminates multiple layers of legacy hardware and software infrastructure with a simple Key/Value interface. This in turn eliminates or reduces the need for traditional storage servers reducing capital equipment costs, power consumption and human expenses associated with managing storage for a total savings of up to 70 percent.

All drives are currently sampling now with wide scale availability planned for late this year.