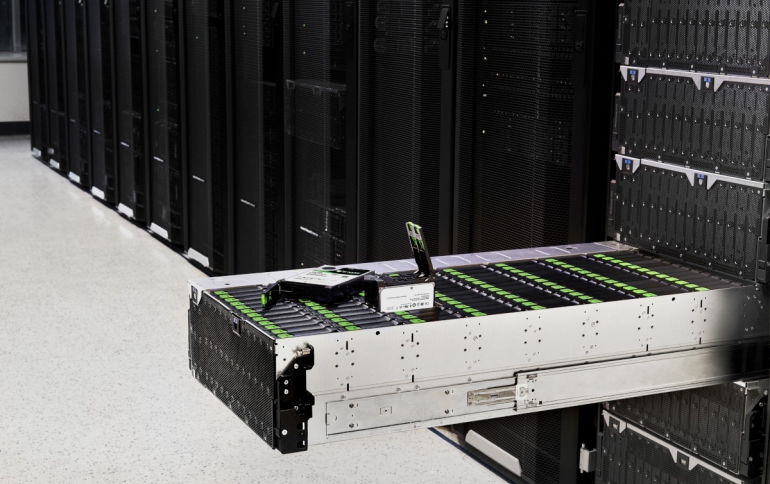 Seagate Exos AP 4U100 Data Storage System Offers Up to up to 1.6 Petabytes of Storage
To meet the massive demands for private cloud storage, Seagate has unveiled a series of application platforms that use object-based technology.
Private clouds are quickly becoming a viable data storage option in the quest to provide faster data collection and analysis for connected devices. They are critical to enabling the real-time information collected by trillions of devices that our modern world depends on.
Unlike in the past — when the mobile/cloud era (IT 3.0) saw data moving in mass amounts to the public cloud — in today's emerging IT 4.0 architecture, data storage and orchestration now takes place in three locations: the core (traditional and cloud datacenters), the edge (enterprise-hardened infrastructure near data sources), and the endpoints (devices). A recent IDC whitepaper sponsored by Seagate predicts that the Global Datasphere — the amount of data created, captured or replicated across the globe — will grow from 33 Zettabytes (ZB) in 2018 to 175 ZB by 2025.
Processing data that's generated at the edge often requires faster input and output speeds, and private cloud is a part of the infrastructure making that possible.
Seagate unveiled a series of application platforms that allow for storage of massive amounts of unstructured data using object-based technology. This critical portfolio addition is introduced in two sizes — the Exos AP 4U100 (100 high capacity drive bays) and the Exos AP 5U84 (84 high capacity drive bays). These all-in-one solutions combine both storage and compute in ultra-high-density units.
The larger 4U100 packs up to 1.6 petabytes of capacity in only four rack units. This saves space, cost, and management overhead and the integrated compute means information from connected devices do not have to travel over latency-ridden networks in order to get processed then sent back to its original source.
The tech specs on the compute side are impressive, with the Exos AP coming with one or two Xeon Scalable CPUs, up to 12 standard height DDR4-2666 DIMM slots, support for two M.2 SATA or NVMe devices, four 10GbE SFP+ ports (Intel X722 with iWarp RDMA) and a single 1GbE management port, and two low-profile, half-length PCIe gen 3 ×16 slots.
There's also capacity for four optional 4 × 2.5-inch carriers to give users SSD performance along with high-level of HDD capacity.