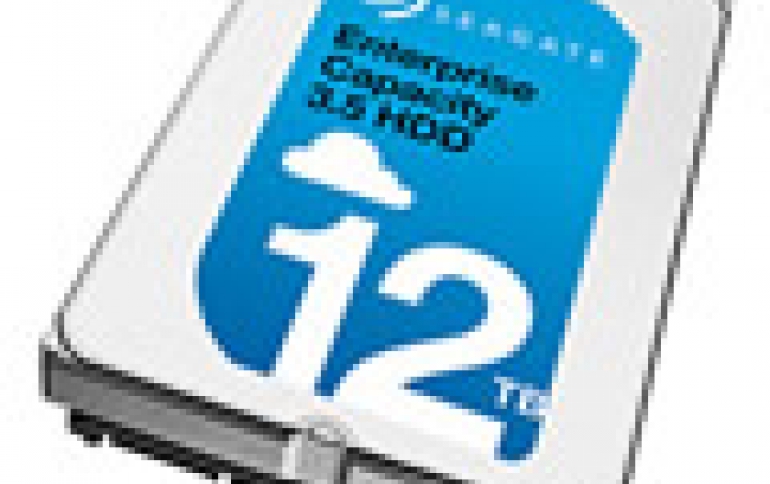 Seagate Launches 12TB Enterprise Capacity
Last week at the OCP Summit, Seagate announced that its new 12TB helium enterprise drives are shipping to cloud providers for evaluation, with volume shipments to start in the June quarter of 2017.
The Seagate Enterprise Capacity 3.5 HDD 12TB is engineered to accommodate 550TB workloads annually. It has a market leading MTBF (mean time between failure) of 2.5 million hours and is designed to operate 24/7 for five years in enterprise data center environments.
The new drive uses eight platters, which is more than the first generation model, but its power consumption remains below typical air-filled HDDs. The HDD features 16 heads, and rotates at 7200 RPM. Cache is listed as 256 MB for each drive. Due to higher areal density and some other optimizations, the new-gen enterprise HDDs have up to a 261 MB/s maximum sustained transfer rate, which is a little bit higher than the helium-filled drives introduced last year.
 

Seagate Enterprise Capacity v7
12 TB SATA
Seagate Enterprise Capacity v7
12 TB SAS
Capacity

12 TB

Number of platters

8 perpendicular magnetic recording (PMR)

Rotation speed

7200 RPM

Interface

SATA 6 Gbps

SAS 12 Gbps

DRAM Cache

256 MB

Maximum Sustained Transfer Rate

261 MB/s

Random Read/Write 4K QD16 WCD

170/400 IOPS

Average Latency

4.16 ms

Rated Workload

Equivalent of 550 TB of Writes per Year

Power Rating
Idle

5.0 W

5.5 W

Random Write
7.8 W
(50% read/
50% write)
9.3 W
(50% read/
50% write)
Random Read
MTBF

2.5 million hours

Warranty

5 Years

Price

unknown
Seagate says that new firmware and hardware improvements to the new helium-filled hard drives include a 50 percent higher capacity; 21 percent increase in IOPs performance/watt; and 20 percent increase in enhanced caching performance, which results in faster access to unstructured data.
The family of Seagate's 12 TB Enterprise Capacity 3.5 HDDs includes 12 models with SATA 6 Gb/s or SAS-12 Gb/s interfaces, 4Kn or 512e sectors, self-encrypted drives (SEDs) as well as SED-FIPS HDDs. All of the hard drives are rated for 2.5 million hours MTBF and come with a five-year warranty.