Seagate Showcases New Mobile Data Storage Solutions at CES 2018
Seagate today announced a range of new products at the CES 2018 conference designed to equip the world's mobile population.
The company is parnering with DJI, a manufacturer of unmanned aerial vehicles, for the release of the new LaCie DJI Copilot, with design by Neil Poulton. This is a complete backup on-set solution, which enables drone users to ingest and review their content in full resolution without a PC. This changes the game by allowing creative professionals and consumers to playback, copy and manage their drone footage from their mobile device without the hassle of leaving the field or booting up a computer. Users can connect and reference the built-in screen to initiate direct file transfer from an SD card to LaCie DJI Copilot - without the need of a laptop or a mobile network.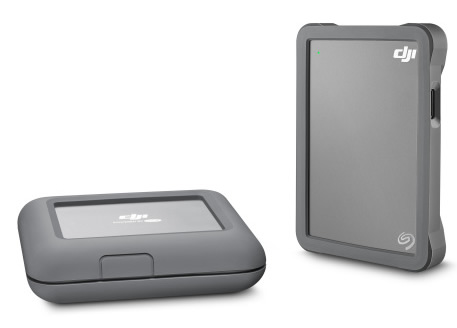 The Copilot BOSS (Back-up On-Set Solution) app by LaCie allows users to playback video in full resolution as well as manage and organize files with their mobile phone or tablet, and a built-in power bank recharges your mobile devices. The LaCie DJI Copilot offers 2TB of storage and its street price in the U.S. will be $349. It will be shipping in the spring.
Another challenge facing many mobile users today is extending the storage and battery life of their smartphones. For consumers in China and Indonesia - two countries with some of the highest concentrations of smartphones on the planet - owners of Android mobile devices can extend the battery life and capacity of their smartphone or tablet with the new Seagate Joy Drive. Available first in China this March through an exclusive partnership with online retailer JingDong, the Seagate Joy Drive is available in 1TB capacity and has a street price in China of 660 CNY ($99). Seagate is also evaluating potential future markets and partners for this product.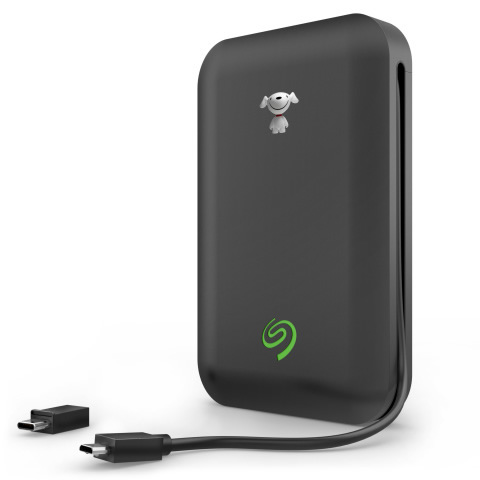 In the meantime, on-the-go consumers worldwide can keep their files and lives in motion with the new Seagate Fast SSD - a portable flash drive that teams fast performance of up to 540MB/s transfer rates, with shock-resistance and USB-C connectivity. Users can backup or sync their content using Seagate's new Toolkit software. The Seagate Fast SSD is available in 250GB, 500GB and 1TB capacities and has a street price in the U.S. of $99, $169 and $349, respectively and will be shipping in the spring.
Seagate is also introducing the latest addition to its line of LaCie Rugged drives: the LaCie Rugged Secure. Built to withstand all-terrain extreme conditions from photo shoots in sub-zero temperatures to repeated drops on hard studio floors, the Rugged Secure, with design by Neil Poulton, is the first Rugged drive to include hardware encryption using Seagate Secure technology. A simple disconnection of Rugged Secure from a computer will automatically lock the drive and access to the data stored and will remain password-protected via new Toolkit software. The LaCie Rugged Secure street price in the U.S. will be $139 for 2TB and will be shipping in the spring.
And for creative professionals and enthusiasts, a partnership between Adobe and Seagate now provides limited-time, no-cost access to Adobe's latest applications bundled with popular Seagate and LaCie drives. Two new offerings available immediately include two complimentary months of the "Adobe Creative Cloud Photography plan" (worth $19.98) - which features the new cloud-based photo service, Adobe Photoshop Lightroom CC - across the full range of Seagate Backup Plus and LaCie Porsche Design devices, as well as packaging one complimentary month of the "Adobe Creative Cloud All Apps plan" (worth $74.99) - which features Adobe Photoshop CC, Adobe Illustrator CC and much more - with all LaCie Rugged, LaCie d2 and LaCie big devices.
New high density enclosure with new OS
Seagate also today announced the launch of the 5U84 high-density enclosure built with a next-generation operating system.
The 5U84 enclosure and firmware technology will enable businesses to store massive quantities of data in a high-availability enclosure that provides high performance access to data. What's more, Seagate Systems' operating system not only powers the high density 5U84, but improves the system's performance and reliability.
Seagate's Advanced Distributed Autonomic Protection Technology (ADAPT) can eliminate up to 95% of performance degradation during a disk drive rebuild when compared to traditional RAID solutions, meaning the 5U84 is essentially "self-healing". The technology disperses data across multiple drives, allocating more resources to rebuilds, thereby reducing the time needed, minimizing the risk of a data unavailability issue and giving the end user uninterrupted access.
The 5U84 storage model packs up to 1.0 PB of raw storage capacity into a single chassis, which is designed to occupy only five data center rack units. Hosting 84 drive bays that are tested to function with 8, 10, and even 12 TB drives, the product density of the 5U84 allows for a large quantity of data to be stored in a smaller space.
Key Features:
5U rack-mount enclosure stores up to 8 petabytes of data per rack
Efficient power conversion
Up to 84 3.5" SAS hard disk drives or solid state drives per 5U enclosure
Drawer design provides high density per rack unit
Easy access to hot swap drives
Expansion capability up to 336 drives
Dual 12Gb SAS I/O modules with integral data path redundancy
Dual controller configuration that supports multiple chassis
High performance of 600K IOPS at 1ms latency for 2U24 AFA configurations at 1ms latency for near instantaneous access to data