Sonos Introduces Trueplay Tuning Software and New Flagship PLAY:5 Smart Speaker
Sonos is introducing new speaker-tuning software called Trueplay and an new flagship SONOS PLAY:5 smart speaker. Both Trueplay and the new SONOS PLAY:5 will be available later this year.
Trueplay stems from the insight that few homes are acoustically perfect. The placement of the speaker and the room it's in impacts the way it sounds. In the past, customizing speakers has required complex and expensive calibration. Now with Trueplay,Sonos says that anyone can tune speakers with the press of a button.
Using the Sonos app, the microphone on an iPhone or iPad, and a special tone emitted by the Sonos speaker, the system analyzes how sound reflects off walls, furnishings, glass and other surfaces in any given room. Sonos then smartly tunes that speaker.
Initially, Trueplay will be available on all SONOS PLAY:1, SONOS PLAY:3, SONOS PLAY:5 products and iOS controllers, and will continue to be added to the Sonos lineup over time.
The new SONOS PLAY:5 is built with six synchronized, custom-designed drivers, three mid-woofers and three tweeters. Sonos claims that the array produces a soundstage that is much wider than expected in a single speaker.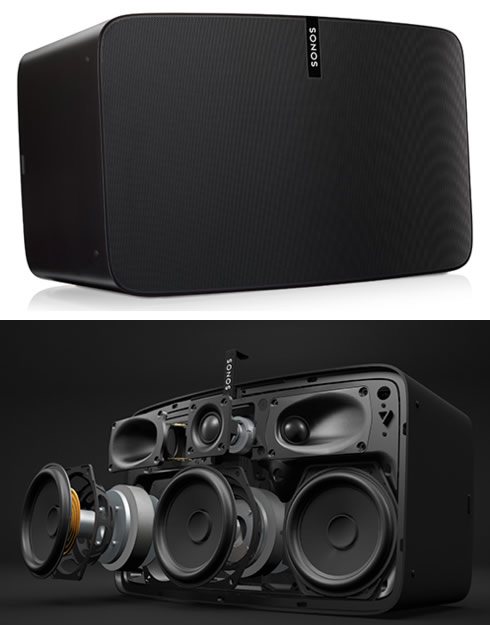 For the first time, SONOS PLAY:5 has three orientations. This flexibility, combined with Trueplay tuning, enables greater sound for any placement, in any room. In addition to horizontal orientation as a standalone speaker, two SONOS PLAY:5s paired together vertically deliver stereo sound with a focused and intense sweet spot. Paired horizontally, they create a larger stereo image for a room-filling listening experience.
The new SONOS PLAY:5 incorporates a design that allows for the most effective wireless performance, without compromises, to ensure the music remains in perfect sync without dropouts.
Just like its predecessor, the new SONOS PLAY:5 works with all Sonos smart speakers and adds even greater modularity with the ability to act as rear speakers in home theater setups with SONOS PLAYBAR and SONOS SUBtm.
Available in a custom matte black and matte white finish, the new SONOS PLAY:5 will retail for $499 USD.